ABIA STATE AND ITS JULY STATUTORY EARNINGS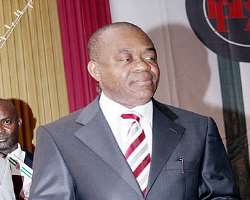 ABIA STATE GOVERNOR, THEODORE ORJI
Going through the newspapers this morning, Tuesday, august 09, 2011, there was a headline that caught attention of many. It read; 'Revealed: FG, States, LGs got triple allocation in July', this lead cover gave a breakdown of what each state got in July, 2011, after the sharing of statutory allocation, VAT, budget and excess crude accounts.
My concern quickly went to my state, Abia, which got N11.217, 223, 497, 34b in July alone. I am not a financial or an economics expert but, a sociologist whose interest lies in development. I began pondering what enormous development that this money could attain if well utilized or invested. As a Nigerian who has lived here since birth, I know for sure that why majority of Nigerians are poor is as a result of non-functioning social and economic facilities, mismanagement, corruption and not the meager monthly wage workers receive. It is a proven fact that every Nigerian family is a mini local government, providing all services for and by themselves.
Abia is one of the most blessed states in Nigeria, considering the entrepreneurship, scientific and technological ingenuity, the indomitable spirit of the people. This state boasts of a very popular market - Ariaria-Aba, which attracts buyers and sellers from all walks of live especially West Africans. No doubt Aba can be called a factory cum market.
Chief Theodore Orji is the executive governor of Abia State who will through the finance commissioner receive and manage the money on behalf of Abia state. This state lacks social and economic amenities, enabling environment, that would galvanize and restructure the state's economic base. N11.217b is enough resources to kick start massive development in Abia State. It is about first, getting our priorities right.
Doing away with corrupt tendencies and people, and focusing on those developmental goals that will affect the peoples live positively. For instance, any right thinking governor will seriously invest in Aba. I do not have my village located anywhere in Aba, hence, am not subjective, but I know full well that the economic development of Aba will have a spiral effect on other parts of the state. The traders and business people here are not begging for funding rather, are asking for government support in providing them with facilities that will help their business turn-out.
If the government of TA manages this money and others to come properly, borrowing from former governor of Lagos State, Alhaji Lateef Jakande's free education practice then every child of school age in Abia State must attend elementary and secondary education. Free education, in real sense means that government must engage qualified teachers, pay them well, supply books and other facilities to pupils, thereby encouraging qualitative learning. It is absolutely possible.
Our University and other tertiary schools can also be funded, supported by providing them with facilities that will aid university education. We must train our students to be able to compete favourably with their counterparts anywhere in the world.
With these resources that is available now and more that are to come subsequently, Abia State can recover from its agricultural moribund situation. Today, Nigeria imports garry and other farm products for its large population, if the state then invests much into its agricultural sector, we surely will be exporting our agricultural produce, our palm oil and kernel which we have in abundance inclusive.
There are several companies in Abia, but two readily come to mind; Golden Guinea Breweries and Ceramic Industries both in Umuahia, they are lying comatose. The Abia State government can invite and lead some private investors to revitalize these two companies. Certainly it is another employment opportunity for the people and revenue creation for the State.
Governor TA Orji visits Abuja and Lagos and must have seen the height of organization in these places, he can also bring some of such to Abia State to the admiration and appreciation of Abians. Since 1999 when civilian government came to power, meaningful development has remained a scarce commodity in Abia State. Several sons and daughters of Abia will be very willing to move to Aba or Umuahia to establish their businesses if there is conducive environment for such.
It is the responsibility of government to provide the people with social infrastructures like roads, security, markets, trade centre for youths who cannot proceed to higher institutions after secondary education, recreational places, and health centre with drugs, facilities and staff.
TA must prove that it is indeed Chief Orji Uzor Kalu, his boss and former governor who was his tormentor in chief that actually prevented him from delivering at his first tenure in office. We are watching!
Written by Uzodinma Nwaogbe, Maitama – Abuja. Email: [email protected]. 0803-841-9391.
Disclaimer:

"The views expressed on this site are those of the contributors or columnists, and do not necessarily reflect TheNigerianVoice's position. TheNigerianVoice will not be responsible or liable for any inaccurate or incorrect statements in the contributions or columns here."
Articles by thewillnigeria.com