NORTHERN CORPER SEARCHES FOR HALF BROTHER WITH IGBO BLOOD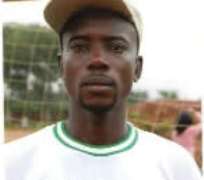 Livinus
A 28-year-old youth corps member from Kaduna State, Mr Livinus Gaya Biliyock, is sad.
Indeed, he is sad not because Abia State, where he currently serves, has done him any wrong. He is equally sad not because of the treatment residents of the state have meted out to him. Rather the lad is sad because he is searching for his half brother, born to his father by an Igbo woman. Biliyock's brother home nine years ago in search of his mother in Igboland. And since then he has not been seen.
Biliyock, a graduate of Urban and Regional Planning from a Polytechnic in Zaria said he would never be happy until he saw his brother again. It was for this reason that he walked into Daily Sun office, along Aba Road, Umuahia, the Abia State capital to seek for the newspaper's assistance in locating his half brother.
'I have this feeling that you people (Daily Sun) can help me find my brother because I heard that you have been helping people to find their lost relations. Please help me,' Biliyock pleaded.
The young man narrated what his family had been passing through since the sudden disappearance of his half-brother.
His words: 'The only happiness this service will offer me is to help me see my brother once again. Although he is from an Igbo mother and I am from a northern mother, he is still my brother, because we share the same blood – the blood of our father.
'His name is Kefas Mamman Duniya. He was born in 1971 to our father by an Igbo woman while he was a soldier here in the east. He was the first son of the family and we were living in the family house at Mabushi, Kefat. Our father died in 1990 but before his death, his wish was that our brother would continue where he, our father, stopped. But unfortunately, we woke up one morning in 1992 and found his room empty. We later discovered that he left a note stating that he had gone to look for his mother. He did not state other reasons for leaving.
'He finished secondary school in 1991 and left home in 1992 against the wish of our father, Corporal Duniya Garuba Biliyock of blessed memory. We never quarrelled before he left and since then, I have never felt complete. Even as I speak to you, something keeps telling me that a part of me is somewhere here in the east. That is why I want to find where he is. The vacuum his departure created has not been filled because nobody but him can fill that vacuum.
'If we had not known him, it would have been different, but we knew him as kids and looked up to him for direction as the first born of the family. But here we are today as a family without direction.
'He has neither called nor contacted anyone since he left home nine years ago. We don't even know his whereabouts. When I was posted to serve here, I said to myself that I would use the opportunity to look for him, thinking that Igbo land might not be too large, but I have discovered that it is very large.
'Those who saw him said he was somewhere between Imo and Abia States. He was quoted as complaining that somebody offended him, but we don't know who the person is.
'I was just a teenager when he left and there is no way I would have known who offended him. However, I want to let him know that we are in dear need of him and we still love him and our family will never be complete without him. By right, he is the next person after our father passed on. But he left the family a year after the death of our father and has refused to return.
'He left a note in his room that he was going to search for his mother, the Igbo woman who had him for our father and he has since not returned. Wherever he must have gone to, we still know that he is one of us because we share the blood of our father. That same blood he is carrying today flows in our own veins too. That makes him our brother. His leaving home has created a vacuum that nobody can fill except him as long as he lives. Of course, we are sure he is alive.
'His absence has led to the disintegration of our family ties. All of us, including our mother, now go our separate ways. Outsiders now come into our home, which was once held in very high esteem, to issue orders. That couldn't have been so if he were around. Things have fallen apart and only his presence I believe can bring back peace and sanity.
'I was just 13 when he left, and today, I have graduated from a higher institution. I am 28 years old and now a full-grown man. Yet I don't feel complete each time I remember that a part of me is in a place where I cannot reach. The truth I will tell him when I meet him is that our brother Solomon died in 2006 at a building site while trying to make ends meet. Rebecca, Ruth and Asebe, our sisters at various times had to delay their marriages just because we waited to see if he would come home to play the role of a father. But unfortunately, someone else had to do that on his behalf. I want him to realise that I love him; the family loves dearly.
We want him back.
'We want him to come back home and I promise that every wrong that was done to him in the past would be corrected. I know that if he were with us, certain tragedies that befell the family probably wouldn't have happened because his brotherly advice would have saved us. I know that he is alive and safe somewhere here in the east, so I want him to know that he is still my blood and this is a fact he can not deny, no matter how aggrieved he may be. I want my brother to always remember that his history without us is not complete.
'That is why I have come to Daily Sun to solicit for assistance to locate him since I know that you have been doing so for other people in the past.
'I can be reached at the NYSC Zonal Office, Umuahia North LGA, Abia State. My code number is AB/11B/0407 while my phone number is 07039756009. '