WALE OLUWALEIMU'S EVENT & ENTERTAINMENT CONSULT SOARS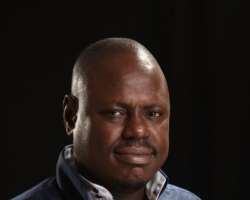 Upwardly mobile dude, Wale Oluwaleimu who has been involved in entertainment business for ages is now taking his Event & Entertainment Consult outfit to another dimension. The Lagos born man about town who was a force to reckon with at La Campaigne Tropicana led by Wanle Akinboboye is now making a swell time with his entertainment outfit as he has just signed on one of the promising acts in Naija music horizon whose music is now blasting in all the airwaves in Nigeria. Event & Entertainment Consult is a complete event packaging and management/entertainment consulting firm with Nineteen years experience in the Nigerian entertainment industry that has involved in major shows and concerts in Nigeria.
The father of one, wale as he's fondly referred to has become a relevance force in entertainment industry today as there is hardly a major event or show in town that will not have the magic touch of Wale and his formidable team.
Listed below are the events and shows the organization has organized.
1990 – The Children of Africa (Member, Protocol Committee) 
A charity concert at the main bowl of the National Stadium, Lagos Nigeria, organised to raise funds for less privileged children across Africa. The concert brought to Nigeria over twenty top artistes from around the world including Lionel Richie, Shaba Ranks, Third World, Colour Me Bad, Myriam Makeba and Fela Kuti. 
1992 – Events Consultants, The Nigerian Music Award (Abuja 92) 
The Nigerian Music Award is a ceremony organised by the Performing Musicians Association of Nigeria. The 1992 edition saw the organisers airlifting over two hundred and fifty participants, including crew & performers to the capital city Abuja, where the event took place. This included feeding and accommodation at the prestigious Nicon Noga Hilton Hotel. The event had the then President, Gen. Ibrahim Babangida in attendance. 
1992 Event Managers, The Nigerian Carnival 
Held at the parking lot of the National Stadium Lagos, Nigeria. The carnival was the first ever free entry musical show in Nigeria with A list Nigerian acts like Sir Shina Peters, Ras Kimono, Dele Taiwo, Adewale Ayuba, Wasiu Ayinde Marshall, Blackky and a host of other Nigerian artistes performing simultaneously on three stages at one venue. 
1993 Co-coordinators and Event Managers, Nigeria DJ Championship
The first ever Nigerian DJ Championship in conjunction with Fame weekly Magazine.
1993 Event Managers, Fame Music Awards 
The first ever music awards organised by an individual or corporate body outside of the music industry. 
1994 –96 Event Managers, The Fame Music Awards & The Movie Awards 
Two different Awards organised to reward excellence in the Music & Movie industry in Nigeria by Fame Weekly Magazine. 
1995 – Member, Publicity & Welfare Committee, African Extravaganza Concert 
A concert that brought Shaba Ranks back to Nigeria at the height of his musical career with two shows – A command performance at the National Arts Theatre Lagos and a public show at the Tafawa Balewa Square. 
1996 – Event Managers, The Coca Cola Olympic Concerts 
A Concert organised to bid farewell to the Nigerian team for the 1996 Olympics Held at the Cricket Pitch of the TBS, the event featured acts like Sammy Needle, Femi Kuti, Kwam 1, Blackky and Oliver de Coque. 
1995 till Date: Founded INXS 
A University rave club that takes parties to clubs and sometimes private homes. 
1996 :- Events Consultants, The Rothmans Mega Groove 
Sponsored by Rothmans, the Concert that recorded, till date, the largest turnout of audience in Nigeria at any one Concert. (A collection of DJ's - Local & International, and Carol Wheeler of Soul 2 Soul fame was the star act. 
1993 – 97 :- Public Relations and Event Managers :- Daniel & City Tervan Nite Clubs 
Duties included the day to day running of the clubs via organising and managing events monthly to keep the club as top of the mind recall for customers. 
1997 – 99 :- Co-ordinators/Event Manager 
The Fame Music Awards / The Movie Awards
This totals fourteen Awards ceremonies that we have been part of. Each Award ceremony came with a Pre-Event/Nominees party. 
1999 :- Events Managers :- Gov. Bola Tinubu Inauguration Week: 
A one-week inauguration ceremony for the Governor of Lagos State, Nigeria, Sen. Bola Tinubu with seminars, film show and two dinner parties with King Sunny Ade, Lagbaja, Bayette (South African) and Black Image cultural Troupe on stage. 
1999 :- Event Managers, KSA Millennium Show 
A show held at the Lagoon Restaurant to usher King Sunny Ade's fans into the new millennium. 
1999/2000 :- Event Consultants :- Girls' Nite Out 
A show that showcases talent in women, initiated by Ayo Animashaun's Smooth Promotion with females handling all aspects of the show including Sound, Lights, MC, Security etc. 
2000 :- Ovation Storms Ife : Event Manager 
Ovation International Magazine Stormed University of Ife with top Nigerian Artistes and Fashion Houses.  
Event Managers, The Ovation Magazine 4th Anniversary & Official Launch of the International Magazine in Nigeria, Abuja & Lagos 
CORPORATE EXPERIENCE –Head, Events, CMC Connect (Perception Managers) 
Coca Cola Nigeria Limited 1999 - 2001
Direct Marketing Initiative through Events 
World Cup activation at the National Stadium
Nations Cup activation of Stadia around the Nation
CocaCola University show in campuses around Nigeria
The Olympic Day Run
Launch of CCNL new drinks & flavours
Draws for Coca Cola Promotions.
PAN (Peugeot Automobile Nigeria) 
The Launch of the Peugeot 406 at the AIB Gardens and simultaneously in Abuja, Port Harcourt and Kano.
The Peugeot New Look Fair 2001
Official Launch of Peugeot 307 and a three-day display of the new Peugeot brands at the prestigious Oceansview Restaurants, Victoria Island with lots of entertainment, Fashion Parade, Musical & Children Entertainment 
3. Event Manager/Consultant, The Peugeot New Fair 2002
Magnum Trust Bank 
The MTB Annual General Meetings years 1999, 2000 and 2001 
The Launch of all MTB's new Products 1999, 2000, 2001
National Sports Lottery 
The NSL Distributors Conferences in Lagos – Direct Marketing initiative for Brand 
Virgin Atlantic Airline 
The Launch of the airline in Nigeria at the Sheraton Hotel with Sir Richard Branson, State Governors and Federal Ministers in attendance. 2001
2002 Event Managers/Co-coordinator - UMOJA 
The South African Dance Group touring the world with spectacular Dance Performances had six shows in Nigeria at the National Arts Theatre, 'Motherlan' and the Expo Hall of the Eko Hotel, Lagos. 
2002 Event Managers :- What Women Want 
A fashion show held at Eleven 45 Nite Club by the Fashion House of L'uomo. 
2002-3 Event Mangers: Nescafe Valentine Rave
Musical Concert sponsored by Nestle Nigeria on the 14th of February 2002 and 2003 in three major cities in Nigeria.
2002 Event Managers: Miss Malaika Pageant
The Nigerian edition of the African Pageant for beauties of African descent organised by Zmirage Multi-Media Ltd.
2003 Event Managers: Golden Morn Family Carnival
A family carnival sponsored by Nestle Nigeria staged in city major cities in Nigeria.
2004 Event Managers: The Guinness Black Gold Concert
The concert sponsored by Guinness Nig. to launch its Guinness Stout's new look with Wyclef Jean as the star act alongside other top Nigerian artistes, held in three cities in Nigeria.
2004 Event Consultants: White House Nite Club
Packaging and management of events at the Club to create top of the mind recall for customers.
2004-2006 Event Managers, Global Excellence Recognition Award
A yearly Award organized by Global Excellence Magazine for Nigerians that have excelled in their various fields.
2005- 2007 Event Mangers, Kennis Easter Fiesta
Kennis Music, an award winning Record Label's yearly concert featuring acts (especially on their label) and others staged on the Beach for the public and a command performance in a prestigious venue.
2005 Event Manager: LG Electronic Mecca Phone Launch in Abuja
The launch of a new product by LG Electronics targeted at the Islamic market in Abuja and Kaduna Nigeria.
2005 Financers/Event Coordinators: Lovers Rock Fiesta
The event that brought Maxi Priest to Nigeria, performing in Calabar and Lagos alongside other Nigerian Acts.
2006 Event Coordinators : Africa Music & Art on Tour
This tour took Kora Award (Africa's most respected Award) winners, Sunny Neji, Sammie Okposo and Styl-Plus to the USA touring six states in the United States of America; Atlanta, Houston, Chicago, Maryland, Washington DC and New York.
2006 Event Managers, Citypeople Awards
A yearly Award organized by City People Magazine for Nigerians that have excelled in their various fields.
2006 Event Managers: WIDOW PREMIERE.
The world premiere of the film 'Widow' in Lagos (Planet 1, Entertainment) and Abuja (Transcorp Hilton Hotel)
2006 Event Coordinators/Stage Manager and Planners: Sammie Okposo Album Presentation and Gospel Concert.
The best Album launch yet by any artiste in Nigeria
2007 Event Coordinators/Stage Manager, HiTV Launch and Premiere of Across the Niger
This event was the official launch of the Cable Television, HiTV, and the Premiere/Concert
Consultant, Atunda ENT
A talent development company put together to discover and recreate artistes. The act of Ara the female talking drummer was discovered and created by Atunda.
2007 Stage & Artiste Managers: Ovation Red Carol
An event put together by Ovation Magazine's Dele Momodu to celebrate hope in Africa generally and Nigeria particularly featuring over 60 top Nigerian artistes singing a theme song and Christmas carols on the 24th night of December 2007
2008, Stage and Artiste Managers: UBA CEO's Awards 08
An event tagged 'Simply the Best' to reward Staff of United Bank for Africa (UBA) a glamorous event featuring top Nigerian Artistes.
2008, Event Manager, Lagos State SSG Host NEPAD
An open forum with State and Non-State Stakeholders in Lagos State and A launch for the New Partnership for African's Development (NEPAD) hosted by the Secretary to the Lagos State Government, Princess Derele Adeniran Ogunsanya.
2008, Event & Stage Manager, Kennis Music Easter Fiesta (Command Performance)
The yearly Easter Concerts hosted by Kennis Music, This year featured Jamaican stars/sisters, Brick & Lace alongside over twenty top Nigerian Artistes.
2008, Stage manager, First African Beach Carnival
The 1st African Beach Carnival hosted by Motherland Beckons and Lagos State Ministry of Tourism featuring Jamaican born star, Shaggy alongside six top Nigerian acts (9ice, Olu Maintain, Psquare, Jesse King"BUGA", Faya, Afe, Kween, Dabaina and Muri Ayangbola ).
2008, Staging of the play "Ajo" in Lagos, South Africa and Ghana
The play Ajo, written and Produced by Wanle Akinboboye, Directed by Yemi Remi is a play reliving the way of life of the African People pre, during and post colonization with a cast of one hundred people including Nollywood star actors like Segun Remi, Biodun Majekodunmi etc
2008, Event Manager, Ovation Red Carol
The yearly Christmas carol from the stables of Ovation International Magazine with Captains of different industries in Nigeria in attendance, featuring Nigerian/International artistes performing different carols and their songs too.
2008, Event and Stage Manager, Imo State Government End of Year Christmas Carol and Concert.
The Imo State Christmas Carol and Concert, Command Performance and free public concert at the stadium featuring Imo Born Nigerian Music, Comedy and Movie stars.
2009, Event Manager, Launch of the Guinness new label: Guinness Football Greatness
The launch of the Guinness new label in Lagos and Benin city using celebrities as footballers in two teams and having performances by top musicians.
2009, Stage Manager, The Lagos State Easter Beach Carnival
The first free beach carnival, held at Takwabe Beach by the Lagos State Government with over twenty artistes performing.
2009, Stage Manager, Genevieve Pink Ball.
The Ball, an initiative of Genevieve Magazine, is a charity event geared towards creating awareness & support for a noble cause, Breast Cancer; and also ultimately the eradication of the dreaded killer disease.
The event had in attendance, captains of various industries and top government officials in Nigeria.
Artistes Management
Over the course of these years, Akinwale Oluwaleimu has managed some of the best Artistes in the Nigerian Music Scene e.g. Lt. Shotgun (Ragga Artiste), Late Sammy Needle (Highlife/Calypso Artiste), Dede Mabaiku (Afrobeat Artiste and Fela Kuti's Protégée) Weird MC (A Female Rap Artiste), Alariwo (Crossover Artiste), Sammie Okposo (Gospel Artiste), Olu Maintain (Afro Hip Hop Act) Jesse King (A Highlife Artiste), Ara (A super performer and female Talking drummer) and most recently, yet-to-be-released, Faya (Reggae's next big thing in Africa), Afe Oni koko(The 1st ever talking Potter) & more recently, Eddiekim.
He has been part of the success stories of numerous up-coming and top musicians in Nigeria.
Awards
FAME Music Award's 1999 - Special Recognition Award for Contribution to the Nigerian Music Industry.
Akinwale Oluwaleimu is presently Event Consultant to The Lagos State Ministry of Tourism, The Secretary to the Lagos State Government, Ovation International Magazine, United Bank for Africa, Atunda ENT, La Campagne Tropicana, Motherland Beckons, IDCL Ltd, Hip Hop World Awards etc