Boko Haram Lists UI, UNIBEN, 18 Others As Next Bomb Targets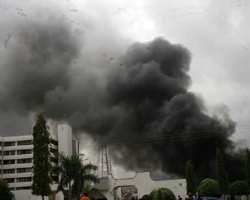 LAGOS, SEPTEMBER 13, (THEWILL) – Leaders of Boko Haram, the deadly northern Islamic sect, have announced plans to raid Nigeria's top tertiary institutions of learning with bomb attacks in its bid to rid the country of "all forms of western education."
In an electronic mail to the Registrar of the University of Benin, which was confirmed by its Public Relations officer, Mr. Harrison Osarenren, the group promised to embark on series of bomb attacks in the institutions, between the 12th and 17th of September. "Western education must stop in Nigeria. May Allah bless us," it said, warning that the message was "not a threat, but a notification which must be strictly adhered to."
In response, authorities of UNIBEN have already bolstered security at its two campuses, as incoming and outgoing vehicles are now thoroughly screened by security personnel. Also, students of the university, in a panic move, have begun absenting themselves from schools.
In an interaction with local media, Acting Vice Chancellor of the University of Ibadan (UI), Professor Elijah Bamigboye, confirmed the notice of attack, saying: "We heard rumours that a group, which detests education is likely to descend on institutions where education is being imparted. We heard that UI is top on the list. When we heard the rumour of threat to bomb UI, we did not want to take chances," especially since there have been nasty experiences in the past, such as "the recent bombing of the UN house in Abuja as well as the Force headquarters, which left several people dead. The essence is to sensitize the community and to alert the people on the rumour."
He said that the security department had been directed to step up screening of all vehicles, including his, into the campus. Executing that order, which has been the responsibility security men clad in bullet proof vests and brandishing AK47 rifles, has spawned hours of heavy traffic extending to major parts of the town such as Ojoo, Iwo Road and Bodija.