Senator Decries Porous Security In Nigeria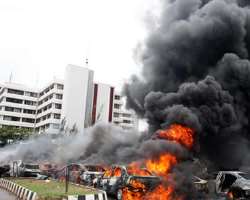 UYO, September 12, (THEWILL) - The National Assembly member representing Akwa Ibom South East (Uyo Senatorial District), Senator Ita Solomon Enang (SAN), has decried the duplication of functions within the security system in the country, saying it brings about porosity and inefficiency.
Enang made the observation while reacting on security problems in the country, shortly after his recent tribunal victory over ACN candidate, Abai Nsima Umoh.
He called on the President, Dr. Goodluck Jonathan, to realign the functions of security agencies in the country and prune down the number of unnecessary security and equated security agencies, as most of them only constitute nuisance to the system.
His words: "I want to say that part of the solution to terrorism and security challenges in the country will be for Mr. President to re-align the functions of security agencies and prune down the number of unnecessary security and equated security agencies.
"Go and examine the function of the Peace Corps; what is the function of the Civil Defence? There are several of them, and they are just duplication of functions within the security system, he said. "We are simply creating a situation where it will be said that somebody thought that somebody will do something and nobody did what somebody would have done and so what ought to have been done was not done and there was crisis. So many people are there for the job and yet not much is achieved because one person thinks it is the job of the other person."
The former House of Representative member for Itu/Ibiono Ibom Federal Constituency, however, expressed satisfaction with the president's decision to rejig the security apparatus. He recalled that he had opposed the office of the chairman and coordinator of terrorism when the Bill was considered at the floor of the House because he believed the office should be coordinated by an existing security agency.
"Maybe we should just have offices of the National Security Adviser, the Police, the Army, the Navy and the Civil Defence. The president should look again. EFCC was a division of the Police; Drug and Narcotics was a division in the same Police; same as the State Security Service, which was the intelligence arm.
"He should examine the privatisation of security agencies, and then consider the possibilities of bringing back most of them to give relevance to the Police."
Continuing, he said: "The Police has been so emaciated that it now looks like their job is to wear the black uniform while others do the job. We need to give more jobs to the Police, re-task and in fact re-orient it.
On his victory at the tribunal, Ita Enang said it is the work of God, and expressed happiness that he can now settle down to serious legislative business.