Nigeria: Police Station Bombing, Robbery Kills 5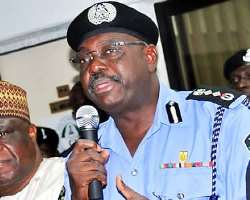 POLICE IG, ALHAJI HAFIZ RINGIM.
Gunmen firing assault rifles bombed a police station in northern Nigeria and robbed a nearby bank Monday, killing at least five people in an attack similar to others carried out by a feared Muslim sect in the region.
Heavy gunfire could be heard throughout the city of Misau in Bauchi state as the attackers detonated a powerful explosive inside a local police precinct, reducing it to rubble, witnesses said. The gunmen killed at least four police officers in their attack, as well as one civilian, said witness Adamu Misau, who follows local custom in using the city for his last name.
The gunmen robbed a local branch of Afribank Nigeria PLC, taking an unknown amount of cash with them, he said.
A local police spokesman confirmed the attack took place Monday, but declined to offer any details. However, the attack bore similarities to others carried out by a sect known locally as Boko Haram.
Nigeria, home to 150 million people, suffers from a weak police force more focused on collecting bribes than law enforcement in the oil-rich nation. The force also has been unable to handle the rise of Boko Haram, which many believed had been dismantled after a security crackdown following a sect riot in 2009 left 700 people dead.
The group, whose name means, "Western education is sacrilege" in the local Hausa language, seeks the implementation of strict Shariah Islamic law in the country. Nigeria is largely split between a Christian south and Muslim north, where 12 states already have a version of Shariah in place.
Boko Haram has been blamed for a rash of killings targeting security officers, local leaders and clerics in the area over the last year. It also has claimed responsibility for the Aug. 26 bombing of the United Nations headquarters in Nigeria, an attack that killed at least 23 people and wounded another 81. The sect also claimed a bombing at the nation's police headquarters that killed two people in June.
Sophisticated attacks on banks have been carried on banks in north Nigeria in recent weeks. On Aug. 25, local police in Adamawa state blamed Boko Haram for a police station bombing and robbery of two bank branches that left at least 12 people dead.
Analysts and foreign diplomats have said they believe Boko Haram is using the bank robberies to fund their sectarian fight against Nigeria's weak central government.
Meanwhile, authorities said Monday that no one was wounded after two bombs exploded in a neighborhood of beer parlors Sunday in a restive central Nigerian city at the heart of religious and ethnic tensions in the oil-rich nation. The bombing struck the city of Jos' West of Mines neighborhood, a seedy neighborhood of outdoor beer bars and brothels in a city beset by violence recently.
At least 54 people have died in the last eight days alone in the pasturelands and hills surrounding Jos. Human Rights Watch says at least 1,000 people were killed in the area in 2010.
Officials said no one claimed responsibility for the attack. However, the bombings mirrored others carried out by Boko Haram in the past.
The unrest came to the forefront Monday night as the nation's state-run television and radio networks aired an pre-taped interview with President Goodluck Jonathan. Local journalists devoted the first 15 minutes to the issue, but Jonathan pointedly avoided offering specifics on how his administration would stop the almost daily attacks, other than to say top security officials now meet every other week.
"People look at us because of our ethnic diversity and begin to predict that we will disintegrate," Jonathan said. "We will not disintegrate. I will not preside over a country that will disintegrate."
Associated Press (AP).