ICECAPADE 2009 – One Night To Dazzle in Style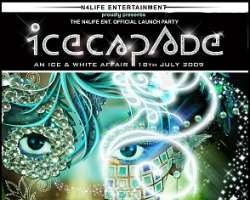 UK, London, Saturday 18th July 2009 - N4LIFE Entertainment marks its official launch in dazzling style by hosting a unique and innovative red carpet event titled ICECAPADE, with an 'Ice & White' theme to it. It takes place aboard the Tereza Joanne Boat, Gate 14, King George V Dock, Woolwich Manor Way, London, E16 2QY, from 9pm to 3am.
In their desire to continue contributing to the growing and exciting Nigerian entertainment industry, the Adegoke siblings and a few friends came together to formally create 'N4LIFE Entertainment'. They intend to organise upscale events showcasing some of the outstanding talents coming out of Nigeria, bringing the community even closer together as a united and friendly nation, while sharing a common love for entertainment with each other, and friends alike.
The next major event they have lined up is called ICECAPADE on 18th July 2009, to mark the official launch of the company.
"ICECAPADE is a white party with an 'ice' theme to it. The only one of its type worldwide, unique, classy and stylish, where guests can mingle with celebrities from the world of entertainment, music, fashion and sports" said Ace Adegoke, CEO of N4LIFE Entertainment. "We want to show that we, as Nigerians, are at the top of game when it comes to fashion, style, innovation and creativity.
The N4LIFE team have once again added their creative and personal touch that will make ICECAPADE 2009 the stylish event everyone is craving for. On the 18th July 2009 they ask that you come dressed in your stylish favourite white outfits adorned with riveting rhinestones, dazzling diamante and sparkling Swarovski, so you can experience the atmosphere and magic that is ICECAPADE. Expect an amazing night, world-class music, and a glamorous diverse crowd, mostly trendsetters, with a love for fashion, music, creativity and style.
A classy champagne reception awaits you when you arrive in style on the elegant 'Red' carpet. There will be complimentary exotic cocktails made & mixed by the top UK multiple award-wining bar 'Squeeze UK' (www.squeezeuk.com), especially known for their exquisite 'Mojitos'. Should you work up an appetite, delicious canapés and small chops will be readily available. Hot original 'Suya' will also be served 'Alfresco style' on the top deck.
You are guaranteed excellent music on the night in the safe hands of two of Naija's finest UK based DJ's; the award winning DJ Abass (www.djabass.com) & skilful DJ Shola Bee (B-Line Ent.) both playing the best in RnB, Hip Hop, Funky House, Afro Beats & much more. Besides music from these Master DJ's, you will also have the pleasure of being entertained with Live Performances by some Up 'n' Coming talented Nigerian Artistes.
As this will be a unique night where trends will be set, and new designs launched, it is only appropriate that the N4LIFE team will start off the night by wearing outfits exclusively designed for ICECAPADE 2009 by JI*RO CLOTHING www.jiroshop.co.uk , one of the biggest Naija influenced urban design labels currently making huge waves in the UK and Nigeria. Sade Adegoke of N4LIFE will also be dressed throughout the night in the glamorous and chic designs of legendary haute couture designer Adebayo Jones . Malik Jiro of JI*RO CLOTHING and Adebayo Jones will both be special guests on the night.
The evening will be photographed by celebrity photographer Casey Moore and his colleague Rory http://www.alexander-moore.co.uk/ both using their lenses to capture the elegant atmosphere, the best of outfits, the different forms of body art & and the 'just daring'. The evening will also be filmed and produced for TV broadcasting at a later date, details which will be revealed after the event. This is surely a picture, video & TV opportunity not to be missed.
As ICECAPADE is for the sophisticated and stylish, the Innovative and Creative, it is only apt that the artwork for the event is designed by one of the UK's leading top internationally sought after illustrators, Vince Fraser www.vincefraser.com, known for his vibrant, chaotic and engaging style. Vince Fraser will be at ICECAPADE on the 18th July 2009 to reveal a brand new and original ICECAPADE artwork, to commemorate the event. According to Vince Fraser 'it will be an honour to participate in such an innovative evening'.
No doubt, ICECAPADE will make Headlines again this year, it is the event everyone is talking about, planning for, and looking forward to, and the N4LIFE team are pulling out all the stops this year to make sure that you have a thrilling time.
Tickets are being sold now either online at www.naija4life.co.uk and www.ticketweb.co.uk or through the following N4LIFE team members: Ace 07944 344 288; Ayo 07710 503 027; Manuel 07951 654 394
To find out more about N4LIFE Entertainment and ICECAPADE 2009 please visit www.naija4life.co.uk. You can also reach the N4LIFE team through their FACEBOOK page using the search word N4LIFE ENTERTAINMENT, or contact Ace Adegoke at www.facebook.com/n4life They can also be reached via their YOUTUBE channel www.youtube.com/user/N9ja4life, and if you happen to be a MYSPACE user, you can stop by at www.myspace.com/N9ja4life .
N4life Entertainment supports the SOS Childrens charity www.soschildren.org and raised £1,096.00 from ICECAPADE 2008 in aid of Africa orphaned and abandoned children. Caroline Baker, Corporate Liaison & Challenges Coordinator for the charity had this to say about N4LIFE and ICECAPADE 'We are most grateful to N4LIFE Entertainment for the continued support of SOS Children. This year's ICECAPADE promises to raise valuable funds and awareness for our worldwide work helping to give more orphaned and abandoned children a family for life. We wish N4LIFE a wonderfully successful evening on 18 July'. Should you wish to donate to this worthy cause you can do so through the N4LIFE just-giving page at www.justgiving.com/n4life or visit the SOS Children Charity's website at www.soschildren.org to find out ways you can help.
ICECAPADE 2009 is proudly partnered by DJAMusic www.djabass.com Mamasino eMagazine www.mamasinomagazine.com Radio Palmwine www.radiopalmwine.com Ji*ro clothing www.jiroshop.com and Adebayo Jones Couture.
CONTACT:
Ace Adegoke
CEO, N4LIFE Entertainment
+447944344288
[email protected]
www.naija4life.co.uk