ABUJA WAS THE ORIGINAL NAME OF SULEJA - SENATOR KUTA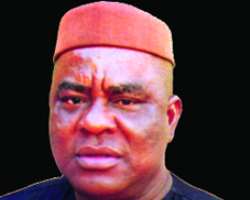 Dahiru Awaisu Kuta is a senator who prefers to be called 'Comrade' and not the deferential 'Distinguished' title members are usually addressed. He has been a progressive politician since the Second Republic and in the Sixth Session of the National Assembly; he has successfully sponsored the HYPPADEC Act, which would hopefully address ecological problems of host communities of Nigeria's hydropower stations.
Senator Kuta, representing Niger East senatorial district tells the history of the FCT and how successive governments have not kept to promises made to Abuja indigenes.
What factors triggered bombings in Suleja, Niger State, a relatively peaceful neighbour of the Federal Capital Territory, Abuja?
It is true that Niger State before now was a peaceful state and even now, it has remained a peaceful state. During the time of politicking, we have had opposition that was aggressive and we thought they shouldn't be because there really isn't much opposition in the state. All the same, the few moments we had these opposition, we saw aggression in politics in Niger State and I think that is not the main issue. The main issue is this: Niger State is the gateway to the Federal Capital Territory, particularly Suleja that has now become a satellite town of the federal capital. The influx of people all over the country to partake in the business activities of the federal capital and then move to Suleja and Suleja has now become the hub hosting almost all tribes in the country, particularly those who come to do business in Abuja. Along with that has come different people from different background and even before now, Suleja has become an area where there is a steady rise in the rate of crime, social vices and the federal government is not helping matters.
How is that?
Well, they are not helping matters because the idea of relocating the federal capital territory to Abuja; one of the conditions, one of the promises made was that the federal government was also going to take care of the satellite towns and unfortunately, the moment we had Suleja, government abandoned the community in such a way that we do not, the Niger State Government does not have the capacity to continue to ensure full security of the town. There is rising rate of unemployment in the town though people come from all over to settle there. There are people who are so idle that they are trying their hands on anything and in the end, it has also been discovered that some of the things we have never witnessed in Suleja before is that there are people who now have the ability to make local bombs. The security agencies have tried their best to see if they can get these locally manufactured bombs and it has not been easy. So, that is why Suleja has now become an area where social vices are very easy to acquire.
Suleja is in Niger State. Why the reference to federal government abandonment?
You may want to know that two third of what is today the federal capital territory, is Suleja land. Two third of the federal capital is Suleja. Some local councils, including Kwali, Gwagwalada were formerly under the firm control of Suleja- Suleja Emirate. Suleja Local Government, not even the Emirate. So, Suleja was ready to give out its land and not only the land but also the name. Abuja was Suleja's original name. I attended Abuja Secondary School in Abuja here. Abuja was the real name of Suleja. But because we were ready to forgo that name so that Nigeria would have unity, we decided to give out that name and then a name was suggested deriving from the name of one of the Emirs of Suleja. The federal capital came into being at the time of Suleiman NuBarao as the Emir of Suleja and Abuja means the fair complexioned.
So, the first person to establish Abuja was Abuja who was driven away from Zaria. So, one of the descendants of Abuja was Suleiman NuBarao and it was during his reign that the federal capital territory was relocated to this area and because the indigenes were ready to forgo that name, Abuja, then, the federal government, in consultation with the community decided to use the name of the Emir then, Suleiman NuBarao, who was not completely fair complexioned but was from the lineage of Abuja. That was how the town became known as Suleja. Sule (shortened from Suleiman) and Ja (fair complexioned) to become Suleja.
Who are the 'we' you keep referring to?
Ha, Ha! I'm from here; I'm an indigene of this place
Indigene? Which tribe?
I'm Gwari. This place is predominantly Gwari. In fact, it may interest you to know that two thirds of what is the federal capital today is from Niger State, specifically from Suleja Local Government.
Are you saying that there are indigenes of Abuja?
Yes, of course! All the areas including Apo, Garki, Kwali, Gwagwalada are from Suleja and Suleja people are the real indigenes of the federal capital territory. So, for people to come and say that this place was a virgin land is not true! It's a blatant lie!
Are you saying that Abuja wasn't created?
Of course not! There were people who lived here. They were indigenes of the land. At least, I attended Abuja Secondary School in 1964-1968. So, I'm in a position to know very well what it is all about. So, that was exactly what happened and so, the problem we now have is that in most cases, anybody who has come to do business in Abuja would prefer to go and stay in Suleja and move from there to come and do business here. With that, facilities in the town provided by the Niger State Government became overstretched, with regards to water supply and hospitals. These are some of the things that have accumulated and contributed to insecurity.
Bombings started when you started your campaign in March 2011
Exactly, you are right.
What has been done to stem the tide?
The bombing started during the take-off of my senatorial campaign and the venue was the Suleja Secondary School, which is my alma mater. We felt we should start off the campaign from there and many students stormed the campaign venue to listen to me. Unfortunately, many of them were killed in the bomb blast. Since that time, the state government has stepped up efforts, spending a lot of money in terms of logistics and security.
The state government is also trying to see whether we can resuscitate the Suleja Master Plan because there is a lot of congestion in Suleja. Everywhere is filled up and people are trying their hands on just about anything to be comfortable in Suleja and that is why you have a lot of vices here and there and people just feel that, yes, you must make it by all means in Abuja and if you cannot get accommodation in the federal capital territory, come to the nearest satellite town which is Suleja. Although there is also Abaji and Keffi in Nasarawa State, people still prefer to stay in Suleja and the federal government is not doing anything to assist because in terms of hospital facility, they were supposed to have assisted us with one or two hospitals.
In terms of water supply, they have not done anything. In terms of roads, they have not tarred any in the town and there was just one time the government did something and after that, no officials came again. In terms of drainage, in terms of control of erosion and floods, it has not been easy. Right now, there is population explosion in Suleja and this is also affecting the drainage of the town. Environmental degradation has affected the town because of over-population. You have epidemics here and there owing to the congestion of the town. This is exactly what has happened to Suleja. The federal government has not come to say, 'its okay, we will assist you' by keeping to its earlier promise.' On all our schools, we wrote to the Federal Capital Development Authority (FCDA), our Emir wrote the FCT for assistance. We were looking for about N300 million just to ensure that we build schools in order to accommodate the children of these settlers. Up till date, we have not received any reply. Up till now, we are yet to get anything.
But the FCT Minister is a former colleague in the Senate. Why not approach him?
Well, the matter started before he was appointed FCT Minister. Up till now, we have not received any form of assistance and if you look at the state of our schools in Suleja, the problem is how do we now get to build schools? If you go to Suleja Secondary School, my former school, you will pity the students. The dormitories are akin to where pigs are living. The state government has done its best and some of us, who are community leaders, are trying to see what we can contribute from our private pockets. But these efforts cannot be enough to lift the pressure on these schools because of population explosion. We, in Suleja, are the hardest hit with the relocation of the federal capital.
Is the spate of bombings related to religious tension in the town?
It has nothing to do with religion although that is not to say that one or two people cannot come round to whip up religious sentiments among the people. Definitely, religion has very little to do with what has happened and what is happening in Suleja. I'm very sure of that. At least, the bombings started during my campaign and I'm a Muslim and nobody would whip up any religious sentiment to campaign.