FRANK EDOHO'S ENSTRANGED WIFE,KATHERINE FINDS NEW LOVE.REAL REASONS THEIR MARRIAGE CRASHED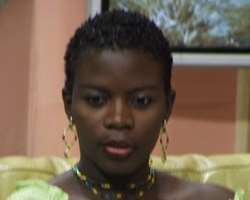 It is longer news that the 'Who Wants To Be A Millionaire host 'Frank Edoho and estranged wife, Katherine has parted ways.
What is new however is that the 2 of them seem to have moved on, starting different relationships.
For instance, Katherine changed her Facebook status a few days ago from 'Single' to in a Relationship'.
Frank may not seem to be bothered with Facebook but he sure has found love again in a big babe who lives in London.
The babe, Sandra Onyenaucheya is a mother of 1 and she plans to walk down the aisles with Frank come December 2011.
Findings revealed that the real reasons their marriage crashed is as a result of the interview granted by Kate when they has a problem in 2007 was being recycled.
In the interview, Kate had then alleged that Frank was a woman beater which was why they were having problems.
Then too, Frank and Kathy's families had reconciled the couple and they had patched up things until July last year when Frank allegedly moved out of his matrimonial home.
Frank's friends are saying that the dude actually worked on making the marriage stand but that there were a lot of issues, like Infidelity on the part of Kathy,including not being in good terms with any of her in-laws which finally crippled the affair.
In the one year they have been apart, despite the rumours being peddled about Frank we hear, has continued to be a good Dad, paying maintenance money to Kathy and often having his kids stay over in his new place.
click the link below to go to...
FRANK EDOHO BEGINS DIVORCE PROCEEDINGS AGAINST ESTRANGED WIFE,KATHRINE!.
FRANK EDOHO FINALLY OPENS UP ON HIS SEPARATION FROM HIS WIFE.
POST SEPARATION TRAUMA FRANK EDOHO'S WIFE KATHERINE SACKED BY CLASSIC FM.
AFTERMATH SEPARATION FROM WIFE,FRANK EDOHO FINDS NEW LOVE.