THE GREATER THREAT: BOKO HARAM OR THE NIGERIAN GOVERNMENT? (PART 1 OF 4)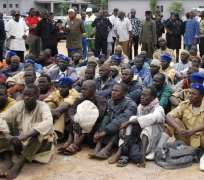 From all available records, it seems that Boko Haram first made its presence known in January 2004, in Kannama Yobe State. It was not until July 2009, when it finally announced its presence to the international audience by attacking a police station in Bauchi and with the violence spreading to Maiduguri. Between 2005 and 2009, it was the Movement for the Emancipation of the Niger Delta (MEND) that commanded much of the attention. Boko Haram, it now seem, waited for MEND to have its day in the limelight. What a run, MEND had!
Frankly, one has not paid the desired attention to Boko Haram in terms of its origin and philosophy, its Raison d'être, its goals and endgame, and what its Achilles Heels are. Much of what one knows, as limited as it might be, are what have been printed or talked about in the media and within some circles. What I know for sure is that in most cases, there is a difference between militant groups, justice-seeking fraternities, extra-religious groups, secessionists, and criminal gangs. And terrorist organizations. (Terrorism is one of those grey areas where definition can be tricky.)
The MEND that I am familiar with is different from many other groups that are/were "fighting" the Nigerian Government. The EU did not classify MEND as a terrorist group; and neither did the US, Canada, or any African country. For more than 40 years, the Government, along with the multinational oil companies and some powerful individuals in and outside of the country, were excluding, insulting and assaulting the oil-producing communities, their ecology, and their sources of livelihood; and also cheated the region in terms of wealth allocation. This was part of what "MEND" was fighting against.
Whether one agreed with MEND's tail-end tactics or not, is not the question here. The world knew what the group was fighting for, what their grievances were. And frankly, except for one, two or three instances, the group limited its actions to the Niger Delta region. It also did its best to avoid civilian casualties and other collateral damages. These, I cannot say of Boko Haram. However, I wish the group would curtail its actions by not targeting women and children. I wish it would not kill and maim innocent civilians who have no links with whatever the group is fighting against.
Some Nigerians seem to believe that Boko Haram is a criminal enterprise. More seem to believe that the group has untold religious and ethnic agenda. Others have termed it a terrorist organization. Either way one looks at the group, the general consensus is that the group has done more harm to peace and security than similar groups in the history of the country. The group seems to be so lethal that the Nigerian government, along with foreign security and intelligence organizations, seems not to know what to do: they are stumped, befuddle, dazed.
In thinking about Boko Hara (even if fleetingly), one wonders which is more lethal, dangerous, militaristic, and terroristic in its mien, actions, and policies. Is it the Nigerian Government, along with its 36 federating states, or is it Boko Haram? Yes, the group may have been responsible for the heightened state of insecurity in the country; it may have killed and maimed hundreds of innocent citizens, and may even be responsible for property damages worth millions of dollars. What the group may have done, or is alleged to have done, is unacceptable, condemnable, horrendous, and inhumane. But if you consider what this and successive Nigerian and state governments have done to millions of its citizens -- one begins to wonder: which is more dangerous and a greater threat to its people and to humanity?
Except for the Generals Yakubu Gowon and Muhammadu Buhari's administration, the Nigerian government, in concert with ninety-five percent or more of state governments, basically institutionalized barbarism, savagery, thuggery, licentiousness, political and economic prostitution, corruption and corrupt practices, and anarchy. Nigerian governments helped to fan the ember of hate. They made it easy for groups to engage in unhealthy ethnic competition. They killed the spirit of hard work, common sense, and enterprise. And they also quenched the nation's collective thirst for intellectual pursuit.
Piece by piece, yard by yard, they mortgaged and then sold the country to miscreants and leeches. Year after year, thousands of Nigerian dies on our streets, motor ways, and hospitals. Millions of Nigerians go to our hospitals and clinics, not to get well or to recuperate, but to die. And then, every so often, the government bombs and kills innocent civilians in the Niger Delta region. How many Nigerians did the Olusegun Obasanjo and Shehu Yar'Adua's government kill in Ijaw Land? How many innocent Nigerians have, in the Niger Delta, died as a result of the directives given by Goodluck Jonathan?
So, tell me: who is the greater threat to Nigerians and to humanity?
Written by Sabella Abidde is on Facebook and can also be reached at: [email protected]
Disclaimer:

"The views/contents expressed in this article are the sole responsibility of

thewillnigeria.com

and do not necessarily reflect those of The Nigerian Voice. The Nigerian Voice will not be responsible or liable for any inaccurate or incorrect statements contained in this article."
Articles by thewillnigeria.com