I made Damasus, Okereke stars — Emem Isong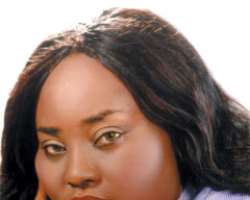 When she walked out of the banking hall into the movie world in the 90s, Emem Isong had a clear Emem Isong of what she wanted to achieve.
One of her achievements was discovering talents. Today, her name is synonymous with three things: discovering talents, producing well-thought out movies and script writing.
Discovering talents, according to her, gives her a sense of fulfillment and joy that transcends human imagination. She started her career in 1994, and excelled in writing and producing movies. With provoking and thrilling plots, Emem has earned her place in Nollywood, not only as one of the best screenplay writers in the country, but also, as one who has discovered some of the big names in the movie industry today.
As an icon to reckon with when it comes to movie making, Emem, to her credit discovered the likes of Dakore Egbuson, Stella Damascus, Stephanie Okereke, to mention but a few. These big names today are not only hot, they are among the most sought after actresses the industry is proud of.
Ironically, despite discovering talents and earning herself the appellation, " A Queen-Mother of the Screen", this banker-turned-movie maker was quick to declare she did not possess the flair for acting. Rather, according to her, "I have always liked to be on the managerial side of things. For some reasons, I like to create. Because I am a writer first and foremost. I like to manage people."
Apart from being passionate about her writing as a producer, Emem has a strong desire to stay behind the camera in order to monitor what comes out of her production.
According to her, "I have realized that as a producer, you are in control, to a certain extent, of what comes out of your work. So, I am very passionate about my writing. And that's why I decided to make a career in producing. By that way, I could be in control of what comes out of my productions. I am not an actress in the first place. And I don't think I possess the flair for acting.
"But occasionally, I do play minor roles in my own movies. More importantly, I am good at discovering talents. Possessing the ability to uncover every individual potential when it comes to the world of make-believe. For me, I have no interest in acting. But I like to discover those who would ensure that the industry did not collapse."
"To some extent, I disciovered some of the big names in the industry. Although Stephanie Okereke had featured in one or two movies before I met her. My movie, "Emotional Crack" helped a lot in exposing her talent to the world.
Also, I discovered the likes of Stella Damascus and Dakore Egbuson."
Since her emergence in the movie world, Emem has written and produced well over 50 movies, some of which have won awards both nationally and internationally. She has also written about 10 movies for other producers, renowned for writing and producing highly and thrilling suspense movies.
Emem admits that her strength as a screenplay writer lies in her imitable ability to combine the rich cultural roots of the Akwa Ibom people and her degree in Theater Arts to churn out some of the best scripts that have come out of Nollywood.
A pointer to this fact is her latest star-studded flick, "Reloaded" jointly produced with top actor, Desmond Elliot, which was nominated for this year's AMAA. The action packed movie, parading Ramsey Noah, Van Vicker, Desmond Elliot, Uche Jombo, Ini Edo, Rita Dominic, Stephanie Okereke, Monalisa Chinda, Mercy Johnson, Omoni Oboli and a host of others, has continued to enjoy rave reviews across board.
Recounting the story of her journey into the world of make-believe during an encounter with HVP few days ago, the Akwa-Ibom State born screen writer maintains that "Reloaded" remains one of her most challenging films in recent times.
"Reloaded' according to her, was a product of discussion between herself and one of her friends which was centred on a particular incident that happened in real life.
"After that discussion, we decided to dramatise the story. That was how 'Reloaded" came about. Most of the storylines in 'Reloaded" are actually real. And the three writers that wrote the play would attest to that much."
Describing her style of movie production as "paying attention to details", Emem says, ''I am dramatic. I love dramatic events and I don't want a situation where you predict what would happen next.'
''I also love dialogue and I pay a lot of attention to detail, as I expect the viewer to be thrilled,'' she says, continuing: "If you watch all my movies… you would see what I am saying. For example, in ''Breaking Point," "She Devil", "A Minute To Midnight", "Master Stroke", "Play Boy", "Rumours", "Shattered Illusion", "Promise Me Forever", and "Emotional Crack"… not forgetting Private Sin.'' For the Unical Theatre Arts graduate, the work of a producer is both challenging and interesting at the same time. "Sourcing for funds to produce our movies and effective distribution is part of the challenges facing every producer in Nigeria. Emem mentions, ''Hit And Run.." as the movie that brought her into the limelight.
"But the one that made me happiest was "Emotional Crack", which took me to festivals outside the country, particularly the African Film Festival in New York. I was invited… and that exposed me to meet with a lot of other film-makers and some others in the film industry. That is the movie that gave me the break that I needed.''
Emem also reveals that her first movie, "Breaking Point" was produced with only N60,000. "The magic was that I opted to use unpopular faces which paid off. That was when I discovered Stella Damascus who came in as a greenhorn and played the lead role, backed up with one or two experienced hands."
As a producer, she is hardly satisfied with any of the films that she has made, adding that " that's not to say that I don't appreciate my works."
One of the movies she did which she admits gladdens her is 'Critical Decision'. For some reasons, she says, "I enjoyed writing the script and also making the movie. I will not say the movie is my best movie. But I enjoyed working on that particular project.
"Also, one other movie I didn't like doing was 'Untouchable". After producing that movie, I didn't know what went wrong that prevented me from appreciating the work. There are a couple of other movies I would have loved to re-make. Sometimes, I do re-make my movies.
The "Breaking Point", which I earlier mentioned. You wouldn't believe that I have re-made that movie in a film I called, "Traumatised", and nobody took notice of it."
The irresistible producer lists good acting, speech act as part of the attributes producers always look out in any actor or actress he or she wants to feature in a movie.
In terms of her budget, she discloses it depends on the kind of film that she wants to produce at a particular time. If it's a big budget, we are looking at N10 to N12 million. But if it's a low budget, we are talking of N3 million to N5 million.
I pay the stars I feature in my movies handsomely. In my yet to be released movie, I'm paying some of the stars featuring in that movie as much as N1.3 million."