"I am not looking for love"------Ann Njemanze, top Nollywood actress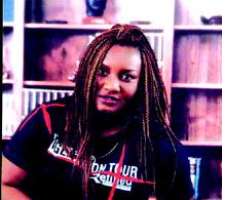 She is probably better know as Domitilla, the exceptional character of a prostitute she played years ago. But while many would have been bothered that such a "name" still sticks, Ann Njemanze isn't. She rather said matter-of- factly: "People answer Domitilla. I think its even a Catholic name."
Anyway, Njemanze has not had it all rosy as some other actresses readily claim. A few years ago, not long after her marriage to actor, Segun Arinze crashed, she was involved in a near fatal accident in Calabar, Cross River State. That incident almost completely removed this Owerri , Imo State-born actress from the make-believe world. For years, she remained on clutches, and still carries the scar from that accident on her chin. Thankfully, the clutches are gone and she even had a pencil - thin high heel shoes when http://nollywoodgists.com met her.
Njemanze took the questions as they came. Even when we tilted to the angle of her failed marriage, she had all the good words in the book to say about her enstranged husband whom she had a lovely baby girl for.
Indeed Njemanze is not your average run-off-the-mill actress, as in addition to acting, she is one of the most patronised voices on radio-doing voice-overs for products and even lending it for plays. An Arts gruduate of the University of Lagos, Nzemanze is also a wonderful painter. "Two weeks can't go by without me painting something," she told us full of glee.
Apart from her age, Njemanze held nothing else back. Which is why this enterview is a must-read. Enjoy.
It's been quite a while since you were seen on television. What have you been doing?
I do a whole lot of other things apart from acting, like interior decoration, painting, script writing, voicing, etc.
Is it that you have finally abandoned acting?
Not at all. I do other things apart from acting. About two weeks ago, I was in Foluke Daramola's Soap Opera. I have never been out of the industry, and if you've been listening to the radio, you would have been hearing my voice and name. Acting is not something that should be done everyday. Ideally, one shouldn't do more than three or four movies in a year. You need to create space for new things to come up. It's not as if I have been away. I have always been around: when I am not acting, I do voice- over.
You are an interior decorator too. When did that start?
I graduated from the University of Lagos as a painter and I put it to good use.
I used to think you read Theatre Arts?
No. I didn't read that. I read Visual Arts. I have always liked drawing from primary school. So while in secondary school, I realised I had it in me. But actually, I wanted to read Law. Thank God, I have very learned parents who thought I would do better if I went into the world of Arts. So I said "yes." I started higher education as a Theatre student at diploma level. That was at the University of Port Harcourt. I love the Arts. Even if I had not done Visual Arts, I would still have gotten a degree in acting.
Many people believe that there is really no bright future for the Visual artistes in Nigeria. How true is this?
Take a look around you. See the paintings on the wall, plates, floors, etc. There is a whole world of future in it. That's arts for you. But the only challenge is, if you are not in the right place at the right time you will starve. If you are not working in an advertising agency and you are not doing things to drive this kind of art forward, it's a bit difficult. If that's not the case, you take it to the gallery and do a lot of other things. Thank God for computers. So, it's not really difficult if you know what you are doing and where you are going. Already, I am working on some collections for greeting cards. Before the end of the year, I'll finish it.
But you are more known as an actress than visual artist. Don't you think there is a contradiction here?
Yes, I am an actress, but I don't think two weeks can go by without me painting. I like everything that goes with the Arts. Yes, I can't do everything but the much I can do, I think I do very well.
How did you find yourself in the movie industry if you have such passion for painting?
Like I said earlier, my parents helped me to make up my mind. After the diploma programme I had at UNIPORT, I came to Lagos, I had the zest to do something, so I went for some auditions, a lot of auditions. Somehow, I came across Kenneth Nnebue and Amaka Igwe. I featured in their productions Rattle Snake 1 and 2, True Confession, etc.
(Cuts in) and then Domitilla?
Domitilla came much later. Whao! You know, every actor and actress wants to have a signature name. It's like the day I came across Ronke, popularly known as Ronke Oshodi Oke. I called her that. That was a great movie.
Your role, Domitilla in that movie was a prostitute. Till date, some people still call you that. How do you feel?
In the first place, there are people around the world who bear that name. In fact, it is a Catholic name. I don't get embarrassed when I am called that. The story was a near true life story and I think people have gotten past the fact that I was a prostitute to support myself in the movie, and it was a moralistic story and I guess I draw a lot of comfort that people bear the name.
How did you get that role?
Em, I remember very well. Zeb Ejiro was auditioning me, Omotola, Kate, Chinma and one other person for something Oritz Wiliki was going to do. It was a tight one, because we were at it for days. Omotola got the first lead because she was light in complexion while I got the second lead. I guess Zeb was very impressed. So, he told me that 'you know, if you loose a little weight, I think I'll want you to play a role in my upcoming movie.' I didn't take him too seriously then. So, two weeks later when he saw me, he saw that I had indeed lost weight. What he didn't know was that I did that because I was working on another project. He was impressed and then told me that production was kicking off in another month. That was it.
Back then, you were involved in productions that got people thinking after they finished watching you. You write scripts now, but today many don't even identify with the stories churned out from the industry. What do you think is the problem?
I don't want to be seen as throwing the bath water away with the baby. Yes, we've come a long way but I wouldn't say we've done exceptionally well. I don't enjoy the fact that mediocres came and started dictating who they wanted to play lead in movies. A lot of people think acting is a child's play. It hurts me when I look at the past and see script writers go into a hotel for two-three months to be able to write a proper script. Compare that to today when you see a script being written by the producer, who ends up directing it. They even write it at locations. Another problem is that the actors don't take time off. Acting should come from the inside because you are not acting the real you. Time should be taken to refresh or else you'll just be doing trash. I want to be able to mute the TV and be able to tell what the story is all about by the expression on their faces. Delivery is very important. We must be able to cut across to many people. We are not "Oyinbos." You are in the village and speaking Queen's English. I think by the time the independent producers take over the market again, things will turn around for better. For those of us already there, I don't see why we can't move away to do something on stage. I believe a lot in the stage-oriented actor or actress. If you don't have it, you don't have it. If you didn't go to school to study Theatre Arts then get trained. We never stop learning and that's why we get it all wrong. I see good stories but bad directors. Good directing but bad stories. You can't have all in a package but gradually, we'll get there.
How many of your scripts have been produced?
I think the only thing I've produced so far are radio scripts. I do have movie scripts but I haven't got a sponsor yet. And I would love to be more of an artistic director than even a producer. I would rather have a producer that will see to the nitty gritty of the production.
You survived a near fatal accident which almost left you crippled. Today, you are walking and doing well. How did you manage to piece
your life back together?
(Silence) I have a family. I grew up in a family where we stick together. Sometimes, I even feel they are meddling too much into my business (smiles). To tell you the truth, they were there for me. I have a few friends too who stood by me. You know, I tell people that the worst kind of pain you feel is bone marrow pain. Even when I couldn't pray, they did it for me. Without them, I wouldn't know what I could have done.
Did you ever fear you were never going to come back to the industry?
I got bothered when I came out having bulkish shoulders because I was on cluthes for so long. I cried to God that I wasn't looking as pretty as I used to. So, one day my mother said to me: 'You know, you're just going to get to 80, look back and discover that you have not been able to do all you wanted to do. You better start living.' It took a while before I got comfortable with myself again. There were times I thought I had missed it, but the arts in me kept encouraging me.
As a single parent, how were you able to take care of your child during that period?
We are in an African society. My family, as I said have been there for me. She is okay. She is 11 years old and the class captain of her Junior Secondary School (JSS) one class.
You got separated from your husband, actor Segun Arinze some years back. He got married last year. Would you give marriage a second chance?
(Long silence) O God, I think I could. But it will take a whole lot of getting to know the person. Being sure.
Do you still believe in love?
I believe a lot in love. I have to be in love with the person to marry him. I do not want him to marry me because of the heat of the moment. I do not want to compromise anything. I want you to love every part of me, the way I think, eat, talk, et cetera.
What if it comes suddenly?
How does it come? It doesn't always come that way. I must tell you one thing though, I am a stickler for intelligent men. If you are the ugliest man on the face of the earth and I find out that you are intelligent, o God… But you see, from experience – not from my past marriage but from other relationships, you'll find out that Nigerian or that African men are funny people. You have to be careful with them. And the position that I find myself is due to the kind of job I do. I have to be very careful. For us actresses, its very dicey. I am not looking for love seriously. I have a lot in my head now that I want to achieve. Let love come to me.
Are you in a relationship?
I am. But its not the kind of relationship that I expect anything to happen because the average Nigerian woman's dream is marriage. That is not my goal. I want whoever I am involved with to be proud of me. If a man say's he loves me as I am and wants to adopt every part of my life, its okay. Do you know why I said let love come to me? It's because I love easily and it never favours me. Maybe I am being careful now and maybe I am guiding my heart. I draw a lot of strength from any relationship I find myself in. The relationship I am having today is such that when I make mistakes, he tells me. I haven't seen it all. But I want something real. I see my friends in relationships and I say 'I wish I had that type' but you know…
Are you temperamental?
(Smiles) I used to be positively and negatively temperamental.
Segun Arinze, your ex-husband, as I said before, has given marriage another chance. Tell me, are you happy for him?
My God. O, its been 11 years. The last time I saw him I said 'Gosh,' you're looking chubby, marriage is good for you.' I feel happy for him. It's not easy for a man to stay that long. I guess for him, it was getting the right choice. I really pray that this time its right for him. We had our issues and I walked out. He didn't ask me to leave.
While married to Arinze, were you really in love with him?
Yes, as much as a wife ought to love the husband. I did the much I could.
You said you walked out, looking back, do you regret ever doing that?
As a philosophy of life, I never regret anything I do. I will not tell you that I had as much wisdom then as I have now. But I will tell you that it will not be too out of place to say I rushed in. I was too young.
How old where you then?
I am not telling. Then you'll begin to calculate my age. All I can say is that from secondary school, I went to diploma, then during the internship I got married. My parents asked me to give the relationship time but I said "no". I thought marriage was all rosy because my parents had the type.
The accident you had left a scar on your chin, has it in anyway prevented you from getting a role?
Last year, I lost out of a deal because they weren't very comfortable with it. Other than that, I have never had any problem with it.
When you look at yourself today, what do you see?
I think I am a more matured person. I am a woman now and I take one day at a time as it comes. I celebrate a lot these days and I don't allow anything bother me.