I Just Love Chilling And Having Fun---Stephanie Okereke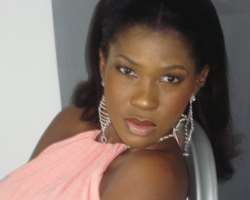 When she busted into limelight with a challenging role in a movie entitled Emotional Crack in 2003, she became an instant success, gaining recognition as one of the emerging queens of Nollywood.
Ever since, Stephanie Okereke has been able to combine beauty with talent, to make a name for herself in the make believe world. And, over the years, she has turned out to become an icon, indeed, a reference point in the movie industry.
At a point in her life, a terrible auto accident left her at the mercy of doctors with many fearing for her life and career, but she came out strong after the freak incident.
She may have survived the accident with limbs intact, but the memory still lingers.
"The accident remains part of my story as a personality. Who knows, I may make a flick out of it one of these days. But really, I can only thank God that I came out very strong, having had to use crutches for several months," she said.
Stephanie was one of the star actresses to watch out for at the last African Movies Awards Academy (AMAA). She had been nominated for the best actress plaque alongside Stella Damasus and others but the prize eventually went to Jenifa star, Funke Akindele.
However, having consigned the sad development of separation from her former husband to her past, the lady, feels contended to have completed her first production, and the completion of a film directing, producing and writing course at a film school in Los Angeles, United States of America.
"I studied English Language at the University of Calabar (UNICAL), and travelled to hone my skills by enrolling for a course at New York Film Academy, where I studied directing, acting and writing courses. I'm hoping to do my postgraduate very soon. I don't know where I would want to take that, but that would depend on how I feel. I started out as an actress in the movie industry. The whole essence of doing my movie is to improve Nollywood and not to abandon it. It is for us to improve, and for any other person to look at my work and do better. I also want to avoid mediocrity, which has been holding us back. Basically, to make us all think out of the box.
"I directed the movie with assistance from Erin Connan and Serah Onyeachor. It is such a fantastic flick that would lay examples when it finally debuts. And because I wanted to make a statement with it, I employed the services of a Hollywood act, Garret Mc Kechnie. Beside the fact that I could pay his bill, he was enthusiastic about the script when he read it. The production was in Los Angeles and it was a success, despite being my first film," Stephanie declared excitedly.
Stephanie, without doubts exudes such radiance and poise that makes her struts leave a lasting impression on many who comes across her.
Is the alluring lady planning to dump acting for film production because of the success of her debut effort, after the completion of her degree course at film school?
"I might have written, produced and directed Through the Glass, but acting has always been my first love and I doubt if I will ever leave it for anything. If I have time to combine all I have to do, why not? But if not, fine. The bottom line remains, I can't leave acting.
"It is actually scary for me coming into movie production. Not that I'm trying to be jack of all trades, but what gave me further confidence is that I don't venture into things that I know I can't come out with 80 per cent success. So, I am always factual with the truth. What I can't do right, I don't try and what I can, I do it with all my being," Stephanie said about her decision to write, direct and produce her own flick.
According to the screen goddess, despite the glamour of Nollywood, and her success as a star, she is still the girl next-door.
"I am the girl next door. I just love chilling and having fun. I'm down to earth, easy-going; try to make people happy, and try to be the best that I can be.
"For me, love is love; love is selfless, total commitment. Love is seeing people for who they are, and trying to see if you can make their lives better, but if you can't, fine. Love is a selfless gesture. No matter how people try to twist it, love is love."
For the Imo State born Stephanie, being blunt is so cool and this makes her free.
"I love being blunt, it's so cool when you are blunt. And when you just say it, people are shocked to hear you. It's so cool, it makes you free to be blunt and I'm very diplomatic."
Stephanie gives reasons for her new vocation of directing and producing a new flick: "The world is now a global village. We need to know that the world is now a global village.
"We need to sell our culture overseas; we already know our culture, that's no problem. But the little we do, we must make sure it projects us in good light to the rest of the world. We need to understand that it is not about us anymore but about other people; telling them who we really are."
Many shouldn't be too surprised if Stephanie starts competing with top Nigerian fashionistas, as the leggy beauty has already made inroad into the fashion world with the establishment of S.O. Collections.
Stephanie might finally be ready to fly out of the box and get herself involved in more Hollywood productions.