No! I'm now more matured and focused----Halimat Abubakar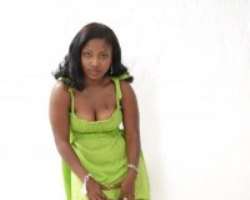 Halimat Abubakar, a popular actress in the Nollywood industry in this interview with http://nollywoodgists.com advised R&B musician, Tuface Idibia not to waste any more time but to get married to Annie Macaulay. According to her, 'it is a known fact to many in the entertainment industry that the duo are deeply in love with one another. I guess they are meant for each other. They should just get married and start a family. I think they deserve each other. Am sure they like each other. It is very obvious; you can see it all over them that they are meant for each other. I advise them to get married and start a family." She also revealed that she no longer dresses carelessly or wear skimpy clothes as she did in the past because "I'm now more matured and focused. Excerpts:
How long have you been in this industry?
I've been in the industry for about nine years.
What really attracted you to the industry?
The love for acting actually propelled me into it. I used to watch a lot of foreign movies and I said to myself I could as well do more than they were doing and that was how I decided to move forward and here I am today doing it in my own country and in our own way.
Can you say the industry is worthwhile?
Well, we are getting there gradually; you know it wasn't like this before. Things are really changing for better and I am happy that I am involved.
Can you still remember your contemporaries back then?
My contemporaries then include Georgina Onuoha, Empress Njamah, Genevieve Nnaji, Victoria Nyamah and others I cannot remember now. Though I met Genevieve and Victoria Nyamah, I think they were just a year ahead of me but we were struggling together then, however, Victoria came into prominence faster.
People criticize you for wearing skimpy, revealing clothes, what's your take on this?
(Starring at her clothes and bursting into laughter). No, no, no, I don't. May be when I was younger but not now. I was just trying to experiment with my dressing then. That is in the past. I no longer dress carelessly like before. I am more matured and focused now.
How many awards have you won so far?
I have won two so far, one from my village back in Kano and another one (Achievers awards 2005/2006) from Kogi State for youth development but I've not received any national or international awards yet, but I believe they will be rolling in soon. For example two of my movies got nominated at the just concluded AMAA awards.
What's your assessment of the industry now and how viable do you think the industry would be in the next ten years?
Of course we are already doing well in the industry. Even with the way things are going now, I see the industry coming out stronger in the next one year just like how music industry did. It's just a matter of time. This is an industry which, after graduation provides you with a ready job. We are actually doing well for ourselves and I believe this industry is getting better and better everyday.
How many movies have you produced on your own?
I have not produced any.
How about movies you taken part in?
About 50
Who is Halima Abubakar?
I am humble, homely, reserved, a little bit tempered. Halimat is a combination of everything and that's what makes me who I am. But basically
I am accessible.
Where were you born?
I was born in Kano
Where are your parents from?
My father is from Kano while my mum is from Kogi State. My Mum is half Kano and half Kogi.
What number are you in the family?
I am number two.
What about others?
My sister is married with kids while my younger brother is here in Lagos. My other siblings are in Kano. One just graduated while the others are still in school.
Do you plan getting married soon?
Of course yes. When the time is ripe I will let you know.
You mean the time is not yet ripe?
I'm been very careful. I've seen a lot of marriages crumble for so many reasons. I need to be extra careful so as not to make any mistake. I wouldn't want a failed marriage, that's why I'm taking my time.
There is this insinuation that your father disowned you some years back. Is it true?
No, there was nothing like that.
Are you sure you are telling us the truth?
There was nothing like that. We only had a minor disagreement just like any other father and daughter.
You know we all have our differences and we are bound to reconcile. That was two years ago and it was nothing serious.
Can you act nude if the price is right?
No. I can never do that. Even as a young model then, my dressing was not all that revealing.
How do you relax?
I read, play karaoke, watch movies and visit the bitch to relax and enjoy nature.
You must have been in some relationships in the past. Can you still count? If yes how many?
Just two or three
What led to break-up of the relationships?
I discovered that the first one was married without letting me know. The other one was a horrible liar who was not sincere with me so I just had to dump him. I don't have patience for liars.
How would you call the relationship between you and Annie?
Which Annie is that?
Annie Macaulay?
Oh! She is just a colleague and friend. We've done a lot of films together. I think she is a good girl.
What do you have to say about her relationship with Tuface Idibia?
I guess they are meant for each other. They should just get married and start a family. I think both of them deserve each other. Am sure they like each other. It is very obvious; you can see it all over them that they are meant for each other. I advise them to get married and start a family.
So, is Halimat getting married before the year runs out?
Let's see what God would do, it can happen any moment you never expect.