No Going Back To My Ex-husband -Mercy Aigbe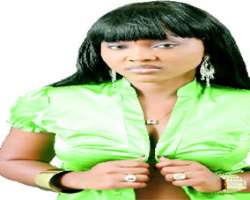 Ever since she began her career in the Yoruba movie industry; and after being given a role by Ibadan-based Wemimo Film, she has made more headlines than some of her older and contemporary colleagues.
Born Mercy Aigbe to Edo parents, this beautiful lady and mother of one, has been at no one's mercy. Rather, many producers are at her mercy for she can't just be wished away in the Nigerian movie industry.
"My selling point is the talent God has given me. Aside this, my humility also contributes to my selling point.
"Actually I got my break from Wemimo Films in Ibadan, and it was through one of the movies they produced then. I got help from people like Uncle Yinka Quadri and several others. I sincerely believe that I'm lucky to have bosses who have helped here and there when I started," Mercy said about her talent, which has turned her into one of the most sought after ladies in Nollywood.
Many have attributed her sudden rise in the industry to her ability to 'roll with those that matter.' Instead of losing sleep over such weighty remark, Mercy simply maintains that she has simply accepted the insinuations as her price for being in Nollywood.
"Yinka Aiyefele, Kelvin and the recent one and Larry Gentry are names that have been linked to be. The truth, however, is that I do not have anything to do with these men. It is saddening that people can go about spreading untrue tales about me.
"Although I am single, I really can't tell why I have been romantically linked with all these men. The only thing I can say is that I have come to believe that it is the price that I have to pay for being a star actress.
"People before me have gone through the same thing. Every job has its disadvantages, but I think I can blame some of our colleagues who go about spreading untruth out of jealousy. These set of people just want to run you down for reasons they themselves can't tell.
"It's so bad. How can someone envy you to the extent of spreading lies and damaging tales about you?" Mercy wondered.
Could her single status be responsible for linking several men with her?
"I don't think it's because I'm single. Some of us that are married still go through the same thing. I have tried my best to comport myself in the industry, and be of the best behaviour, but people just want to say things, even when they are wrong.
"It's so sad, but I have decided to wear a thick skin and ensure that none of these things bother me. In fact, I see them and just say to myself, it's one of the prices I have to pay for being a star.
"I'm not saying it is right for people to peddle false tales about me, or go about misinforming people because they envy me. But I can't allow it to affect me. Even if it does, I just have to develop a thick skin and move on," she answered.
Imbued with sound intelligence, a result of her stint with soap operas and her study at the University of Lagos, where she read creative arts, the slim built actress wishes to make more marks than she has done already.
"I sincerely and truly believe in what I do. I studied creative arts at the University of Lagos simply because of my love for the arts. Before I enrolled for programme, I had an OND in accountancy from The Polytechnic, Ibadan.
"I can confidently say that I joined the movie industry in 2005, and started acting in 2006. I started with soap operas like ÔÔÔSuper Story, Images and TreasuresÔÔÔ, before I started acting in Yoruba flicks.
"I have worked with filmmakers like Chico Ejiro and Charles Novia, among others. My first Yoruba flick was Sebeyan Ni, but I got my break after acting in the flick known as Ara. I have featured in close to 80 films, but I have really lost count.
"I have also been able to produce my own flick and it is entitled Abimbola. But if I must be honest, one of my favourite flicks of all time is Lolade. I really enjoyed the production of the flick a great deal."
How has been for this single mother of one child, who has a blossoming career, to combine her calling with motherhood?
"It hasn't been easy, but we thank God. This is simply because He has been the One there for me all the time. He is so good to me and I am having a wonderful time bringing up my child.
"Although I would agree that at the time that I became a single mother, I was badly traumatised. In fact, the most traumatising period for me was when I parted ways with the father of my child. It was so upsetting because I went into the marriage with naivety, but came out as a single mother," Mercy said regretfully.
If she feels this bad, does she plan to reunite with the father of the child?
"There is no room for that. Our relationship is cordial and we are simply on talking terms. Our child has strengthened this, but there is nothing like reuniting. We are just friends.
"Aside that, I am in a relationship with another man at the moment, and my daughter has taken so much to my fianc» that she calls him 'daddy' and before you know it, we would be getting married.
"I'm in a relationship with a fun loving, caring and God fearing man who cherishes his privacy. It's challenging enough that I am in the public eyes and he is private person, but, I simply want to do as he wishes and keep him away from the public. However, I know that very soon, the relationship will lead to marriage. I want to leave every other thing secret for now. God willing, I will be getting married soon," she enthused.
A star of no mean status, Mercy is one young lady many agree has seen it all. But how well is she enjoying her standing as a Nollywood queen?
"I enjoy my current status, but the challenge comes mostly from what people choose to believe about actresses from what they read. Another thing is that you don't go unnoticed; you don't have your privacy anymore, but in all, it's what I prayed and worked hard for and it has come to reality," she replied gleefully.
It is being said that some actresses become so enamoured with actors they are paired with and become emotionally entangled with them.
But Mercy denied this, saying, "even if I have to be kissed or cuddled by the actor I am acting alongside, I won't be moved in anyway. It's unprofessional when you get emotionally involved. That only happens when there's intimacy and chemistry between the actors. Aside that, it is impossible for me to feel unnecessarily moved because I am being kissed or cuddled by another actor on a set.