I'm happy to be who I am – Yvonne Chaka Chaka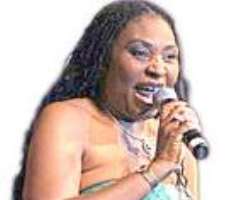 Talk of great musicians from South Africa, and you would certainly not leave out songstress par-excellence, Yvonne Chaka Chaka. She has made herself and... her country proud in the world with her music, having churned out some beautiful songs Umqombothi and I'm in love with the DJ among others. The 44 years old mother of three had featured in movies as well, but never in a feature film. A few days ago, she arrived Nigeria, and her mission is to feature in a film called Foreign Demon. She will be featuring in the film alongside Nigeria's great in the movie industry like Justus Esiri. She spoke with FUNMI SALOME JOHNSON of http://nollywoodgists.com on a number of issues which include her journey into music, her philosophy and her family. Excerpts:
How are you enjoying Lagos?
Lagos has been great but extremely hot. Anyway, I have gotten used to it.
Learnt you are here to shoot a movie, what is the title of the movie?
The title of the movie is Foreign demon.
How come you have not acted in all the years of your stardom?
I have done some acting in South Africa but this is my first feature film.
What prompted this idea?
I have worked with people in the industry and Moments Entertainment that does feature films, documentaries and all sorts of things. We got talking and this came about. I guess everything has got a beginning, so this is a beginning for me, it is like an explosive.
How would you compare acting with music?
I would say acting and singing are the same because when you are on stage, you are acting and you are using your voice, so I don't think there is much difference. For me, this is not something very new.
What happens to your family now that you have to leave them in South Africa to come to Nigeria?
Leaving my family in South Africa and coming to shoot in Nigeria is not a big deal because when I perform, I leave home and go to New York or go to London or anywhere else in the world that I have to perform. So, leaving home is not an issue at all because I am never at home while doing my music, my philanthropic work or when I have to shoot.
Talking about your NGO, what is it about?
The NGO is called The Princess of Africa Foundation and it deals with Malaria and disability. Five years ago, I lost one of my musicians in Gabon and I decided that I need to do something. I need to advocate and sensitise people about Malaria and since then I have been working with the UN. I am an ambassador on Malaria. So, for me, it has been an eye opener because a lot of people do not know about malaria. I am wiser now and I know much about it.
How do you feel being an ambassador, doing what you are doing for humanity?
I have always done work for people and I have always helped where I could, only that this time around, it is quite wide, it is open because I work in the whole world and my working with the UN has been quite advantageous. I am able to do things that I want to do, things that can help those who cannot help themselves. For me, it is really not a big deal because I have got the voice and I have got the strength to do it. I feel happy because there are so many people out there and so many people suffering and if I can be an agent of change, I will love to do it. That is exactly what I am doing now.
Taking you down memory lane. What prompted you into music?
I guess every black child sings in the shower, in school, in the church and it was those wonderful things I did. For me, music was never going to be a career; when I grew up, I never thought I was going to be a musician. My mother wanted me to be a lawyer and I wanted to be a Chattered Accountant and it happened. Twenty three years down the line, I am still there going strong and I have met with different faces. I have met different people, old and young and life has just been so good.
What sensation ran through you the first time you went on stage to sing professionally?
The first time I went on stage to sing, I remember very well, we had about twenty five thousand people there. I went on stage, saw the crowd and I ran out of the stage because I did not think I could handle it. My manager and people who were looking up to me came and told me that if I did not get back on stage to sing, there was going to be a riot. So, I entered the stage and I closed my eyes and I sang 'I'm in love aha, I'm in love with the DJ, aha...' I did not want to look at anybody, I just went closing my eyes and I went off stage. That was how I managed to perform that day and I went through the whole trauma because I had never done it before. I had sang in church, I had sang in the choir but that was different because that time around, I was playing for people who had paid to come and see me and I had never performed before. It was so traumatising, it was not easy but I got over all that with time.
In all your years as a musical star, which of your tracks would you say is your favorite?
I was able to write most of my music, I was given a chance by my producers then to produce all my music. I think I like all my music, I can never specify one as being favourite because every track has got a different meaning and when I sit down, I always want to make sure that if it is ten tracks I am going to, they must all be entertaining and educating. I will not say okay I am doing ten tracks, let me do two songs that will be very good while others will just be there for commercial reasons. No, I put every effort in every track so that when I listen to it, it must have some private meaning. I must say that I really like all my music but I know there are some tracks that people will pick like Umqombothi, I'm in love with the DJ, I cry for freedom and some others like that. So, some will pick whatever tracks and say those are the ones they love but I love all my tracks.
Talking about the track 'I'm in love with the DJ', was it real to life?
No, but I wish it was. (Laughs). There was never a DJ, I just got back from school as a young graduate who just entered into the music industry and I was called to sing it. The song was actually written by somebody; the producers just wanted a girl to come and sing the song, so the song had been written already. I think they had invited girls to come and sing but I guess the producer did not like the voices he heard and when they found me, they thought my voice suited the song and that was how it started.
Mariam Makeba was a great singer. What do you have to say about her, knowing how well you two used to get along during her life time?
Mariam Makeba is an icon and I think she helped change the world. She is the first South African to receive a Grammy Award; the first South African black woman to go to the UN in 1963 when I was not even born to try help on some atrocities happening in South Africa then. She sang for queens and kings, she was so indescribable. I think all the things that she did were amazing and extraordinary, yet she was still so humble that she could even take me as her daughter and cooked for my children when I travelled. I think I am very, very blessed to have known a woman like Mariam Makeba and I know that wherever she is, her soul is resting in peace because she was the most humble person on earth. She did so many good things.
And you want to be like her?
I never want to be anybody, I want to be Yvonne and I am Yvonne and I have never wished to be anybody else. I always say whenever anybody is doing something good, I want to commend the person and learn from what they have done, I never wish to be anybody. I am always happy and very contented to be who I am and to be Yvonne. I can never be Mariam Makeba, I can never be Femi Kuti, I will always remain Yvonne and that makes me very happy.
What is your perception of the music industry in Africa as a whole?
Music evolves, it changes every time, different people sing about different things. Music is traditional, it is an art and it is something that makes us come together, it is universal. I could sing in Zulu or any language you do not understand as long as there are good rhythms to go with them. Like Umqombothi, Nigerians do not know what it is but they dance to the song very well and in fact the song is popular through out the world. I respect music and I respect the people who love the music because music is an art and these people come out to articulate their feeling and what is going on around them; they want to talk about things that other people are not able to talk about. So, for me, I respect any kind of music.
Do you have any experience you find memorable that you can share?
I am a kind of person that is never taken by surprise in anything. I grew up in Soweto, I was born in Soweto; I know how it is like to sleep without food, and in my older age, I know how it is like to have everything that you want. So, I always look at myself like someone who has come from afar but where I come from never stopped me from being what I wanted to be. I take life as it comes and I appreciate myself and I appreciate my fellow beings. I respect my environment and everybody around me. My philosophy is 'love yourself the way you are and love life and live it to the fullest because we are all here in this borrowed oxygen by God. Life is what we make out of it and there is just one life. This is not a rehearsal, this is exactly how we have to live. Don't try to be anybody else but just be you.
What do you do to have this youthful look?
I watch what I eat, I don't indulge myself in scanty and junk eating. I am healthy because I don't take alcohol, I don't smoke and I do very little gyming. In the forty four great years that God has given me, I have been happy .
Do you do any sports?
I play gulf only when I have time and I do a lot of sleeping. A lot of sleeping is what keeps me going.
What is your advice for younger women who are aspiring to be successful like you?
Whatever anybody up the making want to be, whether they want to be a musician, an actor or anything the want to be, could be. Gone were the days when our parents wanted us to be lawyers, teachers and all of that. I will encourage everybody, respect yourself, and respect your weapon. Take everything you are doing very seriously and put enough effort and don't take people for granted. My show is still going on because I work hard at it, I rehearse regularly and I don't take anybody for granted or for a ride. So, it is important to put in a lot of efforts in whatever you do irrespective of your career. Do whatever you want to do well and do it to the fullest.
Looking back over the years, do you have any regret being a musician?
None at all because this is my destiny and like I always say, God knew where I was going to end up; he knows what my destiny is and everything that ever happened is there for a reason. So, I have no regrets whatsoever being a musician.
Is any of your children indicating any interest in music?
My kids love music and my second son produced my last CD. My first son has written a couple of songs for me and my baby is a good drummer. But they don't intend going into it as a career, they just love it.