Footballer Ikechukwu Uche and actress Uche Jombo.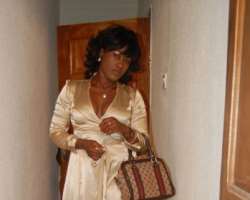 Ikechukwu Uche and Uche Jombo
This is no news but------
Actress Uche Jombo is in a hush hush romance with international footballer Ikechukwu Uche.what however is news is that inside sources who know them swear that Ikechukwu was''the first man to deflower Uche a long time back when she was still a tomboy.
The lovebirds re-ignited their relationship 4years ago and since they have been together. sources say that Uche spends every available time at Ikechukwus home in spain.
These lovebirds refuse to talk about each other,refuse to be seen with each,perhaps they believe that talking with hurt their relationship...or maybe they refuse to seen with each other in case they decide to go their seperate ways.
One thing is certain for now though and that is.......Uche and Ikechukwu are in love and are altar bound!.......one thing i need to know though is what will be Uche Jombos name when she marries this footballer.?
Will it be Mrs Uche Uche?
Mrs uche jombo-uche?
Mrs Ikechukwu Uche?
which one sounds better?
who do you think is more popular between these lovebirds?...i would say actress uche jombo has more star power!
(this is to all those people who are hinting that i am writing 'good' bout Uche becos i want a cut from her glo deal money....well what if i do? I am only human!...hahahahahahaha come on you all grow up and stop such jokes)
Stella.D.K