Ireland to deport Nigerian woman and daughters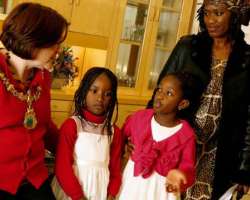 R-L) Nigerian woman Pamela Izevbekhai,daughters, Jemima and Naomi, with the Mayor of Sligo Veronica Cawley Photo: IRISHTIMES.COM
The government of Ireland has decided to deport Pamela Izevbekhai, a Nigerian woman seeking political asylum in Ireland.
According to a report by The Sunday Times, the government has refused to offer Pamela Izevbekhai a deal that would allow her to stay in Ireland with her two daughters in return for dropping her legal challenge against her deportation.
"The Department of Foreign Affairs (DFA) has written to the European Court of Human Rights (ECHR) in Strasbourg, which is considering the case, to say the Department of Justice 'does not propose to make an offer of friendly settlement' in the landmark legal action" the report said.
The letter, paraphrased by The Sunday Times, suggests that the government is planning to deport Ms. Izevbekhai and her two daughters to Nigeria at the first available opportunity.
Ms. Izevbekhai had been fighting a protracted legal battle with the Irish government to grant her residency on the grounds that, if returned to Nigeria, her two daughters, Naomi, 7, and Jemima, 6, will be forced to suffer the fate of their sister, Elizabeth, whom she claimed died after circumcision in 1994.
In the letter to Santiago Quesada, the registrar of the ECHR, the DFA states that Izevbekhai's legal challenge is an "abuse of process" and accuses her of "deception" and asked the ECHR to withdraw a request that it had sent to the Department of Justice asking it to put a stay on the Izevbekhai family's deportation.
Fake documents
Earlier newspapers reported that Ms. Pamela had admitted that the documents she used in filling the case were not genuine and that her legal team had quit following the reports.
Ms. Izevbekhai said she only learned that the documents were fakes recently when her husband, who is living in Nigeria, admitted that he had obtained them from a fraudster.
She said her husband was forced to obtain the fake documents because a medical expert in Nigeria had refused to supply the real papers and medical reports without a substantial payment.
Female circumcision has been outlawed in Edo State, Tony Izevbekhai, her husband's state of origin. Based on that, the Nigerian government has given the Irish authorities the assurance that Pamela Izevbekhai and her children would be safe if they were repatriated.
While the Irish government awaits the court's verdict on Friday, they also plan to contact Interpol to investigate Ms. Izevbekhai over the forged documents she used in a bid to resist an order for her family's deportation.
The Irish government said they believed that if Izevbekhai wins her bid, it might escalate the number of immigrants seeking political asylum in Ireland under the same guise.
Since her case gained fame, there have been two other requests from African women seeking asylum for similar reasons; but the Irish justice department turned them down.