NO WAY! I WAS IN NOLLYWOOD LONG BEFORE RITA DOMINIC------MONALISA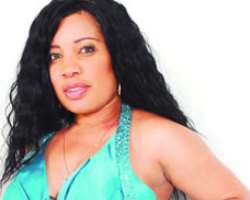 Monalisa emerged from the little royal girl that lacked confidence in herself to become a star we all love. She is one of the very few without the glamour that make our stars pretentious. SAMUEL OLATUNJI spent a whole day in her house and left with this chat.
How have you been coping with global economy meltdown?
It's really not affecting us much, but we are beginning to feel the impact.
I learnt you actors are now taking pay cut. At least there is a job to do. We thank God for that.
You just came back from Sierra Leone, how was it like over there?
It was something different for me because I've not worked in any other African country before. That was my first time and I enjoyed myself. I worked with French-speaking people and I had a great time.
How do you feel as Glo ambassador?
I'm blessed.
Which of the packages are you getting, N15 or N12 million?
I don't know.
I've been here a couple of times and you've been playing your role as a wife perfectly. How is it like transiting from a star to a housewife?
The thing is if you know who you are and your capability, nothing would be difficult. Some people are stars and they are not together anymore; the stardom thing has entered their head. I know who I am and what I want to make out of life. I cannot afford to be a star and let my home crumble.
Who are you?
I'm a very humble person and I take things that come across me easy.
You are so passionate about this marriage, sometimes one is tempted to ask what the big deal is.
First of all, the foundation of this home is Christ. Secondly, the kind of man I'm married to is special. Most men can't cope with their wives outside the way my work takes me. It is either they lose it or tell their wives to stop working. I think I'm blessed with my husband though he has his rules. Again, if my home breaks, what kind of example will I be giving to others? This marriage must keep working at all cost.
People say marriage is about endurance. What are you enduring?
Love covers multitude of sin. Marriage here is about passion because in Nigeria, it's a man's world. And I think no man can resist love. Again, you have to let a man have his ways sometimes. If a woman can understand this, lots of marriages will work.
Don't you feel cheated when you surrender all of yourself?
You know when a man and woman meet, there is boy to girl relationship and it later develops into courtship and then marriage. We went through all those stages and I fit into what he wants and same thing for me. We were not kids when we got married, we were over 25.
Most of your contemporaries in the industry are not married, why did you rush into marriage?
I've always wanted to be married. As for my colleagues, maybe the right man hasn't come for them. Omotola got married before 19. She was married before she became a star.
Did you deliberately get married before you became a star too?
Yes. I wanted to be married before I became a star. I was 16 years old when I came into the industry and later in year 2002, I did some movies and I stopped. I stopped because I wasn't ready for stardom. I kind of wanted to settle down first.
Do you regret settling down early?
No, can't you see that I'm blessed? My career is booming and I have a dashing husband and daughter.
People allege that there is back-for-ground-money-for-hand syndrome in Nollywood. How true?
It depends on who you are. I must not sell my body for a piece of meal.
Why don't you kiss in movie?
I can put my mouth in the mouth of an actor but I can't do tonguing. I can't go all the way because kissing is passionate. I can't even think about it. All you need to do is make it look real. The truth is that you are meant to act not do. So, sound convincing and believable, you don't have to carry out the real act.
Have you had to tell an actor off?
No, they know their place.
Kate Winslet took off her cloth twice in a movie, so if we keep going on about this kissing thing how do we develop?
The truth is there are some western ideas that cannot work here. They are western, those things mean nothing to them but that is not the same here.
Why don't you hang out with your colleagues?
I have responsibilities and half the time I'm on location, so where is the time to hang out with people? What excites me is that my family is at peace and the spirit of God is constantly with us. Another thing is that I'm highly contented. I don't let this stardom thing get into my head.
The truth is that I'm a married woman and I want to keep my friends out of my marriage. I don't want anybody interfering.I find everything in my husband, so what friendship I'm I looking for again?
One of your colleagues said a woman is either a fool or playing the fool?
Oh yes, you are not a fool, but you play the fool to make it work. Any woman that plays the fool is the wisest so far, you know God uses the foolish things to confound the wise. Women should not be too confrontational.
You must have caught your fun while younger.
Yes, but my guiding principle was to be responsible in everything I do.
If you are not an actress what would you have been?
I would have been in the corporate world or in a telecommunication company.
When acting stops what would you do?
I'm thinking of doing humanitarian services. I want to run a home for the less-privileged.
What would be your advice for actresses who want to get married?
The basic things that work for marriages are humility and submissiveness. You can't separate it, whether you want to admit it or not. If the man is very wicked, just love him and if he doesn't want you, God will give you a better replacement. But like I said earlier, you have to come down from your high horse.
Doesn't he miss you when you go on locations?
He does, but I must have arranged him well and I miss him too. You can ask him who calls the most, I do.
People say you make lots of money more than you husband, how do you cope in such situation?
First of all, marriage with my husband is a very unique one. Number two, people fail to realize that this is the reason why I am in this industry. He's made me a brand, whether I make more money or not, does not matter. We are working for each other. We have what it takes to run a beautiful home. I don't owe anybody any apology.
You've been married for five years without a scandal, what have you been doing?
It's called management and living right. Again, I am not everywhere; you can't be everywhere and expect people not to talk to you. We are not super human but management and being real will help.
What are your most memorable movies?
Heaven's Gate, The Wrong Woman and Golden Moon. My most challenging is yet to come.
Who has been the most memorable director?
Lancelot Imasuen.
Do you sometimes think about your husband going after another woman when you go on locations?
Hell no. It has never crossed my mind and I've not seen anything like that and I hope not to see it. My husband is clean.
People say Nigerian men are terrible, but here you are showering praises on your man.
I have to praise him because he's respected me a great deal.
How do you cope with men coming around you trying to woo you?
They don't do that, it might be a lie but that is the truth.
People say there is no faithful married man or woman in Nigeria, do you share same opinion?
I've been faithful to my man and he has been faithful to me too. But if I see anything that would threaten my marriage, I'll deal with it with the Blood of Jesus.
Why didn't you marry a billionaire?
Riches are not what I look out for in man. I've always known what I wanted and I went for it.
How did you get into Nollywood?
I've always been there. I told you earlier that Zik Zulu and Emem Isong have been there all along while I was at University of Port Harcourt.
But I heard it was Rita Dominic that introduced you into Nollywood.
No way! With all due respect I was in Nollywood long before her.