My marriage is still intact – Chioma Toplis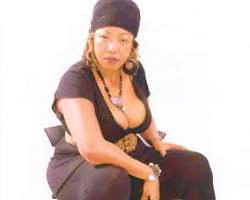 Chioma Toplis is one of the most daring actresses in Nollywood when it comes to dressing. Well endowed in the upper region, with a backside that can cause serious distraction, the lady goes all out in dressing in whatever pleases her.
Anyway, her dress sense is not really the main gist, http://nollywoodgists.com learnt that the actress has broken up with her oyibo hubby.
However, when http://nollywoodgists.com called the London-based actress on the phone, she denied ever having any problems in her marriage.
"I don't understand the way people reason at times. I learnt it was because I was coming home often, especially all through last year, that made people to assume that my marriage has crumbled."
Toplis said she came home frequently because she could afford it and because she had jobs she was doing in Nigeria.
"I was working. I am an actress and you know Lagos is where the action is. I don't know why people would not mind their business. My marriage has not packed up and will not pack up. I reject it in Jesus name. I know some witches and wizards in human forms out there are waiting and wishing that my marriage would break. It cannot happen."
Toplis came into the movie industry some years ago. She may not be on the A-list, but she has landed quite a number of jobs and she is still called upon to feature in many movies.
Married to a Briton, Toplis stays in London with her hubby and kids.
http://nollywoodgists.com learnt that most actresses bunk in her house whenever they are in London.