Actress Natasha Richardson dies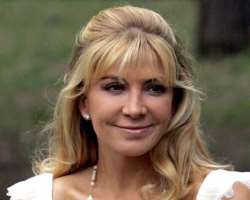 Late Actress Natasha Richardson
Natasha Richardson is dead.
The 45-year old British actress was taken off life support in a New York hospital on Wednesday, March 18, following a ski accident in Canada on the previous Monday.
Her family, including her mother Vanessa Redgrave and her husband Liam Neeson, were at her bedside.
A statement issued Wednesday morning on behalf of Neeson thanked fans and supporters for the "love and prayers of everyone" and asked "for privacy during this very difficult time," reports The Hollywood Reporter (THR.com).
Richardson, stage and screen actress, and Tony Award winner, is perhaps most famous for the acting dynasty that she comes from.
Natasha Jane Richardson was born in London, England on May 11, 1963 to actress Vanessa Redgrave and late director/producer Tony Richardson. Her maternal grandparents were the late Michael Redgrave and Rachel Kempson (who died in Natasha's home a few days before her 93rd birthday).
Most of Richardson's family are actors: She is sister to Joely Richardson; niece to Corin and Lynn Redgrave; and cousin to Jemma Redgrave. Her half brother Carlo Nero is a film director.
She made her film debut aged four, alongside her mother in 'The Charge of the Light Brigade', a film directed by her father. According to BBC News, Richardson kept her Redgrave pedigree secret while she studied at the London's Central School of Speech and Drama. She, however, went on to appear in various productions with her mother and other family members. Her 1985 stage performance in 'The Sea Gull', alongside Redgrave earned her the London Drama Critics' most promising newcomer award.
In 2003, Richardson reprised her mother's stage role as Eliana in 'The Lady From the Sea', earning rave reviews. Two years later, mother and daughter were joined by Lynn Redgrave in the film 'The White Countess'.
She also worked with husband Liam Neeson on various projects including 1994 film 'Nell' also featuring Jodie Foster. The couple wed that year, ending Richardson's two-year marriage to fellow actor Robert Fox.
The Sunday Telegraph's theatre critic, Tim Walker, said she never needed to ride on the coat-tails of her famous relations. He said Richardson took the decision early in her career to "stand or fall on her own," reports BBC News. Walker added: "She had a sort of luminous presence on the stage, but off-stage she was a very shy, easy-going, almost self-deprecating character."
Richardson herself had said in a 2003 interview in The Mirror, "I have a famous mother and it took me years to get over that. Now I have this really famous husband. I definitely feel a loss of confidence." Regardless, she won several awards for her stage and film performances, including her 1998 Tony (Best Actress in a Musical) for 'Cabaret'.
She appeared in 13 stage productions and 24 films, but her most popular roles are as Lindsay Lohan's mother in Disney's 'The Parent Trap'; and opposite Ralph Fiennes and Jennifer Lopez in romantic comedy 'Maid in Manhattan'.
Sunday Telegraph theatre critic Tim Walker said, "The world of acting has been deprived of a great actress, really in her prime."