Nollywood's new kid on the block... Ijeoma Imoh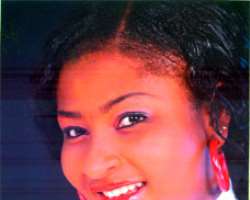 Though, she is usually mistaken for a mulatto by fans and admirers, emerging face of Nollywood, Ijeoma Imoh, is a full-blooded Nigerian from Arochukwu, Abia State.
From TV soaps, where she made her debut more than four years ago, pretty Imoh, also an aspiring model, is gradually and steadily penetrating Nollywwod with her acting prowess and panache. With over a dozen popular flicks to her credit, including Bumper-to-Bumper, her debut effort, Imoh, is optimistic about hitting stardom soon in the saturated industry.
Despite the several trials and tribulations, the up- and-coming actresses such as Imoh, face on a daily basis in their quest for fame and fortune in Nollywood, she remained undaunted, hoping of realising her dream. Imoh, in this encounter with http://nollywoodgists.com, bared her mind on Nollywood, challenges, the things that have kept her going and many more.
Let's start with an intro?
Well, I am Ijeoma Imoh, from Arochukwu, Abia State. I' m old enough to be a mother, but not one yet, but also praying to be soon.
But how soon do you intend to be a mother?
Sincerely, I don't know because "man proposes and God disposes". But as soon as the right man comes, I would give it a trial.
Tell us more about your sojourn in Nollywood?
I joined Nollywood four years ago based on my love for acting and showbiz. Since my arrival, I have featured in some movies, but I'm yet to land a life changing lead role. However, I'm optimistic that soon, it will come my way. My joining Nollywood was some how funny. I just woke up one morning and decided to join.
How has it been since you joined Nollywood, has it been good or bad?
Sincerely, it's been tough, out there, it is always like a battlefield, trying to get roles and also balance your career. Auditions, to the best of my knowledge, have virtually disappeared in Nollywood. You get roles these days based on how connected you are. The trend is killing the acting spirit of most of us. If not for the encouragement and advice of some directors and producers, some of us would have left. Actually, my first acting role was in a soap opera directed by Kinsley Omo–Efe, entitled :Young, Single and Free. It is still running on the national TV stations and my role is very challenging. My first movie in Nollywood was Bumper-to-Bumper, it was a party scene, though a minor role, but I really enjoyed my self. In fact, that set really opened my eyes about how Nollywood really operates. After that, I have featured in several other Nollywood movies.
Besides all these, are you enjoying your stay in Nollywood?
Somehow yes, somehow no. Yes in the sense that acting is what I ready liked to do, while no, in the sense that I'm yet to land my dream role since my arrival. Sincerely, it does not really weigh me down, because I'm optimistic that I would soon be a household name in Nollywood. I know I will soon shine in the industry. Though, I'm not using that to judge, but some people have been in the industry before me and they are not yet known. The fact that my name rings a bell in Nollywood gives me joy.
At least, I have featured in about 20 movies, and luckily, I have not been stereotyped to a particular character. I learn from each set that I visit and also interact with people as part of my learning processes. Acting is all about make-believe and you doing the extraordinary.
Have you been on set this year?
Yes, I have gone on set this year, mostly for soaps. I just returned from the set of Treasures and Young, Single and Free. However, I hope to go on set soon for some movies.
What are your other plans as a rising actress this New Year?
Sincerely, I have several plans up my sleeves, only that the industry is shaky for now. I would soon start to unveil my plans the moment Nollywood begins to pick up. I want to also do more challenging jobs this year and possibly endorse some products with my pretty face.
Aside acting, what else are you into?
Whao! Aside acting, I'm a trained marketer, event coordinator, I'm also into contracts and buying and selling too.
We would love you to share with us more about your immediate family?
I'm from a family of five, four girls and a boy; I'm the last girl standing. I was born in Lagos and grew up here, Ibadan and Abeokuta. I also grew up partially in the East. I'm currently studying Business Administration at the Lagos State University and would soon be rounding off. My loving parents are in support of my career, especially my mum. As a lady, they know that I like expressing myself.
Is that the reason you party and club a lot?
I won't deny the fact that I party and go to clubs to unwind with my friends. But that does not make me a club or party freak. Aside clubbing, I also like swimming and watching movies. I'm not a crowd person too, I only like hanging out with my females pals.
Is that also the reason most people allege you are a lesbian?
But let us look at it critically, how can hanging out with the girls make one a lesbian? I
have been accused of being a lesbian severally, but it does not bother me because I'm not.
But have lesbians ever approached you?
No, I like hanging out with my female pals. I don't even know if there is a lesbian clique in Nollywood. Even if at all, I have lesbian pals, it's still my life and nobody's business.
But what if you are forced to join them?
I will only laugh it off and move on with my life. Besides, I'm not the kind of person that you can easily influenced or intimidate. Whatever I do, it's not to please anybody, but my conscience and self.
As one of the new faces in Nollywood what would you say stands you out?
First, my name, which is unique, I always try to be myself and not wanting to belong. Another unique thing about me is that I don't follow the bandwagon, I only go to places where I'm needed. Above all, I do my things, my way.
Lets look at the place of men in your life, are you seeing somebody currently?
Why not, I'm seeing somebody but would not want you to bother about that.
And he likes the fact that you are in Nollywood?
He does not like it, instead, he loves it and cherishes me the more. And I don't think he can ever tell me to quit, because he met me in the industry.
Is marriage on the cards?
God's willing; we shall both cross the bridge when we get there. For now, we are just happy chilling out together and being the best of pals. I'm thinking marriage seriously with him.
What part of your body would you say gets men attracted to you?
Most of them say my pointed nose and pretty face usually get them attracted, while some also mistake me for a half caste, but I always tell them I'm a full blooded Igbo girl.
Do you have intentions of going into modeling?
Yes, it has always been one of my childhood ambitions. My dream is to be one of the faces of Delta Soap. Sincerely, I like how they have been promoting and projecting Nigerian models with a proudly Nigerian product. I intend joining them soon, because I know I have all it takes to be a Delta Soap model and possibly queen.
What if they turn you down?
I don't see that happening, I know the things they are looking for and I have them in abundance to the glory of God.
What do you cherish most about being in Nollywood?
I love the fact that Nollywood helps you to achieve instant fame and recognition. Again, as a child growing up, I have always dreamt of being in front of the camera, and Nollywood has helped me to achieve that. Sincerely, I'm attracted to the klieg lights of Nollywood.
Can any thing make you quit Nollywood?
For now nothing, except death, which I'm not praying for, minus that, nothing can make me quit Nollywood or acting. In the first place, why would I want to quit the industry that I have always dreamt of being a part of? My root is Nollywood and that is where I truly belong. I can do other things to support my stay in Nollywood, by going and coming, but quitting entirely is what I can never do.
Do you believe in love and has true love been fair to you?
Sure, I do believe in true love, though, most people believe true love is difficult to come by in this part of the clime. Love has been fair to me, because if not, I would not be seeing somebody till date.
Is there any particular star in Nollywood that you are looking forward to working with?
Yes, I look forward to working with some of the leading actors and actresses in Nollywood. Though, I have been opportune to work with some in the past, but I look forward to increasing the list this 2009.
Did the year start on a good note for you?
Yes, the year did start on a good note for me and I cannot stop thanking God for that. I see bigger prospects for my career this 2009 and beyond. In fact, the year started on a very busy note for me and that has boosted my growing career immensely.