GHANAIAN STAR ACTRESS,YVONNE NELSON OPENS UP ABOUT HER EXPERIENCE AS MERCY JOHNSON'S BRIDESMAID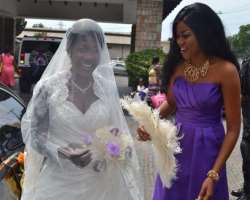 Ghanaian actress Yvonne Nelson has opened up about her decision to play an integral role in Mercy Johnson's wedding and her experience as Mercy's bridesmaid.
According to the leggy actress, she wasn't surprised she was chosen to be Mercy's bridesmaid because they both had a long-standing relationship as friends.
However, the invitation, she said, came to her as prank since she thought it was one of their usual jokes.
"I was once a bridesmaid for my sister's wedding. This is my second time. I have known about Mercy's wedding like four month before the wedding. Me and Mercy talk every time. She called me and told me about it and I was very happy for her. I was like oh my God, are you serious? I thought she was playing a prank on me. Mercy is like a dear friend. She is somebody I love working with, so I told her I am honoured and I'd love to come and be her bridesmaid. That is how it all happened," she told NEWS-ONE on Monday after her return to town.
She said it was a really wonderful experience and was happy to be part of such a memorable occasion, which attracted a lot of celebrated names in African movie industry.
"It was a wonderful experience and it was also tiring. To be a bridesmaid wasn't easy.
It wasn't all flashy because I was doing almost everything for the bride.
I was supposed to be there for her when she needed anything. I did not see myself as a celebrity or whatever.
I went down to do whatever I could to make her happy. It was her day and she had to feel special.
So I was just being a friend. For that day I was being a bridesmaid and I tried to do my job well. When I got to my hotel, my feet were hurting like crazy.
My shoes were 4inches high and it was tough because I was going around doing this, doing that and it was a wonderful experience," she emphasized.
Yvonne said she learnt a lot of lessons from her experience as bridesmaid.
"When you are there you will feel like wow it is so sweet, they are married and you also have to think about settling down and everything.
It is a nice thing. I mean you hardly see these things, they won't come every day.
So when you are witnessing a marriage like that and to be the bridesmaid, you learn so much," she said.
"You sit down and reflect and go like wow, ok you also have to think about settling down and start a family.
It is a nice thing; I have seen it before when my sister got married and I have seen it again.
So I guess very soon, mine should be on the way. I don't know how soon but very soon. Yes very soon," the award-winning actress said.
Some of the Nigerian actors at the wedding included Genevieve Nnaji, Chike Ike, Aki and Pawpaw, Emeka Ike, Empress Njamah, Queen Okoye, and Segun Arinze.
From Ghana were Majid Michel, Fred Nuamah, Frank Rajah and a few others.
Patience Ozokwor and Mike Ezuronye also popped at the wedding to show their love despite rumours of a fracas with Mercy before her wedding.
Yvonne wasn't able to attend the traditional marriage ceremony but she said she was happy to be part of the wedding held at Christ Embassy Church at Ikeja.
click the link below to go to...
MORE PICTURES FROM MERCY JOHNSON'S WEDDING.
EXCLUSIVE PICTURES: AT LAST! PRINCE ODIANOSEN EXCHANGED MARITAL VOWS WITH MERCY JOHNSON AT CHRIST EMBASSY.
STAR ACTRESS MERCY JOHNSON'S TRADITIONAL WEDDING PICTURES.
PRINCE ODIANOSEN,ESTRANGED WIFE,LOVELY OKOGIE FINALLY LOST THE BATTLE TO MERCY JOHNSON.
NO EVIL HANDS OR THOUGHT AGAINST MERCY CAN WORK.MERCY JOHNSON'S MOTHER.
LOVELY OKOJIE REACTS TO PRINCE ODI'S INTERVIEW,HE IS A BIG LIAR.
EXCLUSIVE! MERCY JOHNSON WEDDING PLANS SUFFERS SET BACK AS PRINCE ODIANOSEN'S WIFE SHOWS UP WITH KIDS.
MERCY JOHNSON IN DISTRESS,RAN TO MOUNTAIN OF FIRE MINISTRIES TO SEEK FOR DIVINE INTERVENTION.
WEDDING: MERCY JOHNSON PICKS AUGUST DATE AND DETAILS OF THE SUPERLATIVE WEDDING.
EXCLUSIVE;GAMEOVER FOR MERCY JOHNSON AS FIANCE'S WIFE CAME UP WITH MARRIAGE CERTIFICATE.
E-X-C-L-U-S-I-V-E Interview: The Certificate I Signed Was For Our Child's Welfare'-Mercy Johnson's Hubby Said At Last.