TENSION, ANXIETY MOUNT ACROSS AFRICA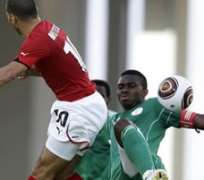 Can we imagine an Africa Cup of Nations without Egypt, the winner of the last three editions, without Ghana, finalist in Luanda in 2010, without Nigeria and without Cameroon? Unbelievable that Egypt is eliminated; Ghana is neck to neck run with Sudan and it is not sure they will emerge victorious; Nigeria has two matches to make up for the three points deficit that it has behind Guinea, and Cameroon is not in a better position than Egypt as it cannot completely decide its fate. Cameroon needs to win its last two encounters.
On its part, Ivory Coast will be present in Gabon-Equatorial Guinea 2012 alongside Botswana. Botswana had the best performance, being the first to qualify on the pitch. Meanwhile no body had given the team the least chance in a group that comprises Tunisia, Togo, Malawi and Chad. At best, many thought it would end ahead of Chad. While always focusing on the same teams, we forgot that those that are progressing with
a certain indifference on a good day will come to the lime light. In this light, Botswana's case stands out and it cannot be alone.
The battle in Group A is undecided as the four teams of the group are all tied at four points. Five of the last eight matches ended with a goal difference; Cape Verd beat Liberia by 4-2 while no winner emerged in the last two matches. Mali risks seeing its qualification chances compromised if it loses against Cape Verde. Zimbabwe hosts Liberia that is yet to present a competitive team on the pitch, to the point of calling up its ace player, Joe Nagbe. It is his former teammate, Kelvin Sebwe that has been managing the team and his main problem is to find one or two strikers. During its two last friendly games against Angola and Niger in Monrovia, the Lone Star was unable to score, but did not concede goals. The Liberians will certainly face tough challenge in Harare.
In Group B, there will be a distance duel between Guinea and Nigeria. Guinea will host Ethiopia that it went and beat in Addis Ababa (4-1). Nigeria will be travelling to Madagascar to try to get maximum goals against a side that is already eliminated. Logically, things will remain unchanged in the group after day 5 with the Guineans leading with three points difference. The final of the group would be played when Nigeria hosts Guinea. Guinea is also leading in terms of goals (+7 against +5).
The crisis in Libya for some months now has caused football to take second place. Meanwhile, the country had been present in all its games. Its match against Mozambique was scheduled for September 3 in Cairo. This will go in favour of the group leader, Zambia, which has a point ahead of Libya and will travel to Comores with little worries. It already seems to have gotten victory as Comores is eliminated.
Group D was that of surprises: Algeria drew with Tanzania at home, Morocco drew with Central Africa Republic at home, Algeria was beaten in Bangui and finally, Morocco's 4-0 thrashing of Algeria. On day 5, Algeria travels to Tanzania, both of them tailing the classification, while the Atlas Lions will go to challenge the Canivores of Lower Bangui. Morocco's recent performances against Algeria and then its 2-0 victory in a friendly game against Senegal in Dakar has changed perceptions about the Belgian coach, Eric Gerets and his players. Surprises can come from a group where Central Africa has seven points alongside Morocco. Nothing is thus impossible in Bangui.
The Teranga Lions have had a superb journey so far. They earned three points in Lubumbashi against the Leopards of DR Congo and they went and got one in Cameroon. They just need victory in Senegal today against DR Congo to pick their ticket for the 2012 Orange CAN. While they have all the potential to do that, there are, however, fears in Senegal. The team's defeat in Dakar on August 10 in an inconsequential match against Morocco served as warning. The return of Tresor Mputu, who has not played any qualification match due to his suspension, will help Amara Traore to strengthen his team, not against one man but to keep them alert.
Before the defeat against Morocco, it has been ten years (since December 26, 2001 when the team was beaten 4-2) that Senegal has never been beaten at home. The Teranga Lions are strong at the stade de L'Amitie and there is a huge determination at all levels for the team to regain its place among the elite of the continent. Cameroon, on its part, will get three points against Mauritius, which would be worthless if Senegal triumphs in its clash against DR Congo.
In Group F, Namibia will play the role of a referee as a draw in Windhoek with Gambia will be enough to qualify Burkina Faso for the CAN. In case of defeat, the two contenders will be separated on the last day in a duel in Bangui.
South African coach, Pitso Mosimane has castigated Egypt for deciding to use its Olympic team for the country's last two matches of Group G. the Egyptian Olympic team is preparing the final phase of the London 2012 qualifiers, which will take place in Egypt in December. There are places to be filled and also some Pharaoh players that need to be in shape.
Also, the coach of the under 23 squad, who is also at the helm of the national team, can in case of victory, take over from Hassan Shehata whose post is now vacant. Only the youngsters and Ahmed Hassan will travel to Sierra Leone this weekend. Hassan, who moved to Zamalek from Al Ahly is, just, three matches away from breaking the world record in national team participation. Thus, the match in Freetown and, that, against Niger bring him closer to the prestigious crown.
Thus, if Bafana Bafana must win in Niamey, they have to forget the issue, as the South Africans would have made an important step towards the CAN.
In Group H, Ivory Coast is already qualified. Burundi, Benin or Rwanda can still hope for qualification in case of best runner up. That seems difficult to envisage.
Ghana or Sudan will qualify but that will be in October. The two teams have equal points but Ghana has goals advantage. Ghana is hosting Swaziland while Sudan travels to confront the Red Devils of Brazzaville. Sudan has gotten four away points with one being in Accra. A victory in Congo will suffice except in case of a miracle. All attention will thus be focused in Omdurman for the last day.
The crucial match in Group J will be between the Palancas Negra and the Cranes. Just a point will qualify Uganda that is seeing a beautiful opportunity to play the final phase of the CAN 34 years after. It will be the big duel of day 5.
In Group K, the last of 11 groups, Botswana surprisingly took the lead. Malawi and Tunisia are battling for the second place and they will play a kind of semi-final this weekend in Blantyre, since both teams have equal points with just a goal difference (+6 against +5) in favour of Tunisia. The two teams would need to get three points on the last day at the start of October. Everything is possible, which makes the last, but one match, crucial.