CGI tech yields Smoke and Mirror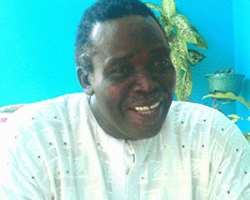 With star actor, Olu Jacob, caught in a complex battle for his pocket and heart, Smoke and Mirror, an experimental film, has hit the market via a novel technology.
The movie, directed by Ehiz Ojesebholo, winner of the Focus Dialog Award at the 37th Sehsucychte International Film Festival, Germany, is said to be the first Computer Generated Imagery movie in Africa.
It is an experimental film, made by employing an effect known as black dot or chroma key, in which the entire movie is shot in a studio against a green screen, replaced during post production – with backgrounds or environments created inside the computer and animated to match the performance of actors.
In the final product, the viewer is not expected to lose any effect, as was the experience of people who watched Smoke and Mirror's premiere at Silverbird Galleria, Lagos last week.
In the movie fired by intrigues, desperation and irony, Jacob (Alhaji Sanni) is bent on killing Keppy Ekpeyong Bassey (Akin) over money matters, and a future that, he believes, is not safe with Akin and his wife, Nkechi (Bimbo Akintola) still being around.
Alhaji Sanni's cudgels eventually hit Akin, really. Only that unknown to the executive assailant, some people came to Akin's rescue. It is the beauty of such dramatic irony on the part of Sanni, and the nemesis that begins to haunt him, that brings out the best actor in him.
But a major test that the movie, and any other one that may be produced through the CGI, is likely to face will be in the perception of the audience. For instance, while some will see Smoke and Mirror as a very successful number, others may express the fear that the process made some of the actions and scenes and actions restrictive.