BLAST RIPPED OFF MY COLLEAGUE'S HEAD -SURVIVOR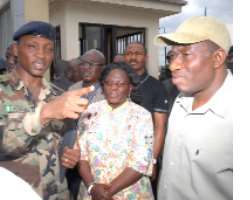 •President Goodluck Jonathan (right) with Major Kazeem (left) during the Nigerian leader's visit to the bombed UN building yesterday
An ad-hoc staff at the United Nations House, Miss Esther Zachariah, as revealed how one of her bosses and a colleague were gruesomely dispatched to their untimely graves from the Friday blast.
Esther, one of the survivors admitted at the Garki Hospital, narrated in agony how the head of one of her colleagues whose name she gave as Mr. Paul Waziri was completely ripped off by the bomb.
She said one of her female bosses also perished in the attack.
'People died; even our Madam, because she was also at a meeting downstairs. My colleagues – Paul Waziri, his head completely cut off; Joy Audu had one of her hands completely shattered, a metal object pierced through the stomach of Blessing Attah while Iliya Gambo had one of his legs completely blown off,' says Esther, a cleaner with the Nigerian Cleaning Services at the UN House.
But for providence, she would have gone the way of others who bade farewell to their loved ones at home with a promise to return later in the day, but ended up stone dead in the morgue or at the intensive care units of Abuja hospitals.
Even so, her survival could be attributed to sheer luck and uncommon bravery as she jump from the third floor of the building while the smoke from the blast was yet to clear and landed with her chest. Then the world momentarily went blank until she regained consciousness at the emergency unit of the Garki Hospital.
Ironically, it was a bright and blissful day for Esther, who was having her breakfast on the third floor of the building before the explosion occurred. The rest, she says, is now history, as she gave thanks to God for saving her life.
Her words: 'It was only God that helped me. I was inside the building on the third floor eating my food because staff of various departments were holding their meeting downstairs when I just heard Gbum! By the time I looked, everywhere was dark and I didn't know how. But I jumped from there down and landed on my chest. I didn't know what happened until I woke up in the hospital.'
For Ngozi, a staff of the World Health Organization (WHO), who also cheated death at the UN House, but recuperating at the Garki Hospital, it was a mixture of tears of joy and pain as she praised God intermittently for what she described as a miracle. As at Friday evening, she was yet to be in a frame of mind to relive her experience. All she could remember was that 'many people died.'
'My God is faithful; I was at the thick of the whole incident. A lot of people died, people died. God is faithful; it pays to serve God. We were having a meeting on the first floor. It was our WHO inaugural meeting for new staff and the next thing…I don't know how I got out of it, but God is faithful,' she remarked, with tears streaming down her cheeks.