Designer Amede shows off Vibrant Simplicity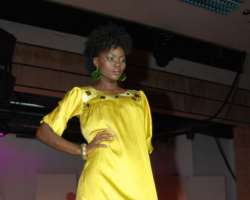 The philosophy behind Amede Nzeribe's designs is simple.
Its all about that homegrown basics.
Organic fabrics such as cotton and silk dyed in rich hues then sewn into pieces with relaxed fits. Its great to see our traditional Nigerian tie & dye techniques being resurrected and being used in a modern way.
Fashion is amorphous! Sometimes you need that dress that's going to WOW the crowd, other times you just need something that feels great against your skin and allows you feel relaxed on a breezy Sunday.
Amede's pieces can do just that.
Below are photos from a recent showcase.
By Bella