WHIZKIDS DAZZLE PARENTS WITH SCHOOL NEWS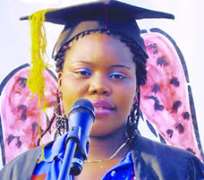 •Precious Chioma Njoku, during her matriculation at Federal Polytechnic, Nekede recently
A five-year-old pupil of Austinia Nursery and primary school, Alahun Ozumba, Mazamaza, Lagos, Bright Anaba, shook the stage recently when he read the school news at this year's graduation ceremony.
Anaba, who is in Primary one, left memorable impression in the minds of parents and guests at the occasAion, as they responded with their thunderous clapping to his dazzling performance.
In an event, which featured other performances like, choreography, talk show on education, cultural dance and presentation of awards and the reading of news, the pupils won the admiration of the guests who showered them with encomium.
The star performer, Anaba told Daily Sun that he took reading seriously because he wanted to become a broadcast Journalist. 'Each time I watch network news on NTA, I want to be a newscaster and when I told my teacher, she advised me to work hard because that is the only way I could attain my goal hence, I took my reading lessons seriously'
While commenting on the excellent performance of the pupils, the proprietress, Mrs. Tina Gabriel explained that great deal of effort and training were invested on the pupils to enable them shine like stars.
Speaking on poor performance of pupils in English language, Mrs. Gabriel said English language remains the medium of instruction and communication in Nigerian schools, and as such should be accorded priority if the students must excel in their career.
Further, she as a matter of urgency, urges Federal Government to design and implement a national policy on character-based education so that many Nigerian children could have their talent recognized and nurtured.
In the same vein, a teacher, Miss Isioma Otubo supported a new policy on education that would set the country on the path of genuine development because character based education would revive and instill positive values and virtues of diligence, integrity, hard work and patriotism in student.
In a farewell speech, Miss Oluchi Samuel advised the outgoing pupils to be good ambassador of the school in the world. She charged them to live out their dreams of becoming doctors, lawyers, accountant, engineer and even professors.