'Mrs Modesty' wants to stop indecent dressing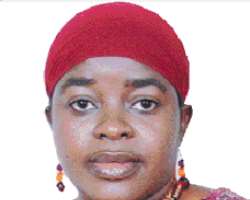 You might be tempted to call her a busybody with nothing better to do, but Mrs Imelda Osuji, of Modesty International would probably not agree with you. The Philosophy graduate from the University of Lagos has a bee in her bonnet and she is not letting it out until someone has heard her out.
She claims many marriages have fallen apart as a result of the scourge of indecent dressing. So now she is out to persuade fellow young women to cover up.
'When I was in the University, I was awarded the Best-dressed African woman by my Department, the department of Philosophy. After my graduation, some youth leaders in Egbeda, were I reside came to me and said they have been watching me and noticed that the way I dress is peculiar. They took my name to Oba of Egbeda, Oba S. A. Balogun and requested that I should be given an award for it. So the Oba of Egbeda conferred me the Award of Mrs Modesty, for exemplary dressing amongst Women."
Thinking too much
This action got her thinking and after the bout of thinking, she came up with the theory that many marriages crumble because of extra marital affairs on the part of the husbands who leave their wives at home and go after young ladies clad in skimpy outfits.
"Women should dress covering their sensitive parts so that they would command respect and dignity. But these days, you see Women dressing and exposing their sensitive parts and forcing the opposite sex to look at them with lust. As a result, many marriages have broken up because married men lust after these women. Eventually the bubble bursts, the wife gets to know and in most cases, it brings an end to the marriage. So this prompted me to start this pet project to start campaigning against indecent dressing in the society."
She says that she will take her campaign to primary and secondary schools to encourage the younger women to dress better.
"Since I became 'Mrs Modesty', it has changed my life. I am more conscious of what I put on than never before because people are looking up to me. So I cannot afford to fail. It is not that I am a Saint or better than people who dress this way. There are millions of them out there who dress indecently, but right inside them they don't have anything in mind."
Muslims do it better
Presently based in Sokoto, Mrs Imelda Osuji commended the Sultan of Sokoto and Governor of Sokoto for making sure that there is peace between Muslims and Christians.
'The great leader of Muslims and the Sultan of Sokoto advises his people to live in harmony with Christians. So there is good rapport between Christians and Moslems in Sokoto State. The atmosphere is peaceful, calm and religious conflict free."
She seems to believe that Islam is better at keeping its adherents in line than the Christians.
'Muslims tradition entails that women cover their most sensitive parts.
When you look at the Muslims, you would see that most of them dress decently. When they give birth to a baby, hence forth, you see them trying to train that child how to dress to their culture and tradition. And you see the child would grow up being used to that particular mode of dressing.
Though as Christians, our religion doesn't promote indecent dressing. Our mothers go to the extent of buying revealing clothes for their daughters. And as they do that at the early age, the child will grow up inculcating that mode of dressing. So I implore mothers to please have time with their children and counsel them and stop buying skimpy and revealing clothes for them. It is not just carrying Bible around and calling yourself a Christian that matters, your Christianity should radiate in your dressing and the way your children dress".
By PAUL OMO OBADAN