O'jez honours Madam Kofo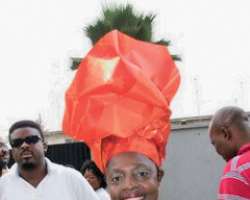 Madam Kofo is one lady who has made a name for herself in the entertainment industry. It didn't come as a surprise that the management of O'jez Entertainment centre has decided to host the lady later this month.
The event which also coincides with the actress's birthday promises to be grand as guests will be treated to undiluted highlife sounds as performed by O'jez and Evergreen Bands. Tunes of highlife greats such as Victor Olaiya, Fatai Rolling Dollars, Alaba Pedro, E C Arinze and Bobby Benson will rent the air, Life and Beat gathered.
On why O'jez picked Madam Kofo as guest this month, its proprietor, Chief Joseph Odobeatu, said the celebrity hangout made the choice because of the impact the actress had made (and still making) on the nation's entertainment sector, especially Nollywood. "For the younger generations, Madam Kofo reminds us of evergreen acting, especially during her days in Second Chance, so it is a great honour for O'jez to host her in our monthly Entertainment Forum."