FG GUARANTEES POWER SECTOR INVESTMENT RISKS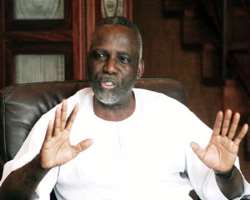 Minister of Power, Prof. Barth Nnaji
President Goodluck Jonathan took an important step towards bolstering investor confidence in the Nigerian power sector on Tuesday as he approved the constitution of the pioneer board as well as the appointment of a manager for the Nigeria Bulk Electricity Trading Plc.
According to a statement from the Ministry of Power, the Minister of Finance, Dr. Ngozi Okonjo-Iweala, will be the chairman of the board of NEBT, while a seasoned technocrat, Mr. Rumundaka Wonodi, will serve as the pioneer chief executive officer.
The NEBT, also known as the bulk trader, was created by the National Electricity Sector Reform Act of 2005 to fight the single biggest risk to the growth of the power sector - the issue of distribution companies that buy power from independent power generating companies but are unable to collect enough revenue from consumers to pay for what they are buying.
The Power Holding Company of Nigeria , which hitherto managed the process, owes huge debts from previous power purchase agreements it signed with independent producers such as Agip (N60bn), Shell and Ibom Power.
The Minister of Power, Prof. Barth Nnaji, said the NEBT would honour the PPAs already signed by PHCN and take over the negotiation and signing of future power purchase contracts for the distribution companies, while not assuming PHCN's previous contract liabilities.
This is possible, he said, because the bulk trader was backed by a government guarantee, which would enable it to promptly settle the obligations of any distribution company that defaulted in payment for power purchased from independent producers.
The minister said that the NBET would, however, not become a government monopoly.
'Distribution companies, which can, are free to sign direct PPAs with independent generation companies,' he said.
Nnaji further explained, 'The NBET shall exist only as long as it takes the distribution companies to become creditworthy and be able to directly negotiate their own power purchase agreements.'
In addition to the Finance minister and Wonodi, other members of the NEBT board include Mr. Saka Isau (vice-chairman); Minister of Power; Director-General, Bureau of Public Enterprises; and the Chief Executive Officer, Abuja Distribution Company, who will represent the 11 distribution companies.
The other members of the board are Mr. Mohammed Kumalia, Mr. Haruna Sambo and Mr. Paul Usoro, SAN.
Prior to his appointment as the CEO of NEBT, Wonodi had led the regulatory and transactions monitoring team of the Presidential Task Force on Power, which was charged with driving and monitoring the reform of the power sector.