How I handle men's advances— Ngozi Ezeonu, ace actress, on Valentine's Day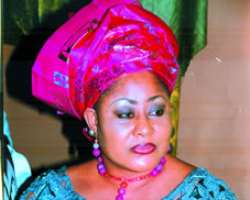 In the film industry, Ngozi Ezeonu could pass for one of the big masquerades. She is professional in her acting and a regular face in most of the films. Married with three kids, Ezeonu, came to national limelight after playing a role in Nneka The Pretty Serpent, a flick directed by top Nollywood producers, Zeb Ejiro. She spoke to Saturday Sun on her career, family and others.
Growing up
I'm a typical Igbo woman. I grew up in the South East. I hail from Anambra State, but I was born and brought up in Owerri, Imo State. Growing up was tough because of my poor parental background. My parents were poor then, though as a child we didn't really feel it because we did not mingle with other children who were not of our status. When I look back at those days I thank God I survived. My mother is alive but my father died seven years ago. In fact, I appreciate God for all His grace.
Acting
I started my acting career when I was young. I love art, which was one of the reasons I later went to school of journalism, where I bagged a diploma in Journalism. I came into the industry in 1993 when I featured in a film directed by Zeb Ejiro who made me who I'm today.
Films featured
I have actually lost count of them because I have featured in so many movies. I have over 100 films to my credit.
Most challenging role
Every job has its own challenges, but there is a film I would not forget in a hurry. Forbidden was shot in vernacular. I played the role of a barren woman, while I was physically pregnant then. Considering my condition, I had to put in all my best to play the role perfectly. It was not easy.
Inspiration
I like making people happy, especially children. I'm evangelizing through acting. Probably that's why I don't take up just any role. When people are happy, I'm contented because I'm emotional.
Love life
I'm a wife and a mother. Which other love life are you talking about when I have a happy family with three wonderful kids, two boys and one girl? My husband and I got married in 1994 and I thank God for giving him to me.
Heart broken experience
I have not been heartbroken before, but I felt really bad when my father died seven years ago. My father was my best friend; so when I lost him I was actually heartbroken because a part of me had gone, which is irreplaceable in my heart. It wasn't easy for me then to bear his loss but with God I tried everything possible to put his dead behind, though his memory still lives.
Husband
He doesn't like publicity and I respect that so much. There is nothing special I love about him because we are special people in our own ways. He is ok.
Perception of love
Love means understanding, trust, sharing and giving.
Advice to ladies searching for true love
They really need to be patient because sometimes you get infatuated, thinking you had found love, not knowing it is not true love. They have to be truly patient and pray to God for true love because if you are desperate you could get into the wrong hand, which you will forever live to regret.
Audience reaction to roles actor/ actresses play in films
The audience is really growing in knowledge pertaining to roles we play. Manyof them have come to realize that acting is makebelieve, but some of them feel you are the way they see you act on set. The way I look at it is that when I play such role and people react, it is a credit on my side. It means I played the role very well. It means I'm being appreciated.
Relationship with other artistes
I have a very cordial working relationship with my colleagues, producers and directors.
Turning point in life
The experience I had when I had my first child made me very much responsible, though I was not irresponsible in any way before. You should know what I mean. The tendency of nursing and training a child became an added responsible to me.
Secret of success
It's the sufficient grace of God upon my life, especially in my career and I will forever appreciate God for all His mercies.
Secret of looking young and good
I don't have any special beauty routine. I don't cleanse my face. I only take my bath, do my make-up to put a finishing touch to my facial look.
Advances
If I tell you I had not encountered such, it means I'm lying. What makes you who you are, is how you handle those advances as a responsible woman. I don't tell them off, I appreciate them as well in a mature way.
How to spend Valentine
I would be going on location. I'm working, so I would spend it with my family before I leave for shooting. But I will definitely call them on Valentine's Day to express my love to them because it's a season of love.
Well, if I were to be in Lagos on that day it's my tradition to spend it with the underprivileged. I donate to charity. Since I would not be around, I would still do so when I come back because that is what love means to me – giving, not taking.
Assessment of the industry
The industry is a growing child. I believe that soon the industry will get to a greater level because many things are being done to put everything right. So, I believe that in no distant time we would get to where we dream to be since the industry has grown to the extent of being a worldwide industry. There is hope to compete with Hollywood soon.
Sex for role practice
Sex is not an assurance to get roles. Nobody has ever told me to sleep with him before I get a role even when I was single. The problem is that people who are desperate to become stars give everything. A director told me that somebody came to him asking for a role in a film and promising to do anything to get the role to enable her to become a star. I believe nobody is abusing anybody, but the young ones are abusing themselves because they are aiming to become stars. Nobody will rape you, so when you decide to give yourself to anybody, don't complain about any sexual abuse.
Lesbianism in Nollywood
Why are you so particular about Nollywood? Well, lesbianism is universal. It could be in your own profession, among lawyers or doctors; so why is ours different? Is it because we are public figures? I'm a very liberal person; whatever you feel like doing with your life is your private life. I don't put my nose into people's affairs. I have never had such an experience. I'm a Christian and I have great respect for the word of God; so why would a responsible mother like me practise lesbianism?
How to manage time
It's just the grace of God that has kept me going. As a mother, I know when to work and when to spend quality time with my kids at home because they are my source of joy.
Relaxation
I play with my children. I can play any kind of game with them – soccer, rock and roll, even dance with them sometimes while relaxing at home because being with them makes me complete.
Most prized possession
My Bible
Wealth
People think we are very rich people because we are actors and actresses, but it's not that way. Mind you actors and actresses have many responsibilities. If you are giving your parents N10,000 monthly because you are an actor, they would be expecting more than N100,000 monthly. Even friends and relatives expect to get something from you. It comes with many responsibilities. I'm not rich, but just comfortable.
Challenges
The industry has become more competitive. If you are not good, you wouldn't get any role; so it is a challenge. What I'm looking forward is to improve in my acting career, which is the only problem I'm facing. I don't have challenges with the industry or anybody. I just want to be a better person than who I'm today.
Ngozi Ezeonu beyond the set
I call myself a home girl because I don't see myself as a star or any other person apart from me. I'm still the person I used to be back home.
Personality
I'm not a proud person because I love making impact in peoples' lives.
Future prospect
I want to take care of the orphans, the underprivileged and the polio survivors. I don't have any case of such but I have passion for it. I have plans of running an NGO.
Advice to young ones in the industry
I keep telling them not to be desperate. If you are aiming for any height in life, you have to work for it. You don't need to sell your womanhood because you want to become a star. When they become stars, they should let their head remain on their shoulder.