OKONJO-IWEALA TO BE SWORN IN TODAY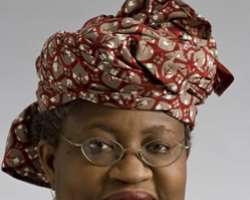 Dr. Ngozi Okonjo-Iweala will effectively make a comeback this morning as a minister in the Jonathan administration. The former World Bank managing director would be sworn in this morning at 9 a.m. as finance minister and thereafter join her colleagues for the weekly Federal Executive Council (FEC) at 10 a.m.
President Goodluck Jonathan had earlier sworn in other members of the cabinet while Okonjo-Iweala who has held the finance portfolio before, flew to Nigeria to be screened by the Senate but returned to Washington to finish her work with the World Bank.
'I can confirm that the finance minister will resume duties this week,' the Special Adviser to the President on Media and Publicity, Dr. Reuben Abati, told reporters at the Presidential Villa during media interaction on Sunday.
Okonjo-Iweala would be the most high profile member of his team and key to the future of Africa's third-largest economy.
She is likely to be the Coordinating Minister for the Economy and Minister of Finance. She will also head Jonathan's economic team.
She held the finance minister position between 2003 and 2006 when she successfully secured Nigeria's debt relief. Okonjo-Iweala said last week that Nigeria needed to make fundamental changes to diversify its economy, to reduce over-reliance on crude oil exports.