POPULAR SAXOPHONIST,MIKE AREMU JETS OUT TO UK FOR HONEYMOON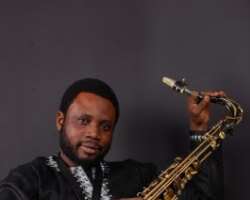 Just few weeks after his private wedding at the Ikoyi Registry, Lagos, popular gospel act and renowned saxophonist, Mike Aremu, is savouring the joy of honeymoon with his wife in the United Kingdom.
The couple jetted out to the UK few days back to spice up their marital sojourn.
According to our source, the choice of UK was based on the instance of his UK based wife.
" Lara has lived all her life in the UK and also earns a living there. They settled for the UK so as to kill two birds with one stone" our source submitted.
It would be recalled that Mike Aremu recently signed the dotted lines with his UK-based sweetheart, Lara, in a very quite ceremony at the Ikoyi Registry, Lagos.
Known to be very private person, he was separated from his first wife, another London-based lady, Bimbo, a lawyer in 2006, just a year after they got married due to irreconcilable differences.