CATWALK SHONOLA SMITH TO PRISON YARD FOR 6 MONTHS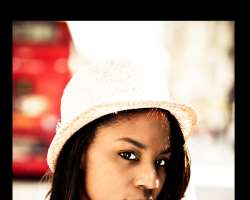 As magistrates and police work tirelessly to track down and punish those who were involved in the rioting, one pretty model is already facing the consequences.
Nigeria-born Shonola Smith, 22, from South Norwood, South London, sobbed as she was jailed for six months after admitting trying to steal from an Argos store in Croydon.
The model was caught outside the store and arrested on the spot, along with her sister, Alicia, and their 22-year-old friend Donness Bissessar.
Police stormed the building in Church Street after youths smashed the shop's front during the widespread destruction in Croydon on Monday night.
The 'remorseful' threesome pleaded guilty to entering the store with intent to steal at Croydon magistrates' court on Friday.
They had no previous convictions but were all handed six-month imprisonment sentences.
When Alicia Smith was arrested she was carrying 10 packs of chewing gum that she had stolen from a nearby Kwik Stop convenience store on the same day. She admitted theft.
The Smith sisters and Bissessar were remanded in custody when they first appeared in court on Tuesday.
Their stunned families clutched each others' hands for comfort as District Judge Robert Hunter handed them their sentences.
He said: 'The tragedy is that you are all of previous good character, each of you well educated.
'You have jobs. You have got plans for future education. You have shown remorse and you have all pleaded guilty.
'However, I can't ignore the context in which these offences were committed. You have played your part in a wider act where devastation was caused to businesses and local residents.
'In my view, although I'm retaining jurisdiction, the matter is so serious that only a custodial sentence will suffice. That, I hope, will serve as a deterrent to others.'
All pixs belongs to jp's photography, accept the Argos store pixs.