OUR FUNDING OF NON-OIL EXPORT WILL HIT N94BN BY 2015, SAYS ORYA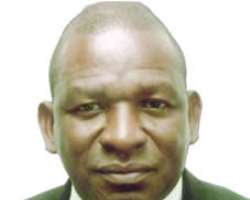 Hear him: ''In 2011, we are looking at NEXIM funding the intervention to the tune of N37 billion and then progressively N41 billion. By 2012-2013, we are looking at N50 billion; in 2014 we are looking at N53 billion; in 2015, N94 billion.'
On why he intends to achieve this, he explained that the bank 'is facilitating to ensure that we deepen the trade within the sub-region and we would make Nigerian export more competitive to deepen trade and enhance the non-oil sector in the region.'
However, on the challenges facing the 20-year old institution, Orya explained that the bank was crippled by N4.2 billion debt burden as a result of series of non-performing loans.
Giving insight into the vision of its founding fathers, he said: 'that NEXIM,which replaced the Nigerian Export Credit Guarantee and Insurance Corporation, was set up to provide export credit guarantee and export credit insurance facilities to its clients. Besides, it also provides credit in local currency to its clients in support of exports. Twenty years after, the bank was crippled by N4.2 billion debt burden as a result of series of non-performing loans.'
The cheering news , however, is that the bank has now been launched back into profitability and has resumed its credit guarantee functions. In this interview, he sheds more light:
NEXIM roles
The role of NEXIM is very simple. We are to create or provide affordable finance to the productive sector of the Nigerian economy. You know that NEXIM provides finance; we provide credit and guarantee insurance, trade and market information. And we believe that the role that we can play which has been the role of most of the manufacturers has been the challenge of how they can get affordable finance in terms of low cost interest and a longer tendered fund. That is the role that NEXIM is prepared to play to contribute to reviving the manufacturing sector in Nigeria.
Sesame seeds/cassava export
Under the cassava initiative, the bank provided about N1.1 billion to five companies for value-added access to cassava. It is worthy to note that some of the companies are doing well with the agreement and multinational companies. In the process, we are conserving about $5 million in terms of the input they would have ordinarily imported. These projects have created lots of jobs for Nigerians and we expect that more will be done in that regard. The bank is interested in supporting this because the demand for this product locally is quite amazing and we believe that we would be able to sustain those jobs that are there or even create more.
Non- oil export
In the last four years, we have been able to support the non- oil export to the tune of N15.04 billion and we have been able to generate over $200 million in foreign exchange. We have been able to create a lot of jobs. A lot of industrial capacities have been enhanced in the non-oil sector. Regarding our foreign intervention in the next five years, our strategic projection is to support the non-oil sector in the following levels. In 2011 we are looking at NEXIM funding the intervention to the tune of N37 billion and then progressively, N41 billion. By 2012, 2013 we are looking at N50 billion. And in 2014, we are looking at N53 billion; in 2015, N94 billion.
The huge amount of foreign exchange has been estimated to be earned for the country. A lot of jobs are going to be created and we are going to enhance the capacity utilization in the various sectors; in the non-oil sector which is actually low; in export, we realized that non-oil sector contributes a very significant percentage to this country. In the process, we are targeting the West African sub-region to see how we can deepen the value of what is happening there now and move our present position to a better position. In a whole lot of thing, NEXIM is facilitating to ensure that we deepen the trade within the sub-region and we would make Nigerian export more competitive to deepen trade and enhance the non-oil sector in the region.
Charting African leadership
We have a strategic plan for the next five years and in that role, we intend to be a leading export developing bank in Africa by 2015. NEXIM participation at the World Economic Forum: that was the first time that the bank was attending the event. The bank's role in charting leadership role in trade is essential in becoming the largest facilitator of trade in Africa with traditional non-oil export attaining a minimum of 15 per cent and 20 per cent of Nigerian export from the current level of 10 and 15. What in effect we are saying is that within the ECOWAS sub-region, the current level of what Nigeria is doing now is 15 per cent. We want a situation where we are moving the current level of the 15 per cent to higher level.
Our attendance at the World Economic Forum provided lots of opportunities for us to meet people that are interested in doing business in Nigeria and it was a very auspicious time because it was immediately after a credible and transparent election that soared the investor rating of Nigeria. Everybody is interested, everybody knows that Nigeria has the biggest market in Africa; we have huge resources that have not been tapped.
The greater part of our time in South Africa was spent in attending meetings with potential investors. It was a very wonderful forum that opened a floodgate of opportunities for people that needed to know more on how to come and invest in the country. It was a very good forum and we are expecting some South African miners within the next one or two months. They were looking at July but we need to finetune a time that they will be here. So, a whole lot has happened. A lot of people are making enquiries. NEXIM is facilitating the setting up of a sea link project with the ECOWAS sub- region, both for cabon and for passenger services. About three companies have expressed interest to invest in that project and more enquiries and more interests are being shown. So it was a very wonderful forum and we expect that the country will reap very bountifully from it.
Job creation
NEXIM is playing largely in real sector: manufacturing. We are looking at agriculture, solid mineral and then the services. These are sectors we believe to have very large potentials for employment generation; for foreign exchange earnings for this country and a whole lot of interventions have already taken place. We believe that NEXIM's role is to continue to provide affordable finance where other financial institutions are giving them hard conditions to comply with. NEXIM has a very simplified way of making fund accessible to Nigerian exporters because that has been the major challenge to many people apart from the challenges of power and infrastructure deficiencies. We believe that with the kind of fund available at our disposal, there is so much NEXIM can contribute to the Nigerian economy.
Carbon financing projects
NEXIM activities are essential complements to all the functions of the financial sector. However, to remain relevant and facilitate bank loan meaningfully, the bank is strengthening its corporate governance functions among other key functions. The role of the Development Financial Institutions (DFIs) has been clearly defined but I think the Central Bank of Nigeria (CBN) is still trying to refine it. We should have clearly defined roles and the Managing Directors of DFIs have been meeting to see how that can be streamlined so that we don't have role overlap.
The kind of structure or role that we should have is that Bank of Agriculture should be in the position to finance new plantation. The Bank of Industry will not come in and support that same project with importation of plant and machinery. In the same value chain, NEXIM will now come in to provide working capital for value added processing for export.
That is the kind of role that we and the Central Bank of Nigeria are looking at so that there will be no role overlap. But like we say when you talk about export in Nigeria, essentially we play a complementary role because most of the exports are given to the commercial banks and we have to provide some kind of windows; some kind of facilities to encourage the commercial banks to be able to lend to the export sector. Even where there is no fund we must find a way of channelling fund to the export sector. That is the role NEXIM is playing.
In the carbon finance, we actually started that last year. We are gradually building capacity. We have a kind of partnership with one of the subsidiaries from ECOWAS bank, investment bank and development bank…., all these are geared towards building capacity so that carbon finance project can be apprised by the bank because it is an area that is new. We are working with African Finance Corporation (AFC). Some other banks too are there. The amount involved is huge but I think we are moving very fast with the project. We expect that in the next six months we would have financed that project. It is one of the biggest in the sub-Sahara Africa.
Challenge
NEXIM has been in operation for 20 years. What has been the challenge of the bank even before I joined is the issue of operational funding. But by the time I joined in 2009, the bank also had non performing account. Even in terms of the staff that I met on ground there was nothing really significant to the job. The bank had lost its focus because we were set up to promote non oil but the bank was lending both in oil and non oil.
We have been able to streamline that. We have been able to refocus the bank and that is why we say we have our mass agenda in the manufacturing sector, agriculture, services and solid minerals. One other thing I need to mention is that when I came, we discovered two of the major pillars that are important in any organization were missing especially the one needed in the financial institutions. They had no risk management framework and corporate governance. All these were issues. But I am happy to let you know that we now have a robust enterprise risk management framework in place. The corporate governance structure is now the topmost priority.
We have been able to halt the deterioration of the bank. In December 2009 , a loss of N4.2 billion was made. We are happy to report that by the end of 2010 we made a profit of over N216 million. We have been able to support exporters only in 2011 with about N10.14 billion. We were able to give risk bearing facilities to the tune of $21.3 million to about three projects and we have been able to re-engineer our processes. The bank has become very efficient in taking a maximum of four to five weeks to access a facility in NEXIM bank now.
The level of correspondence with our customers have actually improved. So, a whole lot of things have changed. We are now looking at how do we position this bank, how do we position Nigeria, how do we position the economy so that we can be better in the economic development of Nigeria. We are targeting deepening of trade with the ECOWAS sub-region for 2011. This is our major focus.
We discovered that a lot of Nigerian exporters will carry their goods to Cotonou or Benin Republic, sell these goods and put the cash in their pocket. There is no way you can deepen trade under that kind of scenario.
NEXIM wants to be in a position within the next two years where we should support potential buyers of Nigerian products so that we can make Nigerian products more competitive. So, we have to begin today to encourage Nigerian exporters to make them go through the banking channel. We also know that there is a whole lot of informal trade. If you get to Seme Border now and see the level of trade there you will be amazed.
This trade is not even captured. We want to be in a level where we can capture that. In the face of all these we have one obvious trade barrier that we must find a way of overcoming and that is having an efficient sea transportation. If you move your goods from Lagos to any port, particularly Accra, it may get there maybe within 24 hours by road. But if you move your goods, may be from Lagos to Accra, Tema Port, it will take you a minimum of 60 days. The simple fact is that we don't have cargo vessels that are owned by the European Vessels and they will first go to their country.
We want to make the sub- region the rational market of exporters within Nigeria and within the member-state of ECOWAS because right now our exporters look at the market of America and market of EU, Asia as their traditional market but you know we have huge potentials within the ECOWAS sub-region that we need to exploit.
What NEXIM is doing in order to address that trade challenge is that we have commissioned some consultants. They have carried out a feasibility report. They have gone to all the 15 member-states of ECOWAS. And the response from the private sector is amazing and we are setting up a company that will be an ECOWAS company. It is not a subsidiary of NEXIM. A lot of companies have shown interest in it. Like I mentioned, three companies from South Africa are already investing in it. We are in discussion with some other development partners that are very interested.
We are at the point of incorporating an SPV, a Special Purpose Vehicle that will carry that dream. So, that is what NEXIM is doing and that is what has been accepted. This is because we believe that it is the private sector that will drive the original integration. I hope that by the time we start, there will be need for us to extend to the Central African countries because we still have those kinds of gaps but there is a lot of commercial exchange between the Central African Countries and Nigeria and the member states and other member states of ECOWAS. That is what we are trying to do with the sub- region and it is a priority for 2011.
When exactly is this project going to start how much is involved?
We are looking at vessels that have between 3,000 and 5,000 tones. Because we don't want to get big vessels at the end of the day. they will find it very difficult in moving this vessel that is purposed to move within the sub-region. That is what we are looking at. We are looking at having three vessels before the end of this year.
We have not been able to come up with precise figure but we believe that at the end of the day, the vessels will cost about 15 million euros. We are still at the promotional stage. We expect that in the next two weeks, we should be able to incorporate that and we are looking for a technical partner. People that can come in with a required experience to be able to drive the process but this is going to be a very competitive biding process. I will make the figures available but the three vessels will not be less that 15 million euros.
The ownership structure is going to be private sector organization within the member-states of ECOWAS. So, the owners have gone to various private organizations. In fact, there are government agencies within the member- states of ECOWAS region that have expressed interest to invest in the entity.
Scorecard
Well, I can say we perform moderately with all humility. Our beneficiary client and stakeholders will be in a better position to score our performance over the years. However, it should be noted that the bank has since inception provided over N63 billion and about N280 million in funding intervention to over 400 projects. Also, the bank has provided non-fund risk bearer facility of over $36 million and 11million euros. With regard to installing industrial capacity, the bank had intervened in the creation of over 50,000 tones of cocoa- producing and processing capacities. You know that NEXIM was the first bank that started the funding of cocoa processing projects in Nigeria. Hitherto, Nigerians are exporting raw cocoa beans.
Also the bank has facilitated about 30,000 tones of rubber processing capacities and the acquisition of over 60 industrial fishing forests. You know NEXIM blazed the trail in most of these sectors. Just like what we did in cocoa, the same thing we did in rubber industries because we are specialists in financing this kind of project. When you come with a project that looks very high, some financial institutions would say they are not interested because they want to have a track record.
NEXIM will look at the potentials. NEXIM will look at the unserved market so that we would open it up as a DFI for other financial institutions to look at where they are attractive and then intervene. So, areas that the commercial banks are not interested, NEXIM will take the initial step to make it attractive, pull out and allow the commercial banks to come in and help develop the Nigerian economy. So, this is beside the bank's intervention in other sectors like the oil seeds processing factory, solid minerals , maritime services and a whole lot of sectors that we have intervened.
Healthcare
Last week, the Minister of Health inaugurated the interim management committee which is to be chaired by me. We were given clear terms of reference to ensure we commence the resuscitation of production of Niprisan drugs at the Sheda Production factory. Maybe some of you don't even know what Xechem is all about. Let me give you a background. Xechem is a company that was financed by NEXIM to produce a drug that was discovered by a Nigerian to take care of sickle cell patients. In the process of commercializing the result of that research, the government called in the banks both the DFIs and the commercial banks.
NEXIM and two other banks put a lot of money in the project. The company was producing very well but somewhere along the line, the management ran into serious problem. It is not that the company was not doing well but I think it was more of a management problem and the exposures of the bank were now threatened. Xechem Pharmaceutical is located somewhere after Gwagwalada in Sheda Village. What is the benefit of money when at the end of the day people are dying? Money cannot buy life. So we felt that no matter the complexity, let us find a way of commencing social production so that Nigerians that are dying on a daily basis can have access to this drug.
The Federal Ministry of Health set up a committee and that committee came up with five recommendations which culminated into the inauguration of this interim management committee and we were given terms of reference to see that we commence immediate production of that drug to put any structure that we believe is appropriate to ensure we commence production and to also provide guideline on how the project should be run. It is going to be actually something new.
The DG of NAFDAC is a member, the DG of NIPSS is a member, the DG of NOTAP is a member, Federal Ministry of Health is a member, Science and Technology is a member, SESCO is a member and we have already set a time limit for ourselves. We are saying that within the next 30 days, assuming we are able to get approvals we should be in a position to commence production.
We have gone to the site. We have articulated what we need and the various committees are working. So, we expect that given the speed that we are going within the next 30 days, we should be able to commence the production of the NIPRISAN drug. You know initially, it was called NICOSAN but the most important thing we want to do now is to commence social production so that we can save the lives of Nigerians that are dying daily because of sickle cell.
Non- performing loans
As I mentioned before, one of the problems that we met on ground was that when we came in 2009, there was high volume of non-performing account. We tried to trace the history of why the level of non-performing loan was very high, and one of the reasons we could adduce is because of the global financial crisis that started in 2008.
Everything that we do is dependent on what happens in the international market. It affected most of the projects that we have financed but what we have done is that because of the transformation that the bank is carrying out we have decided to set up a department which we called a remedial Asset Management department which is charged with the responsibility of following up with those accounts that are not performing well. You will recall that the bank was able to tap into the BOI window of the refinancing and the refinancing of N200 billion that the CBN made available. At least, we were able to get N2.1billion of that, but we know that going forward we are going to avoid the pitfalls of the past. We have been very careful.
We have a robust strict management in place that will be able to check that henceforth. We should find a way of minimising the non performing account In addition to creating a new department that on a daily basis is charged with that. Recovery in Nigeria is a major challenge apart from other extraneous factors that will affect other promoters, recovery in Nigeria is usually a challenge. We have tried within this period from 2009 till date. I know that in 2010 alone we were able to recover N540 million . But that was a far cry from what we met on the ground.
When we took over in 2009, the total loan portfolio was N14.6 billion and out of that, N10.03 billion was classified lost in line with the prudential guidelines. So, if we have recovered that, you will see that we still have a very long way to go. But from January till date, a substantial amount has been recovered. We don't have the figures off-hand but I know that a whole lot of progress is being made but that is where we are but we are seriously pursuing and we are appealing to the project promoters to please come and pay.
We don't want to make life unbearable for everybody. We want this project to continue and the people that have abandoned their projects should please come back. Come and sit down with us instead of running away.