SINGLE TERM OF SEVEN YEARS COMING FOR PRESIDENT, GOVERNORS-PRIMATE AYODELE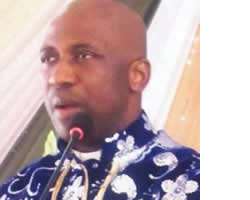 Primate Elijah Babatunde Ayodele is a force to be reckoned with when it comes to accurate predictions in Nigeria and beyond. He predicted the death of Michael Jackson, Gani Fawehinmi, the insurgence of Boko Haram, Action Congress of Nigeria take-over of the South-West from the Peoples Democratic Party among others. Sunday Sun attended a press conference he requested early in July where he presented his yearly book of predictions titled Warnings to the Nations (WTN). Below are excerpts from the book:
On politics
The Spirit of God says not all deputy governors will finish their tenures. Some will be dropped before the end of their tenure. Deputy governors should avoid confrontation with their governors. President Jonathan should beware as enemies will not allow his good works to see the light of the day.
In 2012, Jonathan's government will face a lot of challenges, especially on issues bordering on politics and the economy. In January and February of 2012, Jonathan must be very careful about out-of-the-country meetings. The assembly members will have a face off with the executive arm of governments due to certain policy thrust of the government. Constitutional amendment is coming. A frontline political figure will die in Bayelsa State unless we pray against it. Nigerian government will borrow money from World Bank in future for developmental projects that will not see the light of the day.
I foresee a constitutional amendment that will allow the president a single tenure of seven years in office in the nearest future. The governors too will under the amendments be in office for seven years. Legislative arms will remain in office for four years. The turn around we expect in Nigeria will materialize between 2015 and 2017 if we pray very well. Jonathan has good programmes for the people of this country, but some powerful people will not allow the dividend of democracy to get to ordinary Nigerians.
Political crisis is coming unless we pray against it. Jonathan can not win the war against corruption because some powerful people will sabotage his effort. We need to pray hard on the issue of Boko Haram sect, because of its planned bombing that is coming in the nearest future which will be more devastating than the bombing of the Police Headquarters in Abuja. Agitation for state and local government will trigger crisis in future.
The lord says we must pray to ward off problems such that can lead to the death of many people. We need to pray against fire outbreak along Lagos-Ibadan expressway. We need to pray seriously in the month of September 2011 not to lose a prominent Judge in the country. Jonathan will create new ministries.
We need to pray against the death of a prominent political figure in Ondo state. We need to pray very well to avert whatever may cause mass death in Benue State. A prominent person in the world will die and his death will trigger war globally. The year it will happen I don't know. The way this war will start will lead to military take-over in many countries. There wouldn't be electricity everywhere in the whole world during the period. It wouldn't be the end of the world.
The spirit of God says many looters of government treasury and individuals in the corporate world will be exposed.
Ogun State indigenes should pray against losing a prominent politician. Some local government chairmen in Bayelsa State will not complete their terms. The leadership of the Action Congress of Nigeria needs to pray well to avert break-up. Dictatorship and godfatherism will ruin ACN if proper prayer is not offered. If Congress for Progressive Change (CPC) prays very well, the party will make an impact in the next election. PDP will still change its national chairman and secretary. There will be threat to the chairman of INEC and some state residential electoral commissioners will be replaced. Arewa Consultative Forum will break up soon. Jonathan will be persuaded in 2015 to contest the presidency for the second term.
Economy
Bank workers need to pray fervently against mass sack in the sector. I foresee N5,000 and N10,000 denominations coming to Nigeria economy in the nearest future. Nigerian workers will face a lot of challenges as a result of minimum wage. We need to pray against environmental pollution in the country. Nigerian government will promote fish farming says the Lord. We need to pray against food scarcity because, the issue of minimum wage may lead to inflation. Famine is imminent in Nigeria and some African countries. The cost of building materials will soar. Consumption of pig meat will lead to strange diseases, therefore, Nigerians should beware of it .
We need a lot of prayers on Nigeria's economic breakthrough as contending forces and the dynamics of the economic environment will not be favorable. The economy will be fluctuating, thus, we need prayers against inflation between 2014 and 2015. The baking industry will face a lot of challenge .
There will be increase in the prices of bread and other foods from flour. I foresee retirements in CBN as more micro-finance banks will collapse. I foresee a working relationship between CBN and World Bank; but the relationship will not bring good result to our economy. By September and October 2011, Nigeria's stock market will crash. The Director General of National Agency for Food and Drug Control, NAFDAC, will be replaced. NAFDAC should pray against fire outbreak. A top official of EFCC will be indicted.
Telecommunication
Globacom should pray against colliding with Federal Government policy. Reforms are coming the way of Visafone. Visafone may experience fraud. Change is coming once again to the logo of Airtel . MTN will introduce new products. NITEL problem is not over yet says the Lord. A new telecommunication company is still coming.
Labour
We need to pray so that PENGASSAN and PTB branch of NUPENG will not go on strike in the year 2012. Labour Unions may experience strike next year. Government refusal to honor ASUU demand will lead to peaceful protest by ASUU. Nigeria Labuor Congress will break into factions in future. JAMB registrar will be replaced. New Universities coming. National Union of Road Transport Workers, NURTW, will cause mayhem in Mushin, Iyana-Ipaja, Agege, Ojota and some areas in Lagos state.
Traditional rulers
Oyo State Council of Obas should pray against crisis as the spirit of God says that problem of Oyo State Council of Obas is not yet over. Olubadan needs prayer for good health. Oyo State Council of Obas needs prayer so that they will not lose a prominent member. Soun, Alaafin need prayer for peace in their domains. Olofa of Offa in Kwara State needs prayer too so that his subjects will not go against him. Emir of Gusau needs prayer to succeed. Oba of Lagos should pray for good health and should avoid anything like surgical operation.
International
The spirit of God revealed to me that terrorists will devise a new method of attack that will disrupt the peace of the world. I foresee the springing up of many terror gangs in many parts of the world.
The spirit of God says Taiwan will play new roles in the economic advancements in the world. The Taiwanese nation will become a major source in the invention and packaging of goods for export. President of Guinea and Mali should pray for God's protection. Crisis is not yet over in Cote D' Voire as the new president will not get the act of governance right because of opposition. The people of Togo will rise up against their president. America will lose a prominent senator. Problem is coming between America and the Asian tigers. The country should pray against fire outbreak. Barack Obama will have many political challenges to contend with in the buildup to his second term bid.