'WHY I FELL OUT WITH MIMIKO'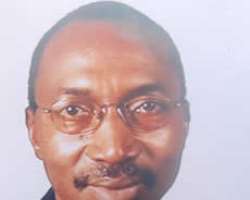 • Abayomi
Tunji Abayomi is a known Human Rights activist. He has in the past handled several cases involving the powerful and the weak in the society. He was at a time the solicitor to former President Olusegun Obasanjo. He defended many were labeled 'controversial' in the court.
Abayomi is a one- time governorship aspirant on the ticket of the Action Congress of Nigeria (ACN). He still remains steadfast and committed to the development of ACN. In this interview, the legal practitioner expressed his minds on the Senior Advocate of Nigeria (SAN) title and gave reasons why he is defending the perceived controversial personalities in the society.
Governor Olusegun Mimiko, by Abayomi's reckoning has lost touch with the people and the people would prove that they are disenchanted with Mimiko at the next general election.
To puncture the impression created that Mimiko is still popular, Abayomi tried to give vivid prove that he rigged the last general election.
Excerpts
You are known for defending controversial people in the society. The list is endlessly- Tafa Balogun, Amani Tijani, and Keny Martins, just to mention a few. Why do you always defend these controversial people?
What do you mean by controversial people? I defended late Adebayo Adefarati against Mimiko in Abuja because of second term and I won. The same man who now wants second term waged war of attrition against his own boss, who gave him a job that enabled him to build his first house in Ondo. He waged war against Agagu that gave him the position of Secretary to the State Government (SSG). When you come to me as a lawyer, the code of ethics of the profession debars me from refusing to represent a criminal because you must understand the philosophy of law. A society can accommodate 100 criminals than it will accommodate one innocent person that is unjustly convicted. Will you say that a governor that spends N586 million to celebrate his second year anniversary is a good man? So, who is good? If you are talking of Tafa Blowgun, if you talk to the police today, they will tell you that he is the best Inspector General of Police (IGP). In this nation, who is not corrupt? The bible says if we shall count sins who will stand? Who? Tell me, is it the bad people you catch? We have spent about N200 billion in our state. How did we spend it? Do we know whether the money is spent to build empire? Do we know if the money is kept away somewhere? Ibori is languishing in jail in Britain now. He was two-term governor.
You are in the forefront of the agitation of scrapping of Senior Advocate of Nigeria (SAN) title, is it because you are not yet a SAN?
I have been practicing law for about 29 years. I mean 29 year of serious practice. I have also written books. I also have a kind of world -view and I decided not to apply for SAN because I don't believe in it. Somebody, a young man who I trained in the university, who happens to believe ina it, applied for it and he was subjectively given because he didn't sit for any examination. So many things go into it. That same boy will come to the court and say I should leave the front seat and go back? Mind you, I don't believe it and I have not applied for it. First of all, it is not compulsory that I apply for it and there is no objective standard. Why should I be prejudiced and be diminished? Does it make sense? You see equal protection under the law. You should be regarded by your achievements and not by titles. What is the meaning of this SAN?
I have handled some of the major cases in this Nation. I handled the Obasanjo case; I handled Chris Ngige's case. I was very active in that case. I handled the Russian African Pride case. I handled Tafa Balogun's case. I handled Amani Tijani's case. I handled the Nigeria Electricity Regulatory case involving seven commissioners and I have handled lots of human rights cases. You cannot tell me that I have not made a name in the Nigeria legal profession. In 2005, my university honoured nine who changed the world.
The University of Tornedo was founded in 1872. Among the founders are Dr. Jacobson, the microsurgery and Dr. Leed who pioneered computer revolution. I am one of them because of my commitment to the rights of men. Many of those SANs want to become SAN because a lot of their bosses were SANs. Chief Afe Babalola made many of them SAN. They were working in his chamber. He put them through to SAN. Many of them too in Rotimi Williams. He has produced a lot of SANs and a number of the SANs produced SANs from their chambers. I have built my own chamber from the scratch. Then, the young man will now come, not that he is better than me in practice, if he is better, okay, but he is not better. Not that he is older than me and he will now say I should move back simply because he had applied for a subjective title and he was given. I have a friend that was going to the supreme court every evening one time and I asked him what are you always going to do at the supreme court because the court closes at about 4pm.
Why do you go there every night? He said: 'the SAN thing you have to lobby for it' Well he got the SAN. So, it is again in accordance with my principle to do right to all people in a right way that is just my general principle. I will not do things because it is fashionable, I will do something because it is right. When I supported Obasanjo, he was going to jail and I was fighting for his freedom. The whole nation was against him. But I believe that if Abacha can conquer Obasanjo in that way, nobody is safe. I believe that man functions better in a state of freedom. That is just I, I don't take decisions because of the benefit or danger to me, I don't think of those things, I take decisions because they are right and you cannot convince me to do wrong. Under Obasanjo, I was with him for eight years, I was fateful to him, I didn't make N5, 000, I repeat I didn't make N5, 000 either by asking or by voluntary donation from Obasanjo or his government and I am satisfied. I am satisfied to be honoured and be respected. So, I don't see anything that is special about this SAN. I cannot lobby for it. I don't lobby, things come my way naturally.
Some aggrieved members in the PDP are planning to join your party, are they welcome?
Yes, they are welcome. Constitutionally, you cannot stop anybody from coming to any political party. They are welcome and I believe that more and many people will come. Let me also tell you that a lot of Labour Party members will also come because Mimiko will lose in the next election. Go and note the date and the time that I made this statement. Labour Party will crash. Everybody is welcome. It may not be today, it may be today for PDP and it will be tomorrow for LP. Let us understand something about Labour Party. The party is an orphan. It has no father, no mother and it was born alone. It has no brother and no sister. Mimiko is the father, the mother, the brother and the sister. To show you the sad state of Labour, even the National Chairman of the party, Dan Nwanyawu is an employee of Ondo State. The wealth of this state is what is being used by Mimiko to build a Labour empire and he is not succeeding
Can ACN accommodate the likes of Segun Ojo, Segun Adegoke, Eddy Olafeso, Kekemeke and Alasoadura, who were all Agagu former aides?
We accepted and welcomed those who came from Labour during the last election. They are: Agunloye, Adekanmbi and Akintade. They all came from Labour. The difference between our party and other parties is that we follow the due process. We treat equals equally and we don't treat unequal equally. We will not ask the disabled to climb the stair case.
Why are you insisting that Mimiko should render account in the past two and half years?
First of all, constitution requires that he should. If you look at the section 125 of the constitution, it says that an annual account is to be rendered. It states that 'the Auditor General of a state shall within 90 days of receipt of the Accountant General Financial Statement, an annual account of the state, submits its report to the House of Assembly of the state and the house shall call the report to be considered from the committee of the house responsible for public account.' By law, Mimiko is required to render his account. The reason is simple: First of all, the principle of separation of power is based on one principle to ensure control over public wealth, so that you don't concentrate all power in just one department, particularly the executive department. Don't forget that it is the executive that takes all the money and all the decisions.
The governor buys the entire house of assembly and once he buys them, they become toothless bulldogs. That means if the Governor wants to use the wealth of the nation to do 'Sina', let me use Yoruba language which means adultery, there is nobody who can query him. They can only control him through law and the law is the house of assembly. Once he buys them off, the people are helpless. Now that we have 25 out of the twenty-six members of the assembly who are LP members, the state is in serious mess because the lawmakers will just be approving whatever is brought before them. The constitution says he should publish the account and that he should be audited. The reason is simple, if he uses the Ondo state money to buy an oil servicing company in South Africa, there is no way we will know unless what is required to be done is done. What I am saying in actual sense in the interest of the people is how their money is being spent in accordance with the constitution. It is a matter of trust, -he is exercising delegated power, and he is a trustee. We gave this power to him in the interim to use on our behalf. In this last election, he said he spent N77 million on media logistics and I am sure you didn't get any of that money. If you don't audit this account and show how this money is spent, how will you know? If you use that N77 million to buy a house in Wales, how would you know? If I become the governor today, ask me to publish the account. That is how the people's right can be protected.
Some few weeks ago you drew the attention of the people of Ondo state to a secret loan of N30 billion authorized by the House of Assembly in a secret money deal. What is the latest about this loan?
The House of Assembly abdicated its duty to protect the financial interest of the people by demanding for annual statement of public accounts of Ondo State as well as audited account before granting authority for a pernicious loan. The House chose to become Mimiko's House, instead of Ondo State House. Ondo state is gradually witnessing a realm in which the people have no influence and no rights. The democratic resource which government should be is gradually giving way for oppressive imposition by a pitiless government order, which disdains proper means or legitimate ends.
The alert at the immediate urgent present moment is the new desire of Governor Mimiko to increase the N30 billion illegal loan to N100 billion. This new financial intake of N100 billion loans will certainly burst the financial health of Ondo state because her freedom will be imperiled by the gripping debt for a very long time. Ondo State Government has become a desperate money merchant to solve many development problems it created out of utter failure of thought… at least 7 major roads remain less than 30% completed over two years after the government came to power. It is estimated that Governor Mimic's 'Dome' which has now been abandoned has consumed about N2 billion of public money. The health sector, in spite of international agency support is pregnant with undeliverable pain. The University workers are on strike, while the minimum wage of N18, 000 remains unpaid by a government that was happy to spend over N1 billion to celebrate its first and second year anniversaries. Poverty prevails everywhere!
It is now clear that to save the state from terrible financial trauma, the N30 billion loan need to be resisted. The N100 billion loans now desperately desired by the Mimiko government need to be stopped by the people of Ondo State- the only true guardian of their financial liberty. Mimiko's Government must stop the dangerous loans.
The price of our liberty has, with urgent force, become eternal vigilance against the Mimiko government. Ondo state indigenes must be vigilant and stand up to protect today and guarantee tomorrow.