My Wife Has All I Want In A Woman-9ice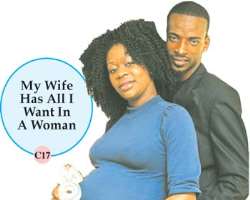 Toni Payne Akande and 9ice
On Thursday December 4, 2008, Toni Payne Akande, gave birth to a baby boy at the Presbytarian Hospital, South California, United States of America (U.S.A.), and the celebrity parents-most especially 9ice, who is a top Nigerian musician and father of the tot that was named Zion Akande were elated.
On what fatherhood has been like, Abolore Adigun Akande, who has become famous as 9ice said, "for me, it has been just like what my father felt and what he went through when I was just born. It brings to you a lot of responsibility and you look back at everything you do to be sure you are doing the right thing."
The renowned lyricist spent a total of one month and 25 days, including January 17, his birthday in the U.S.A.
What many would be curious to know is how the Ogbomoso, Oyo State indigene, who represents Akoka area of Lagos without any apology, celebrated his birthday.
"On my birthday, I wasn't supposed to do anything and I didn't want to do anything, but I was given a surprise birthday bash by my wife. It was celebrated in Hollywood and it was all my wife's idea. In fact, I didn't have an inkling of the bash because my wife was so smart about it, she made it so secretive and had invited people and planned it all without me knowing, but all the same, I enjoyed it.
"I was given gifts by different people, who were at the birthday bash, but the biggest gift was that of my wife, who gave me the surprise bash as my birthday gift and I really enjoyed it."
Those who know 9ice very well testify that he keeps a respctable distance from the female folks. But what was the point of attraction to the mother of his child and wife?
"I wouldn't say anything in particular attracted us to each other, rather, it is the interest we share that led to how compatible we are. To me, that is very important.
"She's someone very close to my heart, the author of my book of love and the ignition to my heartbeat. She possesses all the qualities I look for in a woman. She is loyal, sexy, a career woman, an academic of creativity and a woman of style! What more could I be looking for? he cooed"
Many refer to him as the studio rat because of his love for music studios, where music buffs say he gets acquainted to immediately he enters any.
"Being called a studio rat is all about my love for the music studio. You know, everything that has to do with the studio makes me happy. A studio rat is someone that sleeps in the studio, lives in the studio, understands the workings of the studio and would forever belong to the studio."
If 9ice, who few years back was still hoping to break into the Nigerian music industry, had known what controversy one of his songs would create or how it would be massively accepted, he might stayed longer in the studio than his routine nine-day stretch.
"If you listen to the lyrics of the song, 'Ganjaman,' you'd find out that it is strictly talking about the leaf called Ganja. All I'm preaching in the song is that there are many other ways of using the leaf without necessarily smoking it or abusing it.
"However, those that love smoking the leaf, got wind of the song and it blew out of proportion. But the main lesson of the song is that what else is it about this ganja that we have been unable to discover?"
"Simply God's favour," was his simple and terse response when asked what he thinks has been working for him all this while in the industry.
If you are one of those that have been wondering where Abolore got his moniker from, this might no doubt interest you.
"Nice, spelt 9-i-c-e was given to me back in school because of therelationship I established with my friends and colleagues and how reliable I can be when it comes to being my brother's keeper. While the 9 in front of it was added because I try not to go nine days without working on a new song!"
How true can that be?
"This is just the truth. Every nine days I usually get a song completed and begin the composition of a brand new song, or at least have another idea for a song. These songs might not get into my album and some may remain incomplete but I make them because I don't know which would make it!
"I discovered the art of writing, composing, and singing my own songs at the age of 14. I did my first demo in 1996 titled'Risi De Alagbaja.' Later on I joined a group called Mysterious Boys and we did a couple of tracks. I then went on and founded the defunct group Abinibi. I started my solo career in 2000 and since then it has been wonderful."
With his fame, fortune and success, the female folks would readily see him as a prey to feast on. Some would come as female fans, admirers, groupies and other obsessed female fans. How does he cope with these ladies when they come in droves?
"The females are my fans and that's just the way it is. There's nothing attached to it than that. Females are fans, males are fans and that's just what it is. I relate with them like my fans and that's where it ends.
"They come along the territory but I have never allowed them to get too close because I want to stay focused and because I have a wife, son and home that I want to keep. So, I am off the market!"
For a man, who believes he's a poet and a custodian of tradition and the Nigerian culture, what next should be expected from the stable of this traditional lyricist, who has continually wowed many since he broke into the Nigerian music market in 2000?
"I have started work on my next album already but when the time comes, you'd have a feel of it."