NIGERIA, ENGLAND IN TESTY TIE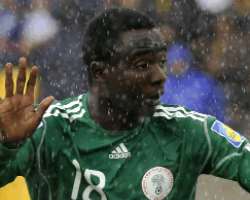 The records favour the Flying Eagles to beat England today and qualify for the quarterfinal of the Under-20 World Cup in Colombia. England's best performances were recorded in 1993, when they placed third, and in 1981 when they reached the last four.
England have lost more games than they have won in this tournament – they lost 14 games, drew nine and won eight.
In the 2009 edition of the competition, they crashed out in the first round with a mere point.
And at Colombia 2011, the Young Three Lions barely squeezed through to the knockout stage as one of four 'third best teams' after they recorded three goalless draws in Group F playing against North Korea, Argentina and Mexico.
Nigeria, on the other hand, have been in cruise control in this year's tournament after they finished the first round with the maximum nine points from three games and fired home a record 12 goals.
England are in Colombia after they reached the last four of last year's European Under-19 Championship, where they lost 3-1 to Spain.
Ex-Aston Villa defender, Noel Blake, who qualified them for the World Cup, has since been replaced by the experienced Brian Eastick, who has been involved with the England Under-18s, Under-19s and now Under-20s. He also headed the football academies of Newcastle United and Birmingham City.
As has often been the case, the English Premier League clubs have again held back their best young players from featuring in this competition and so, the like of Jack Wilshere of Arsenal, who qualify to be in Colombia were not available for selection.
However, England has still been able to line up a defence that has yet to concede a goal in three games.
This is not surprising because three of the six ever-presents thus far play there – giant goalkeeper Jack Butland and defenders Reece Wabara and Adam Smith.
Butland from Birmingham City has caught the eye with his composure between the sticks and even saved a penalty against a Mexican team, who controlled their clash from start to finish but could not find their way past the 1.96m tall shot stopper.
Six-time African champions, Nigeria have not been shy about the intention of becoming the second African team after Ghana to be world champions at this level.
'We will be victorious against England on Wednesday (today) because like Ghana, we want to be world champions after being the best in Africa,' declared Flying Eagles skipper, Ramon Azeez.
Azeez is one of four Muslim players in the team who are observing the Muslim Ramadan fasting, but will now skip it today.
It seems the fasting caused them to struggle against the Saudis and they have accepted to 'buy out' the fasting on match days.
The hot weather and the fact that they have already played two matches at the Estadio Centenario in Armenia would give Nigeria additional edge in this first-ever Under-20 World Cup clash with England.
Central defender, Ganiu Ogungbe is fit again after he missed the final group game against Saudi Arabia on account of a right ankle injury he received against Croatia.
Striker Olanrewaju Kayode, who also suffered another horrific tackle that caused him to fall head first in the Saudi Arabia match, has been given the all-clear after skull scan revealed he did not suffer any other problem.
Coach John Obuh's favourite, Terry Envoh, resumed training on Monday with a workout at the gym in the morning and special drills later evening in Montenegro, outside Armenia.
Forward Envoh, has yet to feature at Colombia 2011 after he suffered a thigh strain during a bruising warm-up match against Mexico in Panama City last month.
The Sharks of Port Harcourt star netted the goal that gave Nigeria a sixth African Youth Championship at the expense of Cameroon in May in South Africa.
He was an ever-present as Nigeria reached the final of the 2009 FIFA Under-17 World Cup.