PASSION TO HELP HUMANITY DROVE ME INTO PUBLIC ENLIGHTENMENT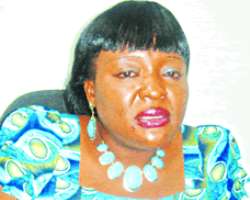 From her younger days, Christable Julie Okoye had always dreamt of contributing her quota to make Nigeria a better place. Still determined to turn that dream into reality, she has had to make personal sacrifices as well as combing many jobs.
Today, she juggles her as a consultant with National Agency for Food, Drug Administration and Control (NAFDAC) with a capacity building programme for the Nigeria Police. Her efforts do not stop there, Julie Okoye is also involved in publishing a magazine, Christable Magazine as well as running an organization, Excellent Women International, all these are geared towards reforming the society.
Mrs. Okoye's is at the forefront of campaigning against fake and substandard drugs, preparing officers of Nigerian Police Force for years of retirement and the return to effective parenting to rescue the future of Nigeria through Excellent Women International.
In this interview, this agent of change gave Daily Sun an insight into all she is doing to actualize the desired change. Excerpt:
You seem to have your fingers in a lot of pies at the same time. Can you briefly give reasons you are so passionately involved?
For NAFDAC, I am involved in public enlightenment and for Nigerian Police training. I am also the Coordinator, Excellent Women International, a body that helps to build good homes and encourages women to take up their roles as mothers. I am also the Chairman of Christable Magazine, an avenue to rebrand Nigeria because it is clearly evident that the misconduct of less than 10 per cent of us, both within and outside the shores of Nigeria has robbed off on us negatively. As a result of which we are treated with scorn. So the job of Christable Magazine is to go in search of 90 per cent of those Nigerians (no matter the gender) in whatever age bracket, that have excelled in their different fields of endeavour and have made us proud, thereby telling the outside world that we are not all criminals.
Can you give us a sense of your educational background?
I had my First degree in Administration and Economics. a Masters in Industrial Relations and Industrial Management from the University of Lagos. I also did a course in Journalism.
So, why how did you venture into NAFDAC?
I chose to work with NAFDAC because of the passion I have. Luckily, the present DG of NAFDAC, Dr. Paul Orhii, is very passionate about the impact NAFDAC should have on the society. He is, to say the least, fanatical about reforming the health sector in Nigeria. His open door policy and the fact that he welcomes good ideas has made public enlightenment on for NAFDAC easy. We have been in public enlightenment since 2006 when Professor Dora Akunyili was there.
When we went to the present DG NAFDAC requesting to partner with NAFDAC, he gladly accepted after seeing our proposal. It is important to note that before he came in, it was 16 per cent tolerance for fake drugs but right now is less and six per cent. We have gone to about 10 states to talk on why counterfeit drugs should be a fight for all, and not only for NAFDAC. NAFDAC's job is humanitarian and shouldn't be left in their hands alone. All hands must be on deck to achieve this.
What have been the challenges?
When you are serving the public, there is no doubt, that there will be a lot of challenges but with the backing of the NAFDAC DG, its been easy to deal with those challenges. Dealing with those behind the importation of fake and substandard drugs is one enormous task. For instance, when I had interaction with some of them in the states that we visited recently, some of them confessed that the style of engagement by the new DG of NAFDAC, giving them a sensse of belonging in the fight against drugs and not treating them as less humans and the fact that he took notes and is actually taking actions as promised, have made encouraged them to individually deciding to stop the importation of fake drugs. They had therefore, on their own volition formed a task force in each drug market to check-mate the menace without even allowing NAFDAC to swoop on them. Whenever they make seizures, they send them to NAFDAC office without promptings, so they fight it themselves now. It is now a common sight when going for enlightenment campaign to see them turn out in their numbers to listen and also ask very intelligent questions.
Why do they need promptings to see the danger in engaging in fake drugs that can affect even members of their families?
You know, some people need to be talked to repeatedly to prick their conscience while others do have conscience but then, you have to realize that these dealers engage in this evil trade because of the huge financial gains from it but when you begin to sensitize and talk to them, they listen. However, some who were hard of hearing before, the task force team has now forced them to listen because once everything is seized, you are not getting anything back again. For now, we might not have 100 per cent compliance, but at least, the practice has really come down to less than six per cent.
How did you come to the conclusion that it has reduced to six per cent?
There is a machine that NAFDAC brought into the country called True Scan used to check the drugs that are imported into the country and this has indicated that the importation of fake and substandard drugs has been reduced drastically. Before now if you storm any drug market you can be sure 99 if not 100 per cent of the drugs in there are fake.
So what is this collaboration with the Nigerian Police about?
For Nigerian Police, I have been training the senior officers preparing to retire on entrepreneurship and stress management for the past three years. Our study has shown that most retired policemen never prepared for the years of retirement and that is why after retirement give such a fellow two or three years, he'll be totally weighed down and dejected or even die because the all-powerful uniform that gives him power, is no longer there. So, we are trying to prepare them for retirement and make them realize that even after retirement, there is more to do in retirement and be useful to oneself and the society.
What are your key points in doing this?
In our training programmes, we tell them to avoid stress because it kills people faster once they retire and we impact a lot of skills during the training. The training is about planning for retirement, so life can go on as if no change had happened because if this is not done, you would find people dying shortly after their retirement as a result of fear of the unknown and unpreparedness. So far, we have trained over 1,000 of senior police officers who have retired but we are at the stage of monitoring the progress of the ones we have trained, that is our next phase.
Why this passion for enlightenment and training of retirees and parenting?
Right from when I was in school, I have always wanted to impact knowledge on people. I have always wanted to be self-employed and help others to do so too. I have always wanted to change lives and that was what gave birth to Excellent Women International which focuses mostly on good parenting.
In any society, the home is the basic starting point of every individual. We work hand-in-hand with ICPC and NAPTIP because we try to bring it to people's notice that corruption should be curbed from home thereby making the child contribute to the building of the society. But if a child does not have that proper foundation from home, you have already let loose a timed bomb.
Can you recall your discovery since you took off?
It is amazing that in the cause of carrying out this work, we discover a lot of women have several excuses for failure and some are just outrightly lazy. They just believe that since you have volunteered to help, you should provide their three square meals, pay the children's school fees, pay their rent and even cloth them without them contributing a dime to it. Some will tell you that they don't have money so how can they bring up a child in a proper way.
We train them in handcrafts, catering and baking. You would be shocked that while some have paid back their loans and are doing quite well, others will just not lift a finger but wait for hand outs. They will gladly burden their kids with hawking of groundnuts on the streets while they lazy and sleep at home.
Each time I have cause to speak to this women, I use myself as an example. When I left school and after my service year, I went in search of a job for two months and nothing was forthcoming, I just decided that I will start baking cakes and take along with me to offices while looking for a job. The first day I did that I made N2,700. On the second day, I made over N8,000 and that was when I said no more job hunting, rather, I'll be self-employed. Nigeria is well populated. Whatever you decide to engage yourself positively in, even if is pure water, beans cake, you'll make it.
It is very challenging helping some of these women because a times when you call for meeting at the end of the day you are depressed from so many complains that ordinarily they could have addressed if only they put in a little more effort. You get a call from any of them that want to see you and all you hear is 'I want to pay school fees', 'my rent is due the landlord is threatening to throw me out', 'my child is sick' etc. So the challenge one faces daily is when you discover that despite your efforts to get some people out of the woods, they are not willing to come out. But those people in this category are very few. Some of those who have gone are ahead to make their lives meaningful has been the ray of hope that has kept us going on.
What is your advice for parents?
My advise to parents is that bringing up a child is really not the work of a teacher or a neighbour but the task that you, alone, can do and you must lay the solid foundation so that the child will not become a nuisance to the society later in life. A child that is well brought up in the way he should will not take to kidnapping, robbery, cultism and other vices, no matter the pressure from peer group. He would always remember where he is coming from. If we especially mothers who know the pain of childbearing, see child upbringing as a responsibility, it will enter our subconscious that this is a task naturally bestored on us by God it is only then, that our society will be better.
How do you source for funds?
Funding comes from individual with like minds and passion to do something for the less privileged. For instance, our 7th Annual International Conference tagged 'Practical Parenting' was held on July 28th, 2011. We got support from some of our invitees.