HOW I KEEP MY MAN-AYO, JUJU MUSIC QUEEN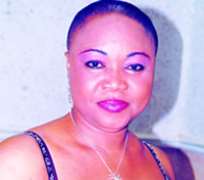 About a decade on the juju music stage, Mrs. Ayotunde Kofoworola Balogun, nee Oguntade, has wormed her way into our hearts with her lyrics. Her beat has kept us swaying to her rhythms.
Popularly known as Queen Ayo Balogun, the woman who blazed the trail for female juju musicians says there are many women in the arena today, but without argument she has emerged the most visible and most sought after among the lot. In this chat with Sunday Sun, she speaks about growing up in the singing Ogunlade family, bursting onto the juju music scene from the church, her marriage, her man, and why the juju music association is a family. Excerpts…
What was your childhood like in the singing Ogunlade family?
I was born in Ilesha, but I spent my childhood in Ibadan and had my primary education there before moving to Lagos in 1972. Growing up was fun because my mother is a bundle of fun anyway. My maiden name is Ogunlade. When we were in school, my mother would read storybooks to us, and in the night our neighbours' children would gather and my mother would tell us stories.
We have a singing family, my mummy sings soprano, I sing alto, and my younger brother tenor. So, we had the three parts in the family. At times the three of us would do a special rendition; we were all in the choir in the Methodist Church choir. I was actually raised in Methodist Church, Agbeni, in Ibadan, before we moved to the Methodist Church, Palm Avenue.
My younger brother and I went to school on church scholarship because of this talent God gave us. I attended Agbeni Methodist Church Primary School in Ibadan before we came to Lagos in 1972. I had my secondary school education at Benevolent High School, Martins Street, off Ojuelegba. Later, I rounded off at Victory High School, Ikeja, and then proceeded to Diploma School of Music. I later took correspondent exams from London Royal School of Music, which makes me a full fledged musician.
Which instruments do you play?
I don't play instruments at all, though I know the rudiments.
I learnt you used to sing gospel, starting out from the church before you veered into juju music. What really inspired the move?
I didn't plan to be a juju musician, I just wanted to be a gospel musician, but at some point it was like I was competing with the church choir; and it was generating too much conflict. I felt I was competing against myself, which shouldn't be. So, I felt the best thing was to go into another brand of music. Anyone who wants gospel music would know where to go, and I can peacefully have my musical career.
What was your experience when you started and how old were you then?
I was almost 40. It was difficult initially, because I didn't know how to praise-sing, and that's what juju music is all about. So, I started just doing, 'only Jesus can save', and calling names. Then, I started listening to other juju musicians to improve myself.
Can you recall your first outing, your first live performance, were you fidgety or did you have butterflies in your stomach?
You know singing was something I had been doing in the church, I was used to crowds, even when I left the Methodist Church for C & S Church, Ayo ni o, which is also a large congregation, so I was used to performing before large crowds.
My first personal outing was like just another outing for me and I was so composed. I had many of those who came out of the church choir with me, and I had been doing outdoor shows with the church choir. At a point it started hitting me that I was doing something different, so that made me more conscious, knowing that people looked up to me to make the party really lively. Now, I'm more relaxed and my old self.
Leaving the church choir to do juju music, didn't people see you as being 'lost to the world', what feedbacks did you get?
It depends on how you carry yourself, the way people perceive you. Sometimes, people even regard you more highly than you see yourself. When I left the choir band to start my own band of music, people said, 'she is going into the world, she's going to derail'. So, I had that at the back of my mind and resolved that I wasn't going to fail, so I was able to get a grip on myself, conscious of the fact that people looked up to me, and that I just had to be a good example. So, it's left for me to prove people wrong. And I thank God that I'm able to prove people wrong. And I thank God that I have been able to prove some people wrong.
Looking at your albums, Oloruka, Ololufe, and now Goodness, what inspires your lyrics?
Oloruka in Yoruba means the housewife, the legal wife. So, in that song I just implored the woman to take care of her home, the children, being a good mother and a good wife. It's a word of advice for them. Ololufe is like the continuation of Oloruka; we deceive ourselves so much and this shouldn't be so, we should be straightforward in all we are doing, and I also love to appreciate my fans in all of my albums. Goodness, as the name suggests, reflects on what God has done for me, bringing me thus far. Ire, that's all I've gotten from God, ire niwaju, ire lehin… (Goodness of God before me, after me, and surrounding me). Just thanking God and my fans, too.
Oftentimes we see a female juju musician and we wonder, who is her husband; how does he cope with her career? Please, tell us about your husband.
We've been married for over 30 years now. By the time I started my musical career I was already mature and I knew what I wanted.
Was he not apprehensive leaving you to go out there…?
It's natural for him to be apprehensive. So, we had to sit down and agree that it would not affect the home in anyway.
And how do you ensure this given that you are off for shows at the weekends? I remember you said your week starts from Thursdays.
I don't have young children at home; they have grown up and in the university. And my husband is also a busy man, a successful merchant, his name is Jimi Balogun. During the week, when I leave my office, I go home to perform my role as a wife and mother.
Have you ever had issues in your marriage?
Of course, it's normal.
How did you resolve them?
I recall that when I started, he didn't want me to make any album, but I made him realise that I needed to, and he later saw reasons with me that I needed to have something like a legacy, that's the only way you can really reach out to people.
Probably, other women may be aspiring to come out like you did, singing juju music, what would be your advice to them?
We already have so many women in this area, and I thank God they are all doing very, very well. My advice to them is that they should keep the flag flying. I say it everyday, anything worth doing is worth doing well. Nobody will pardon you if you mess up their party. They won't pardon you because you're a woman, you either do it well or you don't do it at all. I'm happy they are doing fine. And for those coming up, who are wishing and willing to be in this business, hard work pays.
You've been married for this long, for these other women, what advice would you give to make the most of their marriage and career effectively?
Patience is the word; that is all they need, no matter what they face. That's the only thing I've been surviving with.
You once said no woman can snatch your husband, what gives you that kind of confidence?
You will know if you're doing it right or wrong, you should know. I only said so because I wanted other women to know that they need to take care of their homes. And with that they would be deeply rooted.
Hhmm …deeply rooted, I like that phrase. But so many women feel they are doing it right, yet they lose their husbands. What do you think?
Well, sometimes, that is where prayer comes in. You have to be prayerful, it's a wicked world, we all know that, but with prayers nothing is impossible.
On the flip side, what if another man snatches you from your husband?
No. That can never happen (laughter).
Still on your career, it has definitely brought you fame, has it brought you fortune too, compared with when you were in the church?
Of course, my life has changed, everything about me has changed. I'm not fulfilled yet, but I believe I'm getting there gradually.
When you say you're not fulfilled yet, why are you not fulfilled?
I know the level I am now, and if I've gotten this far, I have a very deep belief that God is taking me somewhere greater. I can feel it in my soul. I know my best is yet to come. That is why I said I'm not fulfilled yet.
We know that live music performers rely on one thing or the other to enhance their performance. They believe without it they can't be lively. So, is it true that you don't allow smoking and drinking in your band?
I believe it's a complex problem if you need something to get high on something before you can perform. If you know your onions, you don't need it.
If you know what you're doing, you don't need alcohol, cigarettes or any other thing to ginger you. If you have it in your body, in your soul, it's something you love to do, know how to do, then, you don't need it. And that's what I tell my band boys, I don't want any drinks while we are performing. But when we are settled, after our performance, you can have your drinks. But when we are performing, no alcohol.
What about you, do you take alcohol, do you smoke?
I take a little alcohol, but I don't smoke. I drink only when I'm not performing.
You said you know the level you are now, would you say that level has given you access to the things you had always desired, like a house, a particular kind of car, etc.?
Oh yes, I even got access to things I did not even desire.
So, it's paying off, and your bank manager likes you?
A lot (laughter)… It's paying off.
Who do you look up to in the industry, particularly in your genre of music?
I look up to my ogas; I call them my ogas – King Sunny Ade, Evangelist Ebenezer Obey.
Do they see you as competition?
Not at all, they encourage me, they love me. What we have is like brother and sister relationship. Even the younger ones see me as their mother or sister. The juju house is so peaceful, so full of love and I'm enjoying every bit of it.
Why do you think it's this way, unlike the fuji musicians who always quarrel and abuse each other, what are you people doing that they are not doing?
The only thing we have to allow in our midst is love. In the Association of Juju Musicians of Nigeria we don't envy ourselves, we support each other a lot, which has helped many to grow.
We encourage them to go to the studio, make an album; look for where to do Friday night jumps and get something. Sometimes we assist by giving them money to go to the studio. And when people know them, they start getting their own circle of fans, and they grow also. This has helped the association and bonded us together.
What's your message to the younger musicians?
Just keep doing what you know how to do. It's also very important that we take care of our family, especially the children, so that they can be good citizens of this country. And to all my fans, I appreciate you all.
Talking about children, is any of them taking up music like you?
Yes, playing piano, saxophone, trumpet, learning guitar, and even doing beats for hip hop artistes.
Let's talk women stuff; you've always spotted this low cut, why?
For convenience, I don't have time for the salon. As president of the Association of Juju Musicians of Nigeria, I have like three, four shows a week. I don't have the time to queue up at the hairdresser's. Most times I make do with home service. As you can see, I'm doing my nails in the office. That's why the low cut has become my logo.
So, what's your vanity, for some women it's shoes, bags or jewellery?
All of them.
Do you have a beauty routine?
Not really. I just try to have enough rest whenever I can. I drink plenty of water when I wake up in the morning.
Any special diet, how are you able to maintain your dress size?
I take plenty of vegetable, with very little carbohydrate.
Who is your favourite designer?
Salvatore Ferragamo, Fendi, name it… I don't have any.