WAR IN NOLLYWOOD: TRICIA ESEIGBE IN TROUBLE?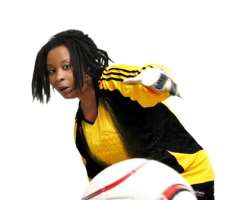 Having made impressive achievement, most especially in the entertainment industry in Nigeria, Tricia Eseigbe, no doubt, has a face of Venus, however, the wealth and fame she has garnered over the years are actually creating controversies in Nollywood and this has become a top subject of concern amongst her fans and family. As it is problems seem to be looming somewhere for Tricia if drastic measures are not taking.
www.nollywoodgists.com recently stumbled on text messages rumoured to have been syndicated by a certain female columnist based abroad to a large number of Nollywood stars to be wary of the reputable entertainment icon, Tricia Eseigbe-Kerry over unstated issue.
The privileged information has it that, this female columnist, who is said to have suddenly turned herself to a tigress in Nollywood, discredited Tricia's image and instructed the so-called movie idols to beware of her for no reason. The text message went as far as saying that, the pretty and easy-going woman, Tricia is the one sending bad stories of movie personalities to the press, which everybody we talked to confirmed that it's nothing to write home about.
Miffed by this information received from a top actor in Nollywood, it was gathered that some certain authorities are beefing Tricia because of the breathtaking feat she recorded with her telemovie/movie, Pradah, during the premieres across the nation. Pradah, the first-ever female soccer movie, which dragged a lot of celebrities to the imposing Silverbirds Cinemas on the official launch, could easily be adjudged as one of the biggest movie ever made in Nigeria considering the enormous effort and money injected into it.
While the said text messages are going round the nook and cranny of the entertainment industry in Nigeria, some friends of Tricia have debunked the said story and said it's nothing but an act of deception to paint the Bold Faces' presenter, Tricia in dark light in the society. Though, the genesis and the culprits behind this campaign of calumny against the super-rich actress, Mrs. Kerry, has been discovered but Tresh as she is also called, we learnt, is not ready to trade word with anybody neither is she ready, we gathered, to make any pronouncement on an issue that does not hold water.
Meanwhile, information emanating from another angle states that the other cohorts who are working hand-in-hand with the columnist, have been detected but still under wrap.
Be that as it may, Tricia still needs to come out to clear air on the said text messages and other sundry issues affecting her personality. Until then, the story continues….