Sex for role in Nollywood not a big deal —Omotola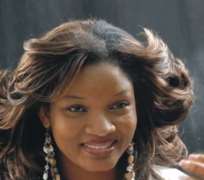 She sneaked into Nollywood with such humility and worked with such tenacity that her image became larger than she could have imagined as her fan base expanded across borders within and outside the country. When Omotola Jalade-Ekeinde took up the microphone, many wrote her off but she proved that she is a good musician as she is an actress. In this chat, she opens up to AHAOMA KANU on some issues about the industry, her music career and Nollywood
Choosing entertainment.
I would say I've been in entertainment all my life. I started out as a model. My father was in entertainment business. He was at one time a manager of Lagos Country Club. So naturally, I used to be around entertainment a lot. My mother was a dancer and was one of the dancers at FESTAC '77. So, I would say entertainment is in my blood. And when I was in secondary school, I was in a club that had to do with entertainment.
After school, during the time of awaiting result and Jamb, the first thing that came to my mind was entertainment. So I went into modeling. I was a model for over a year and was doing very well. It was from modeling that a colleague of mine told me that she was going for a movie casting and I escorted her. She didn't get the part. But she encouraged me to go in and try. And that was how I landed my first role. That was 1995.
Getting into music.
I'm an entertainer so I would do whatever I can to entertain. There is nothing peculiar or strange about my going into music.
Music career?
I've always said to everybody that I wasn't going to be releasing an album every other time. My projections to bring out an album every three years because I want to be able to grow and I want to be able to deliver the right quality. And because I have other interests, I want to be able to dedicate time to it. When I want to work on my music, I stay off other things so that I can concentrate. And I don't know if I can do that all the time. That's why I space it out. My second album is ready. Right now I'm in the process of putting finishing touches to it. Basically, I'm working hard to see that everything in the album is tight. It should drop during Easter. The kind of money I made from my first album, were not made by so many big artistes.
Competing with the artistes
It's not going to be easy for any artiste crossing over in the world. It's not something peculiar to Nigeria . There are so many Hollywood stars who have crossed over to music and who have found it tougher. There are so many artistes who have had to go through the same procedure. But because people have already perceived them in a particular way, it's hard for them to now see you in another light. It's okay. But I guess, over time, everybody will adjust to the change. Actually, they have no choice. I'm not going to die either so let's leave it to God.
Nollywood and the Music Industry
Concerning Nollywood, I would say keep your fingers crossed. Big things are going to happen soon. I understand people's frustration. I feel the same way. Some of us actors are more frustrated than our fans. You're doomed if you do, you're doomed if you don't. It's a frustrating situation but we keep struggling to make it better. I have done movies that I was embarrassed about. Most times people who put a lot of quality into Nollywood movies don't make their money back because we have a system that does not reward creativity.
Sex for roles in Nollywood.
It happens everywhere in the world. It's not a big deal. It's only a big deal if it becomes harassment. If you say no and someone tries to harass you, then it becomes a big deal.
It has not and will never work with me; it will virtually not be possible with me. It's a capital NO! I would also want to say ladies too should know how to carry themselves. It would help.
Rivalry with Genevive Nnaji
It's not true. It's not true at all. Though we don't visit each other, we talk. We don't have to visit each other. I can understand if people want us to be close friends because we act together in films. I can understand people's expectation. We're cool. We're okay but we're not necessarily close friends. We're good colleagues. It's the same relationship that I would have with any other actor that I have with her. We don't have to be best buddies.
Secret to happy marriage.
I'm not going to sit down here and act like a super angel. I would just talk from what I think I know. First is the grace of God. And I believe and know that I'm married to my husband. My marriage is not necessarily perfect. It's not necessarily always rosy.
I've been married for 13 years and we keep working at it.
Over protective of hubby.
That's crazy! That's strange! How do you stop ladies from getting close to a pilot? This is the first time I have heard that in my life! It's crazy for anyone to say I don't let ladies get close to my husband.
Hubby's attitude to stardom.
I'm going to give him a lot of credit. He's a very good man. I'm not saying that because I'm married to him. I'm saying it because that's why I'm married to him. He lives above petty talk and jealousy. Before I married him I used to think there were no men like that. He is a very contented man. Sometimes I even get angry and ask him "are you sure you've not done something that's making you this confident. He's a very confident person and he has helped me as a human being. I have learnt from his wisdom. There are times when he's sad and gets angry. But before he gets there, you must have really pushed him. So it's easy to live with him and we have understanding. We give each other space and that is very important in a relationship. When you're in your spouse's face all the time, there's an overload.
Snub?
I am not, I'm very simple. I'm sure a lot of people would not believe it but I can understand that. Really, I'm of two extremes. I can be very hot and I could be very cold. It depends on where the pendulum swings. One thing you can be sure of about me is, what you see is what you get! I don't pretend and that's the only thing I can say to people about me. I deal with people the way they deal with me.
Secret to looking young and beautiful.
I'm restless. I'm just myself. I don't try to impress anybody. I think that helps me to relax and ultimately become who I want to be. I have found happiness within myself.
Infidelity temptations.
Everybody gets tempted including men of God. I would be lying to myself if I say I don't get tempted. I will not answer you if you ask me if I have ever fallen, I will not answer that. I only answer to my God. I don't answer to men. I would only answer to my husband and my God. So the point here exactly is I raise my head high. I remain to be challenged by anybody. And that's good enough.