NEW INNOSON 'HUMMER' BUS THRILLS TRANSPORTERS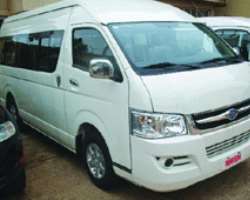 • Innoson Hummer
A new bus model has started rolling off the production lines of Nigeria's youngest auto manufacturing plant, Innoson Vehicle Manufacturing Company Limited (IVM), Nnewi.
This, the company disclosed recently, is in tandem with its avowed commitment to the production of varied vehicle types to meet the demands of the local market.
The new vehicle bears the official  model name Innoson IVM 6540, but is already christened 'Innoson Hummer Bus' by early buyers and passengers who have had the privilege of boarding it to various destinations since formal production commenced a few weeks ago. The bus is so richly endowed that it is being tipped to snatch a lot of patronage from the popular Japanese counterparts currently dominating the market.
A source at Innoson plant in Nnewi informed Daily Sun Motoring that the bus with seats for 13 to 17 passengers (depending on the need of the customer) has become an 'instant hit' only a few weeks after the first unit was produced.  He gave two reasons for the Bus:
'The first one is that the bus has everything the Japanese version has, but costs more than N2 million less. You know that in the country today, most vehicle buyers go for a product that will perform satisfactorily, but will be comparatively cost-efficient at the same. The second one is that Innoson is backing the vehicles with very reliable after-sales support.
So, the buyers don't have to worry about maintenance already being powered to various destinations like Aba, Lagos, Abuja, Kano, Jos and Kaduna, by the 2.7 litre petrol engines which are said to be very fuel efficient.
Some of the transport companies already using the new bus are  GUO Motors, Orizu Motors, and Auto Star, which recently took delivery of many units, while the Redeemed Christian Church of God, and an Abuja-based construction company purchased some units for non-commercial purposes.
Naturally, while the transporters have been placing orders for their 'Innoson Hummer Buses' to be built with the maximum 17 seats, corporate organizations and the churches that have so far taken deliveries, were said to have asked that the interior be configured with fewer number of seats.
'We pledged to build Innoson vehicles according to the needs of the buyers, and we have been living up to that with a wide variety of buses, including city buses, small capacity models and inter-city buses, as well as pick-ups, SUVs, refuse compactors, and others.
There is no doubt that more will be coming as the market demands them. We have been doing our part. It is left for the government and people of Nigeria to do their own parts by supporting and patronizing us at Innoson'.