WHY I DIDN'T ATTEND AYINDE BARRISTER'S BURIAL.KING SUNNY ADE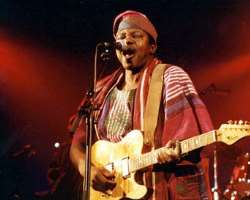 Chief Sunday Adeniyi, popularly known as King Sunny Ade (KSA) is a giant in the field of music. Aside his mesmerizing stagecraft, KSA's dexterity on the guitar, one of his relished instruments as a Juju Maestro, is wonderful.
The megastar who has spent more than three scores on earth has used his chosen music genre to etch the name of Nigeria on the global map, not only as Nigeria's foremost cultural ambassador but also as a Glo network brand ambassador.
In a recent interview, he talks about why he didn't attend Ayinde Barrister's burial.
I wasn't in town when his corpse was brought home for burial but I was in his house. I went to his wives and family.Moreso by tradition; I am older than he was.
Apart from that, it was not a celebration of life or festival. It was sorrowful and grieving and seeing a burial of the younger brother is not a good omen.