NIGERIAN ARTISTS BENEFIT GREATLY FROM TRADITION, SAYS SOUTH AFRICA-BASED ARTIST, KATHLEEN COATES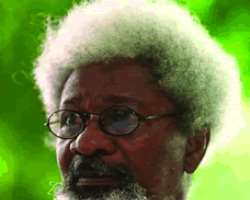 •Prof. Wole Soyinka
Surprisingly perhaps, though not necessarily so, considering the all embracing nature of African art, as married to all aspects of life, the more I researched, the more the divide decreased. To this end, I present my research topics as essentially in relation to each other rather than separate entities.
These were the words of Kathleen Coates (Kathy), an art educator, researcher from South Africa, who visited Nigeria on Omooba Yemisi Adedoyin Shyllon Foundation (OYASAF) Fellowship, Lagos.
Speaking at the event in her honour to round off the three week research fellowship at OYASAF, which ran from June 23 to July 17, Coates thanked the Founder of the foundation, Mr Yemisi Shyllon and his team for their outstanding support shown in awarding her the OYASAF fellowship. She equally commended OYASAF for facilitating the extension of her area of research first hand in Nigeria, describing it as an inestimable gift and a first step in holding interactions with the Nigerian art community. She also expressed her gratitude to everyone including artists, galleries and the media for supporting her.
On her research, she noted: My idea of research was from the outset, very broad, having had little experience in the study of Nigerian art except for a short module on the Benin Bronzes, offered in my undergraduates days and as a curator of the first Johannesburg Biennale: Africus 95, I came across works of El Anatsui, Victor Ekpuk, Chijioke Onuora and Obiora Udechukwu, in the Nigerian exhibit, and interacted with curator, Chika Okeke.
Coastes, who was inspired by a statement made by Bruce Onobrakpeya; ìWe live in a state of natural synthesis whereby we are part of the present, past and future simultaneously,î said she came to OYASAF with an open mind to learn.
Her words: I came with an open mind with a decision to be flexible, though I chose areas of study close to my heart, in my academic practice, art practice and as an art educator, in my educational practice which I am currently involved with in South Africa. These topics are interchangeable and relevant in both Nigeria and South Africa and beg to be a springboard for cultural and educational exchange. I am exploring the impact and influence of traditional art on contemporary art, interaction between performance and visual art (traditional performance and contemporary performance) and the third component being the therapeutic effects of art on the professional artist, the lay person, the child and on the informed or uninformed viewer.
While narrating her research experience, Coates said there were two common threads that emerged through her research process. The one phenomena suggests that all art making is potentially therapeutic, if one stretches the term to include cartharsis and the healing of the psyche of a nation and that the term art making is inclusive of the performative and literary arts. The issue of who is the beneficiary of therapy? As mentioned earlier, the artist, the viewer, the child art maker, potentially anyone exposed to the arts.
She explained that the second thread running through this research pertains to the influence of the traditional on the work of contemporary artists practicing in both Nigeria and the Diaspora. In almost every case, if not all, traditional art forms (including performance) have informed, spoken to and inspired the works of contemporary Nigerian artists of all generations.
Speaking further on her experience, she said it was necessary to gain insight into the history of traditional art and that she was fortunate to be exposed to two important collections of traditional works as well as the OYASAF collection itself, which houses a mix of traditional, neo-traditional, modern and contemporary art.
At the national Museum of Unity in Ibadan, Coates enjoyed a tour of the collection as guided by Education Officer, Comfort Akinmeji, after an interview with Mrs. I. I. Kola-George, Chief Curator and artist. The museum was created, after military rule, to diffuse conflict amongst the three dominant cultural groups in Nigeria- the Yoruba, the Ibo and the Hausa, by emphasising the similarities rather than differences in their music, dance, traditional medicine and indigenous industries. Fine examples of musical instruments include single and double-headed drums, chordophones, idiophones, a vast selection of ceremonial masks such as the Gelede, masquerade costumes, weaving, basketry, ceramics and medicinal containers.
At the home of Omo-Oba Oladele Odimayo, Coates was equally treated to the collection of traditional art in Nigeria, in the eloquent company of Omo-Oba Oladele, his brother, Mr. Olasehinde Odimayo and Prince Yemisi Shyllon, all passionate collectors. She noted that Oma-Oba Oladele believes that the incursion of Christianity in Nigeria, was the chief cause of a move away from traditions and ritual. Oladele himself got confirmed in 1961, in Anglican Church but he became skeptical after completing university and started collecting art which led to a greater understanding of his spiritual journey and through intuitive perception, he began collecting Nigerian art, through African, not Western eyes. Omo-Oba Oladele added that the Yoruba traditional religious beliefs, having been undermined by Christianity embodied many similar principles, such as regard for humanity and a respectful cohabitation with nature. Other beliefs, which were taken away, were reincarnation and the consequential effects of committing misdeeds, as in the karmic laws of the East. The richness of African traditional art was to repossess and reintroduce values of the past. Oladele believes that there is an aura around each individual artwork which lingers around the work, creating an effect on those in its presence, to touch the spirit sure evidence of the therapeutic potential of indigenous traditional art.
Aside from this, Coates also met and held interviews with some renowned artists like Dr. Bruce Onobrakpeya, David Dale, Osahenye Kainebi, Adeola Balogun among others. Her meeting with young performer, Jeleli Atiku, was, according to her, God sent.