UNVEILING AMOSUN'S CABINET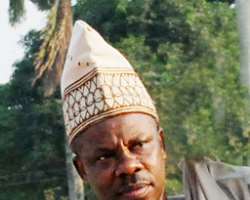 The Action Congress of Nigeria's (ACN) administration of Senator Ibikunle Amosun in Ogun State is blazing a kind of trail in political appointments in the state. MOSHOOD ADEBAYO reports that recently when Amosun, Fellow of the Chartered Institute of Accountants of Nigeria (ICAN) unveiled his cabinet, it revealed more technocrats than core politicians. This is a slight departure from his predecessors in office.
The cabinet members are:
Ogunde Oluwemimo Adepoju
He is a renowned litigation lawyer having served with the Nigeria's late Senior Advocate of Nigeria(SAN), the fiery lawyer and social critical, Chief Gani Fawehinmi As an Attorney-General, it naturally enhances ones ability to become a SAN, but the son of late Chief Hubert Ogunde,  the late doyen of the Nigeria theatre,  came into Amosun's cabinet few weeks after he bagged the professional honour.
Ogunde is brazing the trail in the state as probably the first SAN to occupy the office of the state Commissioner of Justice and Attorney-General since the state was created on February 3, 1976. He is bringing in to bear his wide and cognate experience as a Counsel from the Fawehinmi's Chambers between 1984 and 1987. The best Law Reporter of the Month, of the Nigeria Weekly Law Report in May and July, 1987, Ogunde  has been External Solicitor to Lagos State Government, the Economic and Financial Crimes Commission (EFCC) as well as to the Guaranty Trust Bank Plc, First Bank of Nigeria Plc and Savannah Bank of Nigeria Plc among several others.
Although Ogunde was Senior Advocate of Nigeria -Designate, effective 2010, but he was appointed 7th July, 2011, few weeks before his inauguration as a member of Governor Amosun's cabinet.
An expert in litigation matters, the Ogun State Commissioner for Justice had his litigation career at both the Supreme Court and Court of Appeal.
Among the academic distinctions of the alumnus of the prestigious University of Lagos which he attended between 1978 and 1982 and the Nigeria Law School which he finished in 1983 were School prize for best performance, university prize for best performance in subject within teaching unit.
John Olusegun Odubela
He is from Ikenne Local Government Area of the state. He is also a lawyer with 21 years experience of active practice that have handled and concluded at both trial courts and Appellate courts across the country.
Odubela, 46 who was announced as the Commissioner for Education has
personally concluded eight cases in the Supreme Court, 16 cases at the court of Appeal and 20 cases at the High Courts of various jurisdictions in the country.
Until his appointment, he was the Head of Chambers, Rickey Tarfa & Company, Legal Practitioners and Notaries Public with about 56 lawyers in chambers with offices in Lagos, Abuja and Yola in Adamawa State.
Olaokun Soyinka
He is the son of the Nobel Laureate, who is a doctor with strong managerial, technical and communication skills.
According to him, he developed the skills during his career that has spanned clinical medicine (general practice,) medical education and health promotion for years.
He qualified as a doctor in London, where he worked in various hospitals for qualification as a General Practitioner.  He has experience in paediatrics, general medicine, general surgery, orthopaedic surgery, and accident and emergency medicine.
Soyinka returned to Nigeria from the United Kingdom in 2002 to pursue a career a public health. He has also worked in the HIV/AIDS sectors, managed a health systems strengthening project focused on data generation and for the last nearly three years has been engaged in health promotion with the World Health Organization country office where he had as the Health Promotion Officer. Before his appointment as the Commissioner for Health, he was the Executive Secretary of Health Reform Foundation of Nigeria, a Pan-Nigerian health policy, research and advocacy organization.
Olamilekan Adegbite
Olamilekan Adegbite, 49, the Commissioner for Works and Infrastructure, is highly knowledgeable in architecture and construction with 26 years experience gained working on various projects across the country. He holds a bachelor of Environmental Studies and a Masters of Environmental Design from the School of Architecture University of Lagos. A brilliant scholar, Olamilekan also earned a Masters of Science in construction Management from the same university.
Notable among his design is the 30-storey headquarters building of the Union Bank Plc on the popular Marina, Lagos.
Kemi Adeosun
She is Commissioner for Finance is a senior finance professional with 22 years experience gained internationally and within Nigeria. Born 9th March, 1967, Kemi attended the famous University of East London between 1986 and 1989 after his secondary education where he bagged Bsc Hon. Applied Economics with Upper Second Class Honours. An Applied Economist, Kemi graduated from the University of East London in 1989 and later in 1994 became a member of the Institute of Chartered Accountants (England & Wales).
Yusuf Adebola Olaniyonu
He is the Commissioner for Information and Orientation, an alumnus of the Ogun State Polytechnic, Ojere-Abeokuta where he finished his Ordinary and High National
Diploma between 1983 and 1988.
Thereafter, the 45 year old native of Abeokuta, proceeded to the premier university in the country, the University of Ibadan where he bagged a Masters in Communication Arts. He capped his academic pursuit with a Bachelor of Law (LL.B Hon.s) from the Lagos State University in July, 2005 and was called to theBar in November, 2006. Olaniyonu who started his journalism career as a reporter-research with the then The Sunday Magazine (TSM) in 1988 was until his appointment as commissioner the chairman, Editorial Board of THISDAY Newspaper.
The former political editor of THISDAY, and the defunct The Comet between June, 1997 and January, 2002, Olaniyonu has also been DeputyEditor, THISDAY on Sunday, Deputy Editor of the paper on THISDAY daily and Editor of the THISDAY on Sunday. He has won many journalism awards including the NUJ Prize for Best Graduating Student of the Department of Mass Communication (HND Class) in 1988. Olaniyonu was also the recipient of the Lateef Jakande Prize for the Best Political Reporter of the Year 1994 in the Nigerian Media Merit Awards as well as the Best Political Reporter of the Year 1996 in the Diamond Award for Excellence (DAME) series among several others.
Oluwande Muoyo
She was inaugurated as the Commissioner for Budget and Planning is a chartered Accountant and professional banker with over twenty-seven years post-qualification experience. Of these years, she has acquired competencies and skills in Accounting, auditing, Taxation, Budgeting, Planning and Financial Control among several other financial assignments.
Lanre Tejuoso
The son of the Osile Oke-Ona Egba, Oba Adedapo Tejuoso is the Commissioner for Special Duties.
Tejuoso is a dynamic medical practitioner and entrepreneur with over 20 years business acumen spanning critical sectors of the economy.
Oladipo Olumuyiwa Oladapo
He is the former Speaker of the state House of Assembly. He  is saddled with the responsibilities of Local Government and
Chieftaincy Affairs. A lawyer by profession, Muyiwa, who hails from Sagamu, graduated from the prestigious Nigeria Law School Victoria Island in 1991.
Among other Commissioners appointed by Governor Amosun is Otunba Bimbola Ashiru from Ijebu-Ode is the commissioner for Commerce and Industry.
Other technocrats appointed by Amosun included:
Fari Adebayo Adeniyi
Fari Adebayo Adeniyi, 50 has over 20 years been involved in Traditional Quantity Surveying functions after his Bachelors of Science in Quantity Surveying from University of Ife. An Associate member, Nigerian Institute of Quantity surveyors, Fari, who is also a holder of the Masters in business Administration, (MBA), from University of Lagos is the state Commissioner for Environment.
Sonubi Elizabeth Olayinka
She was the Commissioner for Women Affairs  and Social Development. She  holds Master in Public Administration from the state university, Olabisi Onabanjo University, Ago-Iwoye.
A teacher by profession, Sonubi was the Deputy Governorship candidate in 2007 to Governor Amosun under the All Nigeria Peoples Party.
Falilu Adebisi Sabitu
Falilu Adebisi Sabitu, 61. He was appointed as Commissioner for Forestry. He  was a member of the state House of Assembly in 1983 under the defunct Unity Part of Nigeria and until his appointment was the Chairman, Ogun East Senatorial District, Action Congress of Nigeria.
Others include Chief Olu Odeyemi , a grassroot politician  and former Chairman Abeokuta South Local Government who was announced as the Commissioner for Culture and Tourism. Mr. Adejobi Daniel was also appointed as Commissioner for Housing while Mr.  Gbenga Otenuga, was appointed as Commissioner for Youths Sports. Messrs. Lubori Ayobami and Mr. Samuel Durojaiye Ayedogbon were also appointed as Commissioners for Agriculture and Community Development and Cooperative respectively. Among those inaugurated as part of the 20 Special Advisers to Governor who were approved by the state House of Assembly are Mrs. Hafsat Abiola the daughter of the winner of the June 12, 1993 Presidential election, Ms. Busola Ogundele, Mrs. Yewande Amusan and. Mr. Bayo Adeyemi among several others.