Hired Assasins Visit Mania Magazine's Dimeji Alara.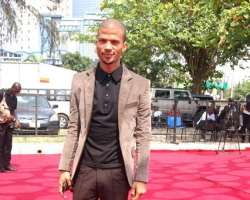 Hired Assasins Visit Mania Magazine's Dimeji Alara.
The editor in chief at Mania magazine Dimeji Alara has just had an experience he will never forget.
Men of the underworld visited him at home on friday july 29,2011 and the youngman is still trying to recover from the shock of what the armed bandits told him.
He told Stella
''They kept asking for the money, I don't know which money they were refering to Like someone had given them some info.They also said they were hired assassins that they were sent to kill .In terms of cash they couldn't find any good thing as there was no substantial cash at home. three of them with huge guns and i was worried about my mum.
I've never experienced something like this before ,I don't even understand what happened that night and i am still trying to figure it out''
Thank God for the young mans life!!!
.....dimeji is young,handsome and riding on a successful career which is bound to attract envy.however if anyone is so envious to the stage of sending killers after him,God will judge that person oh.
However if those armed robbers missed their way,may they never find it back to him in Jesus name!