Between Youngest Oldman And Fred Bright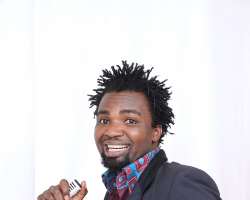 A serious controversy seems to be brewing within comedy circles in the FCT. This is coming as fallout of the award recently given popular comedian, Rowland Igbadume a.k.a. Youngest Oldman, by the City People magazine. The event which held at the Nollywood Hall, Nanet Suites, Abuja saw a large representation from the entertainment industry. Coinciding with this year's edition of AY Live, most of the artistes billed to perform at AY's show all attended the City People event, giving it an unexpected boost. But while the awardee and his friends were celebrating the latest feather to his cap, little did they know that the stage was set for a big controversy.
Some persons present at the event asked: Is Youngest Oldman truly the most successful comedian in the FCT? This question has thrown up issues that according to sources, is heating up the Abuja comedy scene. While some are of the opinion that the award to Youngest Oldman was well deserved, others believe that the Enugu State born Fredrick Chukwu Oforma a.k.a. Fred Bright has recorded more successes especially in the past year.
And as if to give credence to this line of thought, that night while other Abuja based entertainers were either buying tickets or struggling to see how they would gain entrance into the Thisday Dome, venue of AY Live, Fred Bright was the only entertainer from Abuja that had the honour of performing at the event which organisers pride as Nigeria's biggest comedy show.
In the last year, Youngest Oldman has been a little out of the entertainment scene. There were rumours that he was venturing into politics, and he was more in Edo State, mostly on the entourage of the comrade governor, Adams Oshiomhole. Both had been running radio programmes, Youngest on Rythm 94.7, and Fred Bright on Hot 98.3, although Youngest Oldman seems no longer to be running his programme for some time now.
In the last one year too, Fred Bright has been virtually everywhere. There are even rumours that he is planning to start something big which he seems reluctant to let out of the bag for now. He has also been attending shows both in Abuja and Lagos, as well as in other parts of the country. He was also the anchor person in Abuja who handled most of the groundwork leading up to the recently held AY Live in Abuja. Even amongst Abuja's socialites, Fred Bright has become a household name as he has compered more society birthdays, weddings, inaugurations etc, than any other Abuja based comedian.
The pro-Youngest Oldman group are also quick to point out that their artiste has achieved more than any Abuja based comedian of his time. According to one popular up-and-coming artiste, "Yongest Oldman is like an inspiration to those of us who are yet to find our feet in the industry because he gives us hope that despite being here (Abuja), we can still make it and get to the top."
It might be necessary to state that Youngest Oldman has made much more foreign trips than anyone else amongst the few Abuja based acts that have set their feet outside the shores of this country, plying their trade. As a matter of fact, he is currently on a UKI tour, to return by Tuesday next week. His successes in this regard is so outstanding that he has also helped a number of other artistes including top flight Lagos based artistes to take their trade to far away Europe, organising tours and concerts for them.
And as the debate rages on, we hope it does not create any rift between the artistes or in the industry which is still in its budding stages in the FCT.